Sectional timing expert James Willoughby reviews the Group races at Newmarket on Friday and Saturday and gives his assessment as to whether any Classic contenders emerged.
ALL OF THE SECTIONAL TIMES REFERRED TO IN THIS COLUMN CAN BE SEEN ON THE INDIVIDUAL RACE RESULTS FOR FRIDAY'S AND SATURDAY'S RACES
Friday
The wind was 15mph from the West, meaning it was largely behind the runners. The times suggested the ground was no worse than soft and plenty of horses were getting through it.
Newmarket Academy Godolphin Beacon Project Cornwallis Stakes
Surely this race was heavily affected by a track bias.
It looked as if the far-rail runners were on a paved highway compared with those in the middle, and the fourth-placed horse Bahrain Pride is worthy of a serious mark-up after trying to blaze a trail in the swamp.
Traps 1 and 2 went off 10-1 and 20-1 and finished first and third, sandwiching Method who will probably be better returning to six furlongs. The Tim Easterby-trained WINTER POWER was given a 20-1 for the Group 1 Commonwealth Cup next year but that may overstate the chance of a horse who rode the bias and was thrashed when trying a Group 2 just two starts ago. She had run eight times previously and failed to earn even a three-figure rating.
The winning time was good, as you would expect. Winter Power stopped the clock at 59.75sec which is 2.25sec slower than the Racing Post Standard.
An important point to remember when comparing times when it is soft or heavy underfoot is that there is not a linear decline in the optimal speed over which horses can be expected to cover different distances; longer-distance races return progressively slower times than standard when the ground is tiring, even when run optimally. (You will often see falsely-high speed figures recorded in five-furlong races on days like today by systems which do not correct for this.)
It is reasonable to conclude that Winter Power improved a fair bit on her 95 rating. Some of that is definitely for real – her come-home sectional of 34.7sec (103.3% was slow to ideal for the distance). But a lot of it may not be.
Only future events can tell us that, but the chances are she that may not be repeating the same margins in future over the horses drawn six and higher.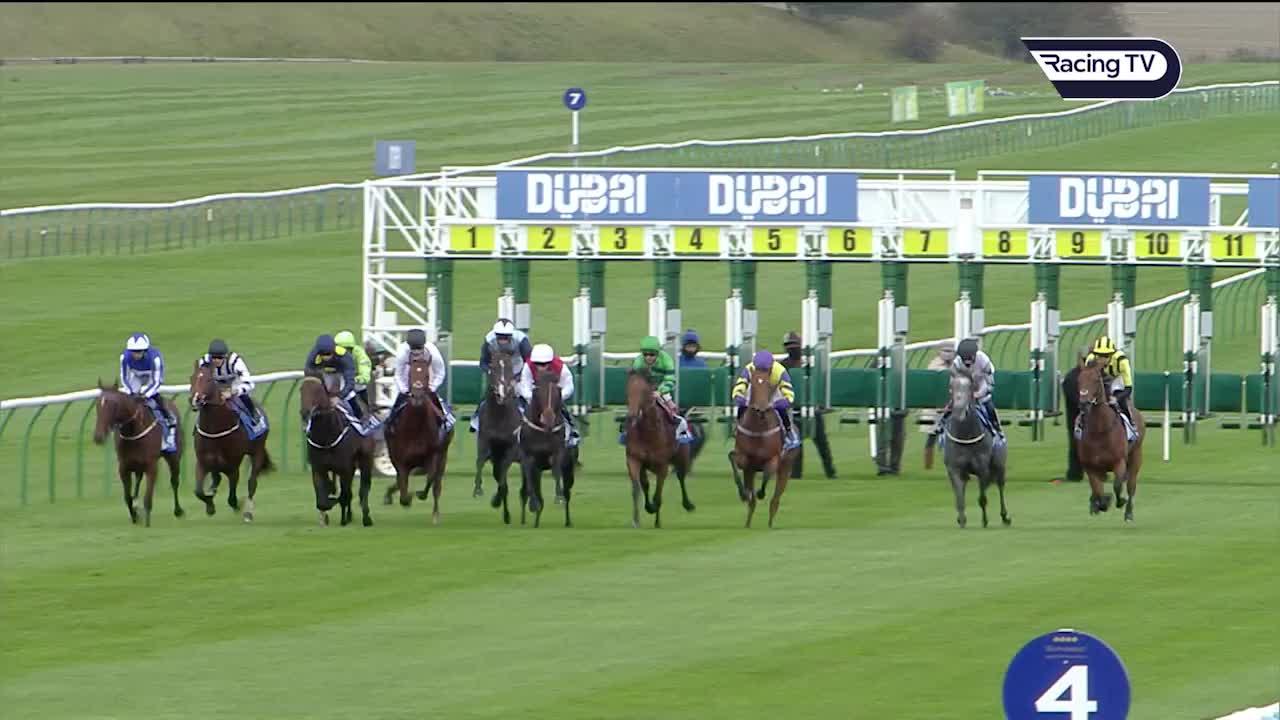 Golden highway for Winter Power? Watch the replay and see what you reckon.
Godolphin Lifetime Care Oh So Sharp Stakes
It is always great for the game when a lower-profile yard houses a talented runner – how can we forget Pam Sly and Speciosa, to name just one? – and it was the best possible result (especially for backers) when SAFFRON BEACH sprung from the plot draw in stall 1 to land this Guineas trial.
But we cannot conflate the quality of a performance from its emotional aspect, or else much of what makes horse racing so special to so many is reduced and the game becomes just another vehicle (of many) for the moist hankie brigade. To put a performance in context isn't to pour cold water on it. Who knows? Saffron Beach could have a ton of improvement in her.
However, Saffron Beach simply wasn't facing a great field here. There will be fewer weaker Group races run this year, in terms of the ratings of the first four home. The runner-up Thank You Next (a weak 12-1 chance) seemed to absolutely delight her connections, which is no surprise as she had earned a BHA rating of just 93 after fully six tries.
For her part, Saffron Beach has won both her starts well – bravo for that. And she figures to stay a mile very well with New Bay (mentioned here before as a very promising sire; he is by Dubawi, after all) as her sire.
Saffron Beach ran the perfect time trial under Adam Kirby's urgings for a good deal of the way (another sign that she will be even better over the full Rowley Mile) and ran the last three furlongs at 100.4% - bang-on the ideal way to do it here. So, we know she could not have run a better time on the day, and the 1min 27.0sec was 4.70sec slower than Racing Post Standard.
Now, please note that the winning time was just 0.22sec faster than Divine Light, winner of the first division of the maiden earlier on the card who finished much faster at 36.40sec compared with Saffron Beach's 37.13sec (according to the CourseTrack sectionals). In short, if we know Saffron Beach is a Group-race filly then Divine Light surely is too.
Connections now are considering a trip to the Breeders' Cup Juvenile Fillies' Turf at Keeneland. There has to be a massive doubt as to whether she is good enough for that, but such enterprise must be applauded.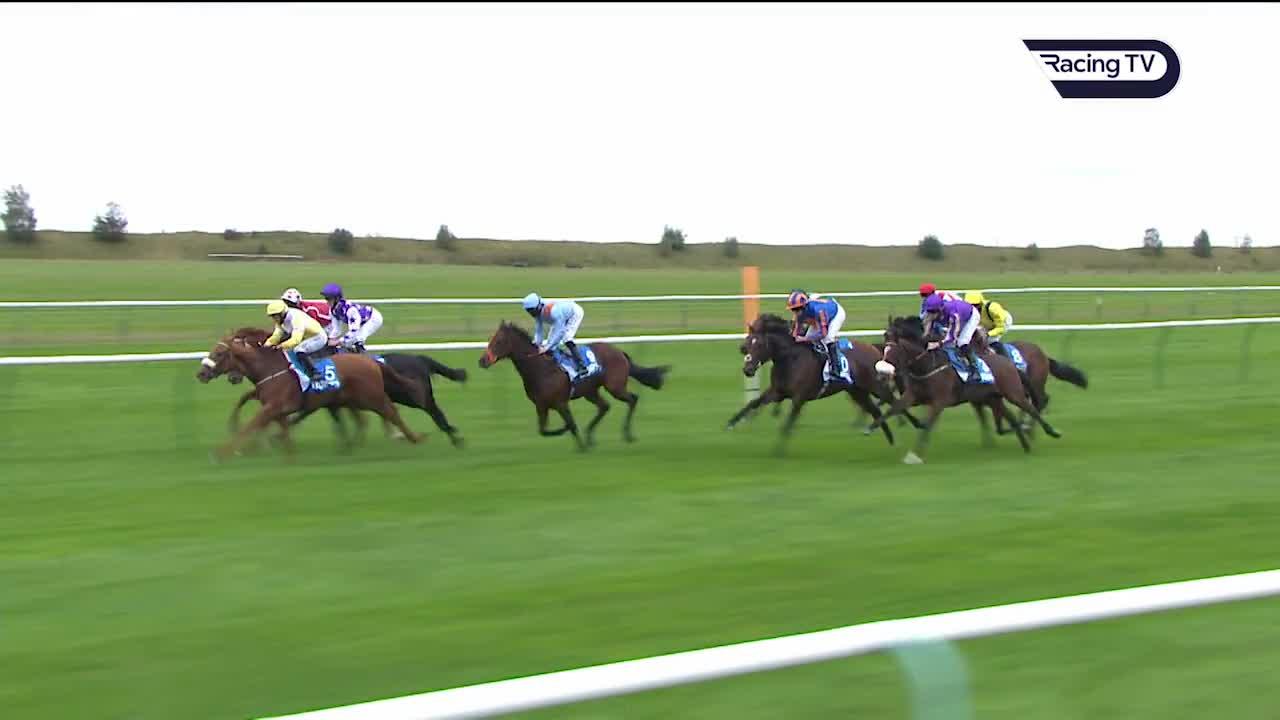 Watch the replay as Saffron Beach strikes for Jane Chapple-Hyam
Godolphin Stud & Stable Staff Awards Challenge Stakes
A good day for King Power Racing and Sly De Sousa to this point and the latter was at his best with a dashing ride on HAPPY POWER who outlasted the rail runner Pogo as the pair drew clear of the eye-catcher of the race – in the opinion of this blog – third-placed Glorious Journey.
Glorious Journey raced on the slower ground towards the middle of the track and did very well to reach his finishing position under James Doyle. Note that William Buick was even wider on Zakouski but he did nowhere so well as his stablemate but can still be forgiven the performance.
The field raced towards the far side as a unit, and in tight quarters too, with the jockeys clearly mindful of the bias. When this happens, the bias doesn't take effect until the closing stages when riders fan out to get a run, and this was what happened here. It's what leads to the appearance that frontrunners hold sway under the conditions, but this is almost always misleading.
Optimal running position in a race is far more often determined by where optimal pace lands a horse. It's usually a track bias in terms of going of different speeds that is the influential factor, because front runners on a day usually race in one part of the track and closers somewhere else as the need to get around the tiring leaders.
Happy Power recorded 1min 25.11, some 2.81sec slower than the Racing Post Standard. This time is 1.89sec faster than two-year-old Saffron Beach in the previous race which is 24lb under the conditions. Happy Power conceded 3lb also.
Now, 17lb WFA is about right between 2yo and older horses at 7f which makes the 111-rated Happy Power (who improved a few points on that) come out 10lb faster than the Oh So Sharp winner, considering their respective ages. This argues for a figure in the low 100s for Saffron which seems about spot on to my mind.
The final three furlongs of the Challenge went in 36.45sec which is 100.1% of race speed - absolutely bang-on in terms of pace, which is no surprise considering the final-time comparison with an optimally run Oh So Sharp seemed to fit so well.
The data fits like a well-made jigsaw puzzle, notwithstanding the conditions.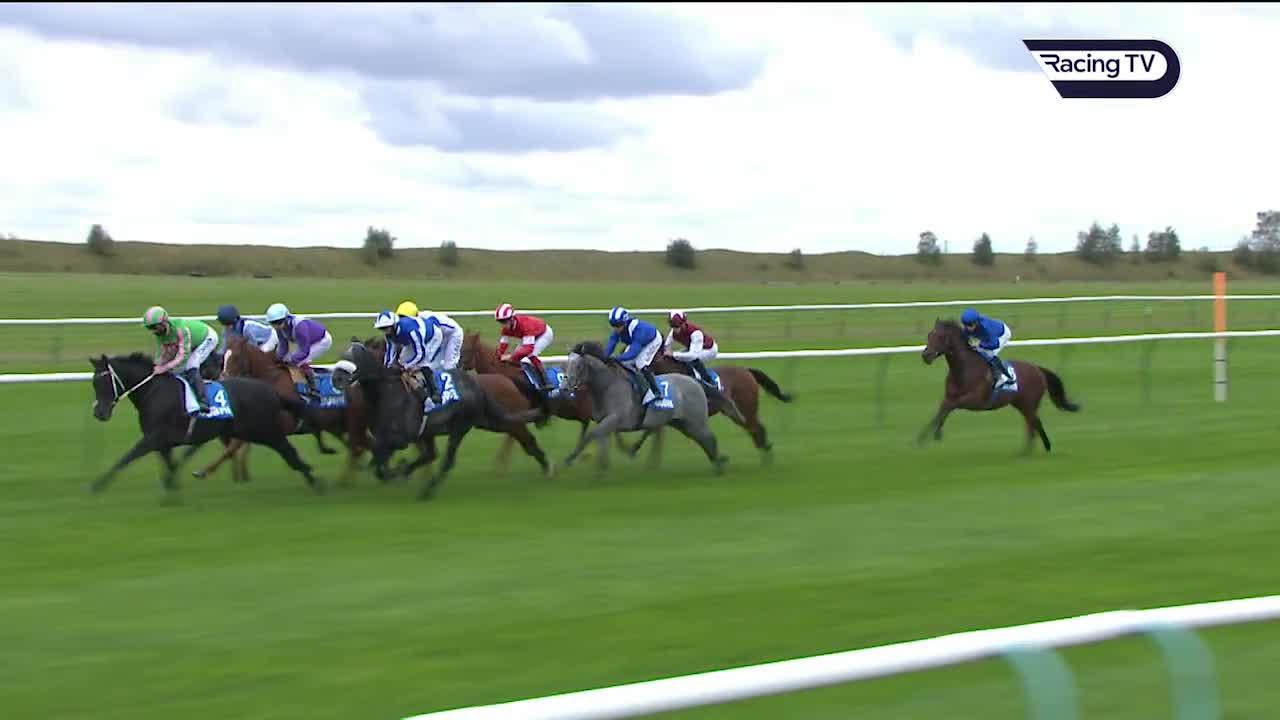 Watch the full replay as Happy Power takes the Challenge Stakes
This was a very strong renewal; it brought together all the major form lines from the lead-up races and looked a treat.
For some reason, only one horse raced towards the far side and that was 20-1 poke Dubai Fountain who duly ran the race of her life in fourth. Why on Earth did they abandon the far side?
PRETTY GORGEOUS, in the colours of the man who raced 2001 Kentucky Derby winner Monarchos, is a very strong stayer with a very likeable attitude. Surely there must be quicker-twitch Classic horses among the crop for next year than this Lawman filly? We will see.
What is for sure is that this effort should clinch a juvenile championship for her in the staying division, at least. She travelled well, came there in the heat of the race and battled her face off to win. Good for her. A lovely filly who is well named.
Pretty Gorgeous stopped the clock in 1min 39.10 which is 4.10sec slower than the Racing Post Standard. This is a solid time worthy of a figure around 115 commensurate with the level of the form (the precise figure depends, of course, on the WFA scale being employed as much as other aspects of the computation). Pretty Gorgeous entered the race on RPR 112 and you figure she did not need to improve more than a length or a length and a half.
Indigo Girl ran a cracker and will give the winner all she can handle in the 1000 Guineas on faster ground. She held several places after missing the break and made a premature effort in the hottest part of the race, sticking on really well. She is quirky, however, and will need to improve mentally as much as physically.
In this regard, she pales in comparison to the winner who, by contrast, does everything right in a race. Frankie Dettori back on board will be a plus.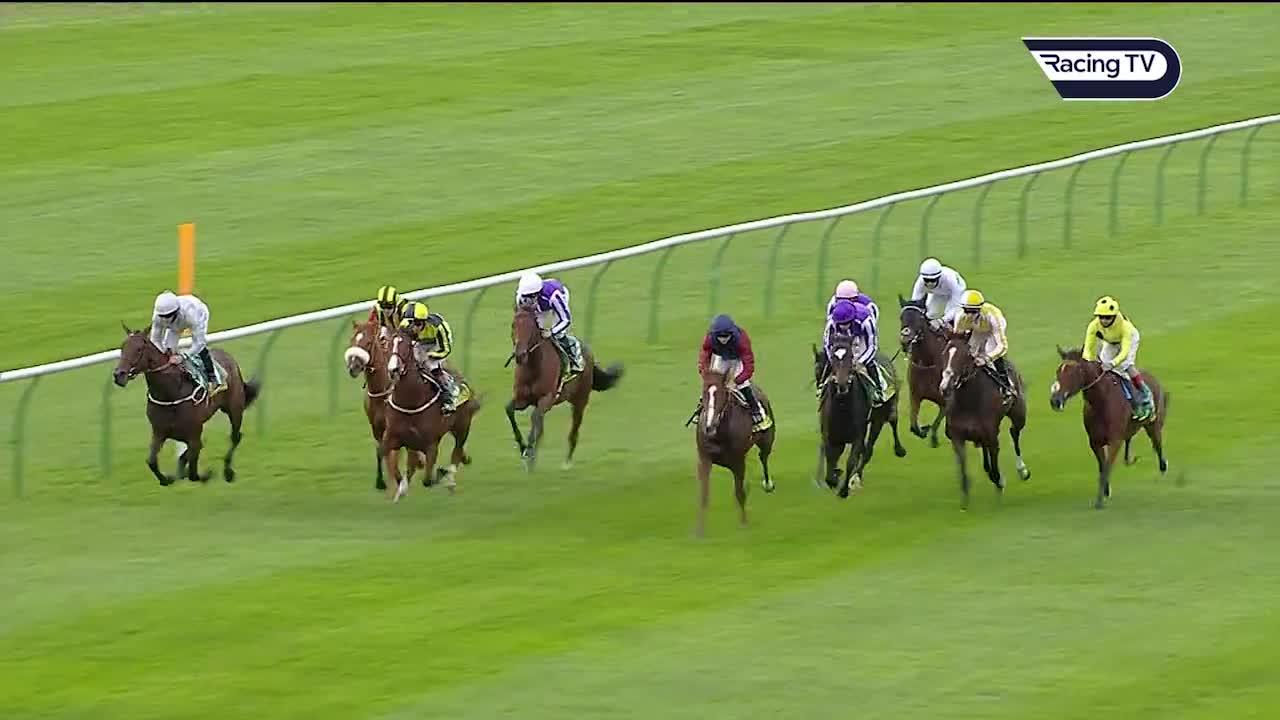 Pretty Gorgeous lays down her Classic credentials with an impressive victory
It was good to see the silks of the runners make a veritable rainbow here. (The race is named after a horse though.)
With the jockeys keen to be as close to the far rail as possible, there was a fight for the early lead. Trefoil, a 25-1 poke coming off a long absence, got it and proceeded to run a fine race. For the record, the first four were drawn 4-12-1-8 with the draw being coincidental this time, rather than causal, as this race was run at an outlying gallop and the closers were sucked past late far more than in other contests, not atypical for a card in which the word slowly gets round among riders that bagging the faster ground is an advantage.
ANGEL PRIDE completed a hat-trick for Silvestre De Sousa, all in the blue-and-white of King Power Racing and all for different trainers. This filly was half an hour the best on the day and, in addition, benefitted from the strong pace in coming from behind the first flight of runners early.
The winning time (after a heavy rain shower) was 2min 8.56sec, fully 8.26sec slower than the Racing Post Standard. Comparisons with earlier contests must factor in the effects of the downpour, but suffice to say that awarding this race a poor speed figure, after making no allowance, would not be leveraging all the information available about the day's racing.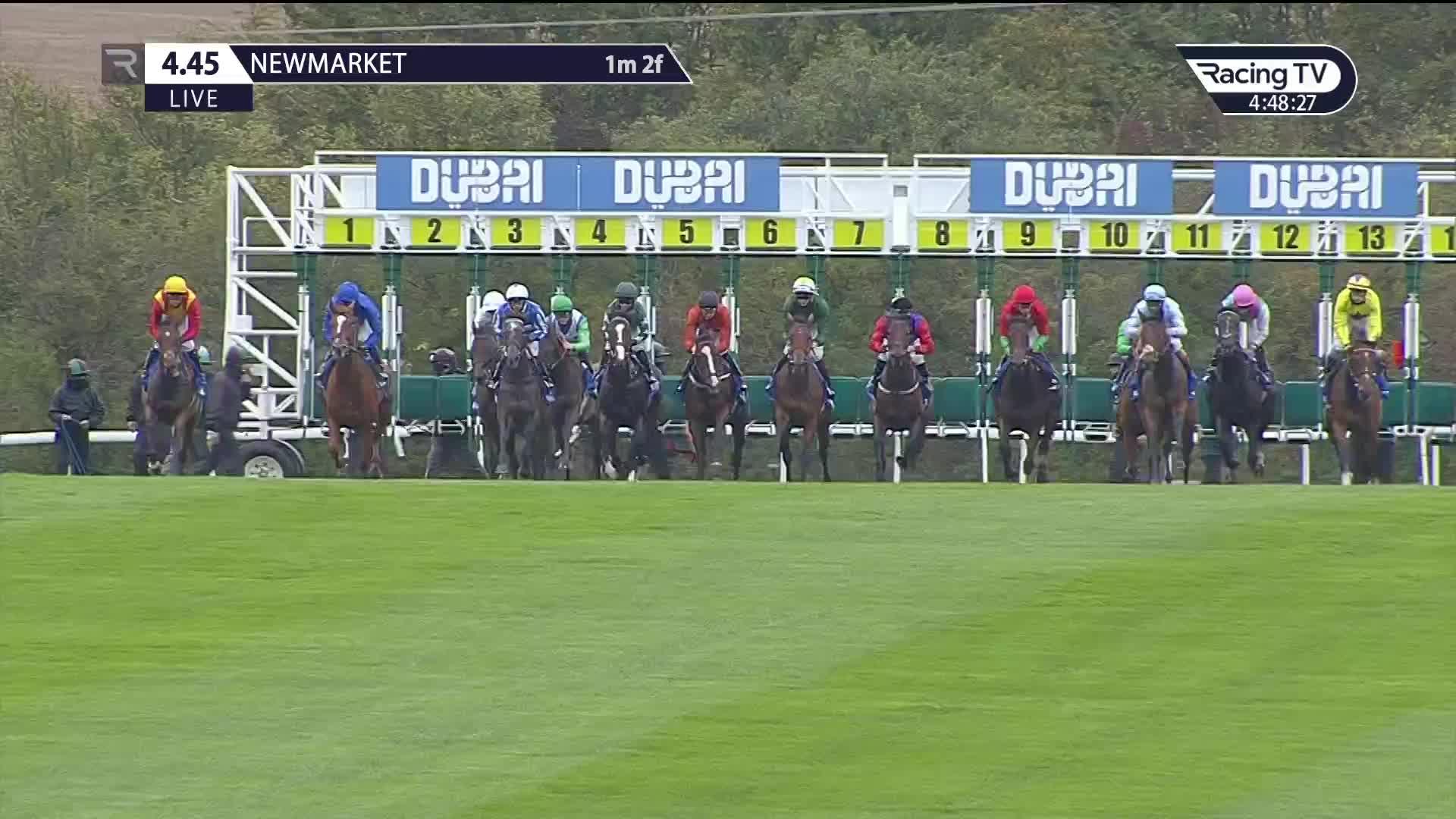 Angel Pride brings up a Friday hat-trick for Silvestre de Sousa
Saturday
The wind was a shade stiffer than Friday at 20mph, but it was coming from the same direction – due west. This should be helping the runners a fair bit again.
The going was a bit softer than some inferred from the times because of this, but less than your common-and-garden heavy.
Godolphin Flying Start Zetland Stakes
If golf legend Peter Alliss (winner of this week's PGA in 1957 and '62) liked horse racing, this would be his kind of race, featuring, as it does, the kind of test redolent of days of yore when horses were not so flimsy as they tend to be today.
Recent winners of this contest – which this year is named after Sheikh Mohammed's excellent Flying Start scheme which, by coincidence or not, is also for youngsters who are not so flimsy as they tend to be today - include Twice Over, Hartnell, Coronet, Kew Gardens and Max Vega. With all due respect, whoever made this an upgraded conditions race in 2007 is hopefully no longer a key decision maker in British racing.
Anyway, it was a decent line-up too, with some well-bred youngsters making up a good-looking field. And, to add another frisson of excitement, both Australian and New Zealand interests were represented, by LONE EAGLE (Aquis Farm) and Babindi (Sir Peter Vela et al) respectively.
When they take Lone Eagle Down Under for the prize money, he won't have Silvestre De Sousa to help, as the Brazilian was absolutely brilliant over the two days. The way he always heeds every bias is light years ahead of most jockeys nowadays.
You will understand by now that Lone Eagle made all on the heavily favoured stands' rail, as those who tried their luck in the swamp (I won't embarrass them by name) were going backwards by halfway.
Lone Eagle broke the beam in 2min 5.45sec which is 5.15sec slower than the Racing Post Standard. Furlong-for-furlong, that's quite a few lengths faster than the opening nursery (as you would expect) and Lone Eagle also carried 6lb more than the winner of that race, Wobwobwob. All in all, he comes out in the low-100s which is bang on the historical standard for a winner of Lord Zetland's sweepstakes.
The huge gaps back to beaten runners in a race is most often a sign of a quality race, although that isn't necessarily so on this strip.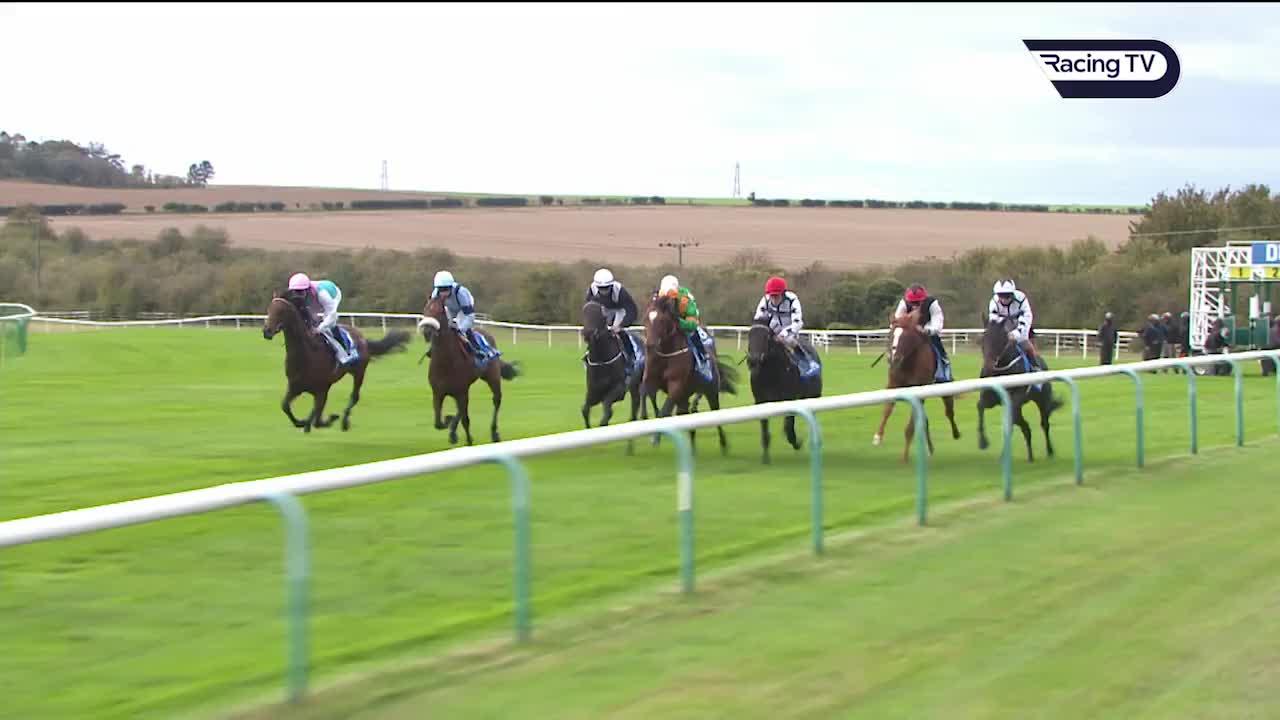 Watch a full replay of the Zetland Stakes
This has become a seriously influential race. Charlie Appleby, who annexed this prize with Ghaiyyath back in 2017 (the winners since were Persian King, no less, and Military March who looked to be a brilliant prospect for Saeed bin Suroor but has gone wrong) saddled the opening favourite ONE RULER, a son of Ghaiyyath's world-leading sire Dubawi. This was amazing considering he was breaking from stall one – surely the coffin box on Saturday – and it was no surprise to see him drift.
Against the propitiously-named One Ruler were the progeny of American Pharoah, Frankel (2), Galileo and Kingman – to name but a few. And all of them miles better drawn. In short, this was absolutely loaded.
What a performance. One Ruler was so much the best in this race. He was widest of all for most of the race in a contest which appeared to feature a strong gallop. But no horse had done anything like the same amount of running while off the rail.
This is a very good horse and it is easy to forgive the defeat in Listed company at Doncaster because he was awkwardly away and ended up out of his ground.
Initially after the race, One Ruler received Derby quotes. But he probably isn't a Derby horse. His cadence is too quick for that and Dubawis need help from the dam side to get a mile and a half, and that is missing here.
Quotes of 33-1 for the Guineas do seem about right. In general, ante-post odds should be treated with exceptional caution because the book ends up being about 500% by the time everyone has been handed out. But this colt arguably has more chance of winning the Newmarket Classic than the Epsom one, and he is clearly very talented. He will need to develop a lot more yet though.
The time was 1min 39.71sec, 4.71sec slower than the Racing Post Standard. This isn't an outstanding accomplishment, more in line with Group 3 expectations than anything fancier than that. But he needs upgrading for running on slower ground than the first two winners, and it is going to be very informative to see him again.
A note about the pace. When an obvious bias exists, the pattern of meetings tends to be an increasingly frenetic early tempo as each race passes. Jockeys try to emulate successful tactics they have just witnessed, but in the zeal to get the favoured pitch, the pace knife-edge tends to be tilted to off-the-pace runners.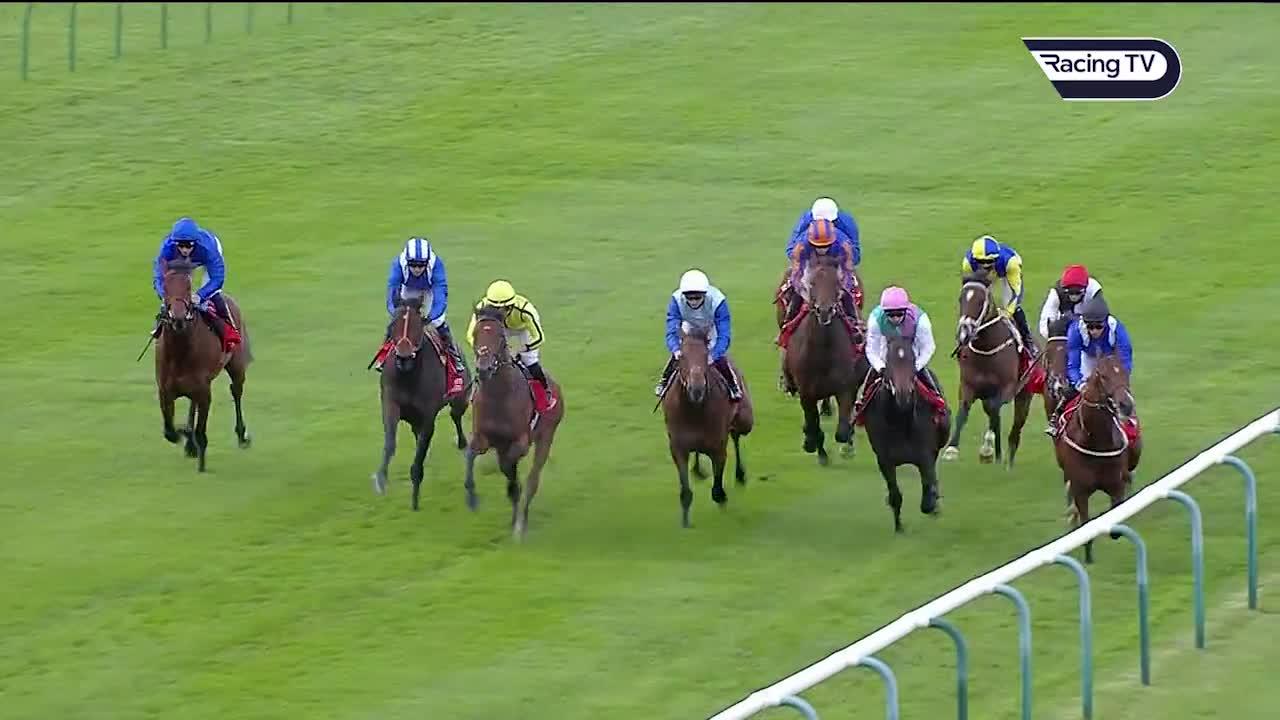 Watch a full replay of the Autumn Stakes
The suspicion was that this renewal was not quite as good as the sky-high hyperbole it had received in some quarters of the media. Aidan O'Brien may have much better horses by next spring than Wembley and ST MARK'S BASILICA (and probably already has a better one in Battleground); Charlie Appleby was not even represented, and neither was John Gosden.
Indeed, it seems like all across the juvenile division, many of the stouter-bred and classier horses have not had the chance for the seasoning and conditioning required. In short, the established order is open to a ton of flux.
There is a good chance that the best horse finished second here. The 1-2-3 in the Group 1 National Stakes finished in the reverse order as St Mark's Basilica (stall 12) held off the Ryan Moore-ridden Wembley (stall 2) who is a very good bet to have beaten him if they had broken from opposite stalls. It is typical of Moore's wretched luck that he was on the wrong one again.
The principals finished towards the centre of the track, but the bias was still evident because a huge longshot Devilwala clung to the rail under a great ride from Rossa Ryan and finished fourth at odds of 100-1. In fairness, he was second in the Group 2 Gimcrack so was far from the hapless challenger that his betting odds suggested.
For his part, St Mark's Basilica stopped the clock at 1min 25.24sec – 2.94sec slower than the Racing Post Standard. A direct comparison with the opening nursery should be highly informative. This is enabled because Wobwobwob (a front runner) finished in 99.9% of race speed, while the winner here closed off in 36.19sec (101%). Both these figures are within the range that the Course Track system considers optimal for seven furlongs on the Rowley Mile.
And this comparison raises some concerns. Wobwobwob was just 0.86sec slower than the winner here which is 13lb on soft ground over seven furlongs. Now, add in the 5lb less the handicap winner carried and the difference between the two races is just 18lb which is a big worry for the Dewhurst form, considering Wobwobwob won off 73!
However, we have to make allowance for the Dewhurst principals racing off the rail, and the fact that the track was deteriorating generally in terms of speed; that became obvious by the end of the card.
For his part, Wembley did a ton of running out wide and deserves an upgrade of several lengths. He is by Galileo, so is a very good bet to train on very well. Again, it seems likely there are a raft of better horses out there who will announce themselves to us next spring. But you never know!
We will see if this form holds up, or the real Guineas trials take place on the Newmarket gallops and the time trials at Ballydoyle? The first two were a combined 2-9 between them coming into the race, but we have seen several times in recent years that Aidan O'Brien's horses improve sharply with racing.
We need to see more of all the horses in this race. Conditions must have played their part, but this is a strange juvenile season, and everything could be turned on its head by midsummer next year.
Watch a full replay of the Dewhurst Stakes
The final race at a cracking two-day feast of Flat racing at Newmarket was the nine-furlong Darley Stakes, a Group 3 contest for the older horses.
There were 12 runners signed on for duty here over the Cambridgeshire journey, but they made the Group 2 Dante second Highest Ground a clear market leader. What a promising horse he had looked at York, and a shame that he had been kept off the track 93 days since. He went as if something was amiss here. Let's hope he can regroup for next year when the ground is not so deep.
They raced in the centre here and who could blame the riders with the track deteriorating. But, would you believe it? The horse drawn stall 13 of 13 who made its challenge nearer the stands' rail than any other horse prevailed. This game will drive you mad, if you let it!
The filly in question was a daughter of Camelot, LADY WANNABE, trained by Fozzy Stack and ridden brilliantly by Jamie Spencer. Spencer has far more ability than many jockeys who get a much better book of rides due to media hype. Lucky for the connections for whom he is available so much.
The winner was chased home by Dream Castle, who went like the best horse throughout and should be remembered for a Dubai campaign, and Epic Hero who will also be out there, one would expect.
Time comparisons are going to be unfair to this race, given how the track was deteriorating. But, for the record, the Irish challenger arrested the apparatus at 1min 53.65sec which is 5.85sec slower than the Racing Post Standard time. As was inevitable, this looks a poor time, but it probably isn't.
Now, here was material evidence the field went too fast. Coming from off the pace, Lady Wannabe ran the last three furlongs in 38.69sec which is 97.9% of race speed. Clearly, the early leaders overcooked things and this is another reason to mark up Dream Castle who must go on the eyecatchers list from this meeting. He was a Group 1 winner in Dubai only last year and is clearly no backnumber for Saeed bin Suroor yet.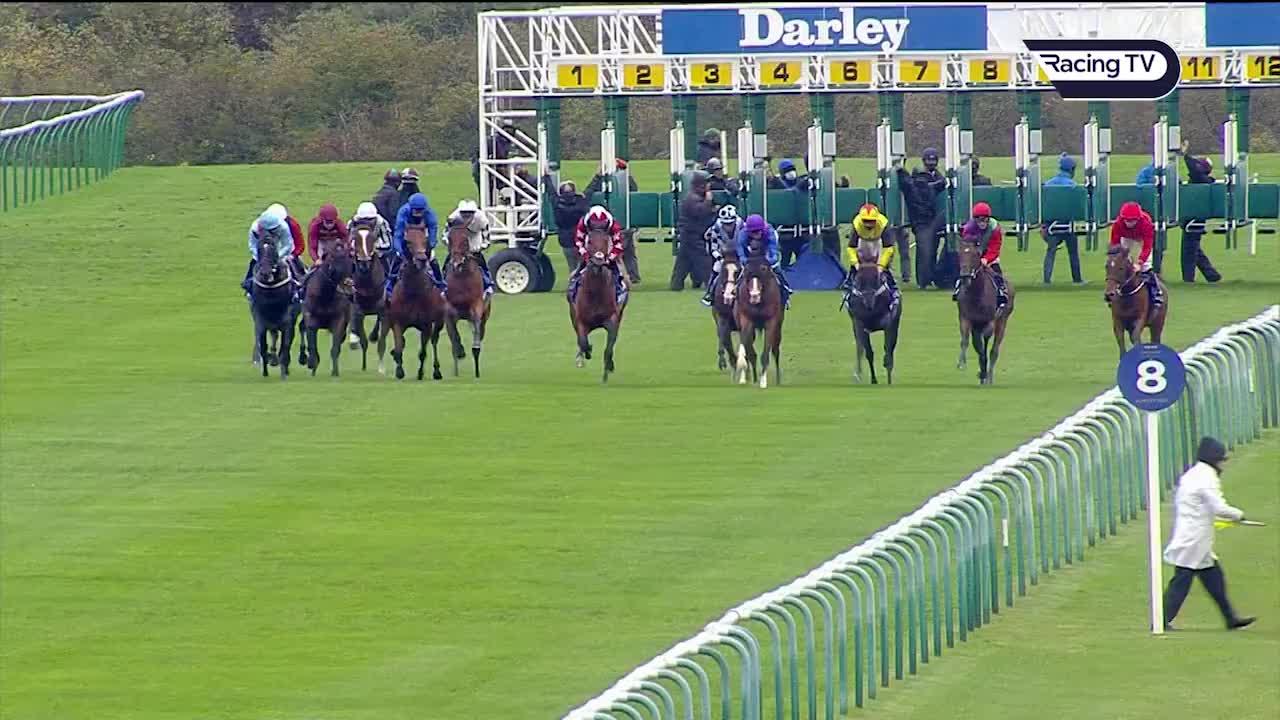 Watch a full replay of the Darley Stakes