Warren Greatrex is confident racing will stick together as it heads "into the unknown" during Britain's blanket shutdown because of the coronavirus pandemic.
Cheltenham Festival-winning trainer Greatrex has echoed colleagues' descriptions of a "scary time" ahead, but he is pinning his hopes on all in the racing community looking out for each other.
Implications for jockeys' and trainers' financial and mental well-being are evident as they come to terms with no racing for the next six weeks at least, and countless other everyday constraints while the Government tries to slow the spread of the virus.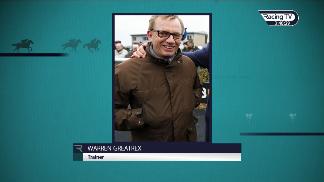 Warren Greatrex spoke to Rachel Casey on The Friday Club
"These are scary times, but my owners have been fantastic," said Greatrex.
"A lot of them are roughing the horses off now, with the general consensus being to stop early and then bring them back in earlier (at the start of next season).
"It is just how long the whole thing goes on for. We are at the end of our season – and it is easy to stop them a month or so early – so as long as racing comes back in good time, it shouldn't affect us too much."
There is significant further uncertainty, though, in the economic consequences of the global interruption of daily life – and specifically what effect it has on owners' spending power.
Greatrex said: "With sales being cancelled, we don't know how this will affect a lot of owners, and their reinvestment into the sport is a bit up in the air, so we are going into the unknown.
"Racing is a great community, and we are all in the same situation – we have just got to stick together."
At his Lambourn yard, Greatrex has already had to take some tough decisions, but is hoping to limit the impact on the majority of employees.
"I've had to lay off a couple of work riders, but luckily they have gone to Flat yards, and I've also had to lay off a couple of people who were on trial, because they were the last in the door," he said.
"I've had a meeting with the staff to reassure them we will do the best to keep their jobs safe.
"We will do the best we can by everyone, because we don't want anyone to suffer."