Watch Tom Stanley's interview with the Girls Team at Ascot on Saturday after Hayley Turner, Hollie Doyle and Josephine Gordon won the jockeys' team competition.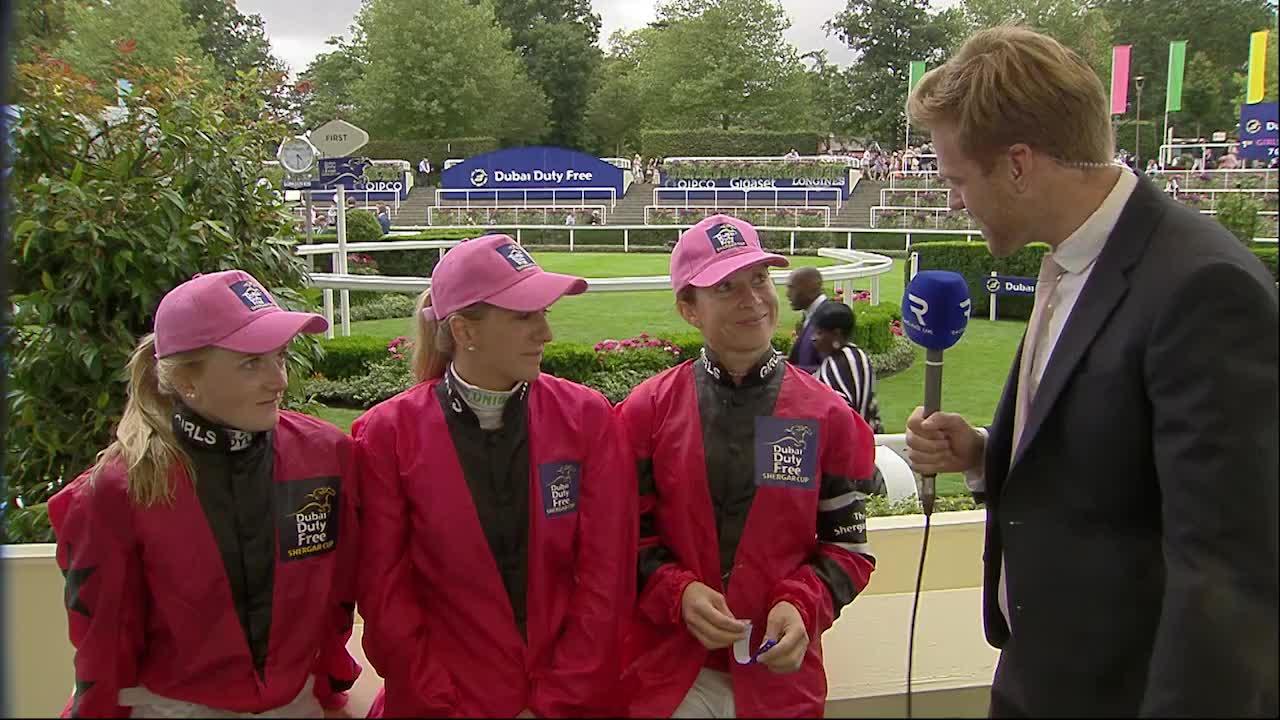 Not even the Magic Man could conjure up enough tricks.
Joao Moreira tried all he could to wrest the Alistair Haggis Silver Saddle from the desperate clutches of Hayley Turner here at Ascot on Saturday but when it mattered most it was Britain's most successful female jockey who came up smelling of roses in the Dubai Duty Free Shergar Cup.
In the final 100 metres of the sixth and final race Moreira was throwing everything at his mount, Green Power, to maintain their lead while Turner was riding for all she was worth to overhaul her rival.
Afterwards the Brazilian ace admitted that 50 yards out he thought he was sunk but at the line Green Power kept it to a neck, which meant that although Moreira won the accolade of ride of the day it was Turner who topped the jockey standings to take the trophy 39 to 38.
By securing her first Silver Saddle in 12 appearances at this idiosyncratic team and individual competition, Turner propelled the Girls Team to a second win in three years.
Turner has frequently mentioned that she lives for the Shergar Cup, and even came out of retirement to ride in it two years ago. This is her day, and it was capped when rapper Example offered her backstage tickets to the post-racing party.
"I've been coming to the Shergar Cup for 12 years now and it is a very special day," she said.
"The progression of female jockeys is something that is really being pushed and discussed and this is a fine example of how well girls can do in racing."
Haggis was instrumental in forcing through a Girls Team in 2012 and Turner paid tribute to the late PR man.
"He was always very kind to me and he got me on to the team 12 years ago," she added. "He really pushed for me, so I think he is up there looking down on me."
Turner was cheered on by her family, who have been coming to this fixture for over a decade. Her father, Richard, was particularly pleased at her achievement.
"I watch my daughter do a really exciting thing," Turner snr said.
"I am worried about it, but proud.
"Racing will always be a passion for her. When she said she was retiring she should have said she was just taking a break. She thought she would do the media and that would be it, but it has drawn her back in again."
This was not a competition that ebbed and flowed. From the outset the Girls and Europe went hammer and tongs. Hollie Doyle won the opener aboard Clive Cox's Tiz Marvellous to drive her team in to a lead they rarely relinquished.
Per-Anders Graberg, the Swedish representative who is more used to riding in front of two or three thousand at Bro Park, the new racecourse to the north east of Stockholm, learnt a bit about British race riding when he was pushed three wide on Vichai Srivaddhanaprabha's Cleonte in the Stayers next up.
The Swede, who is just 5ft 4in, kept a cool head and gathered his reins and drove his mount to an easy win for his European team. With Gerald Mosse and Stars Over The Sea staying on to take second and Soldier In Action losing out for fourth to the Girls' Byron Flyer, the tussle at the top continued.
Europe kept in pursuit when Andrasch Starke, better known as Danedream's rider, understood the fractions better than anybody when taking the Shergar Cup Challenge on Genetics.
Corey Brown galvanized Humble Hero early on and with Starke and Genetics in pursuit there was 25 lengths back to Maori Bob at the halfway stage. Brown's mount cried enough in the straight but Genetics kept on to win by a monstrous 12 lengths.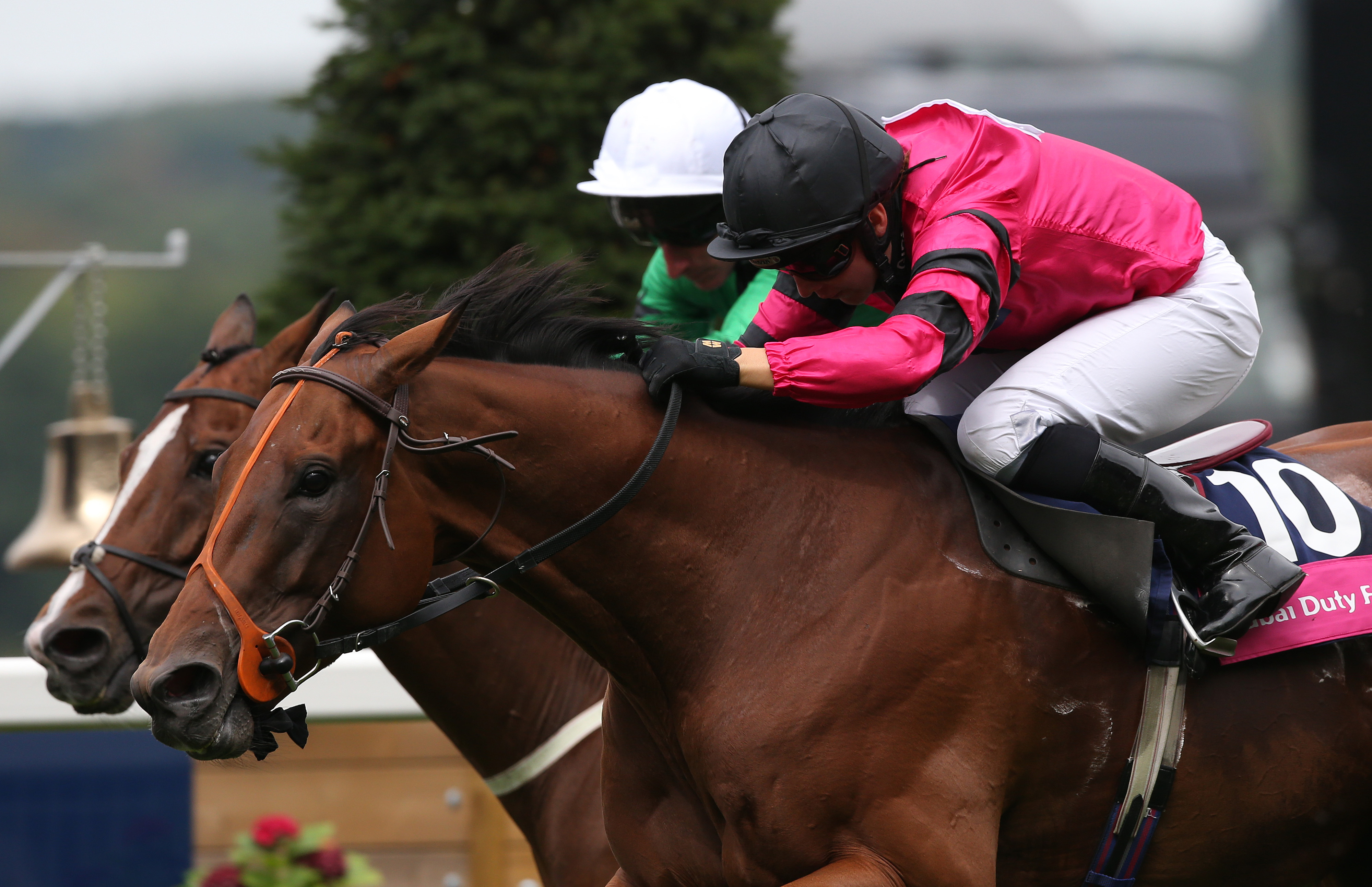 "Nothing came to me," the rider said, after sweeping in to the winners' enclosure wrapped in the German flag.
"Couldn't be winning more easier. They let me go. They let us go, anyway.
"English horses keep going."
From there it was the Turner and Moreira show. Via Serendipity carried Turner to her sixth Shergar Cup win, before Moreira secured the first win of his 70.5-1 double when Berkshire Blue landed the Classic.