Watch Mr Lupton edge our Take Cover in the Dubai International Airport World Trophy at Newbury on Saturday and read Geoffrey Riddle's report on the gallant runner-up's final race.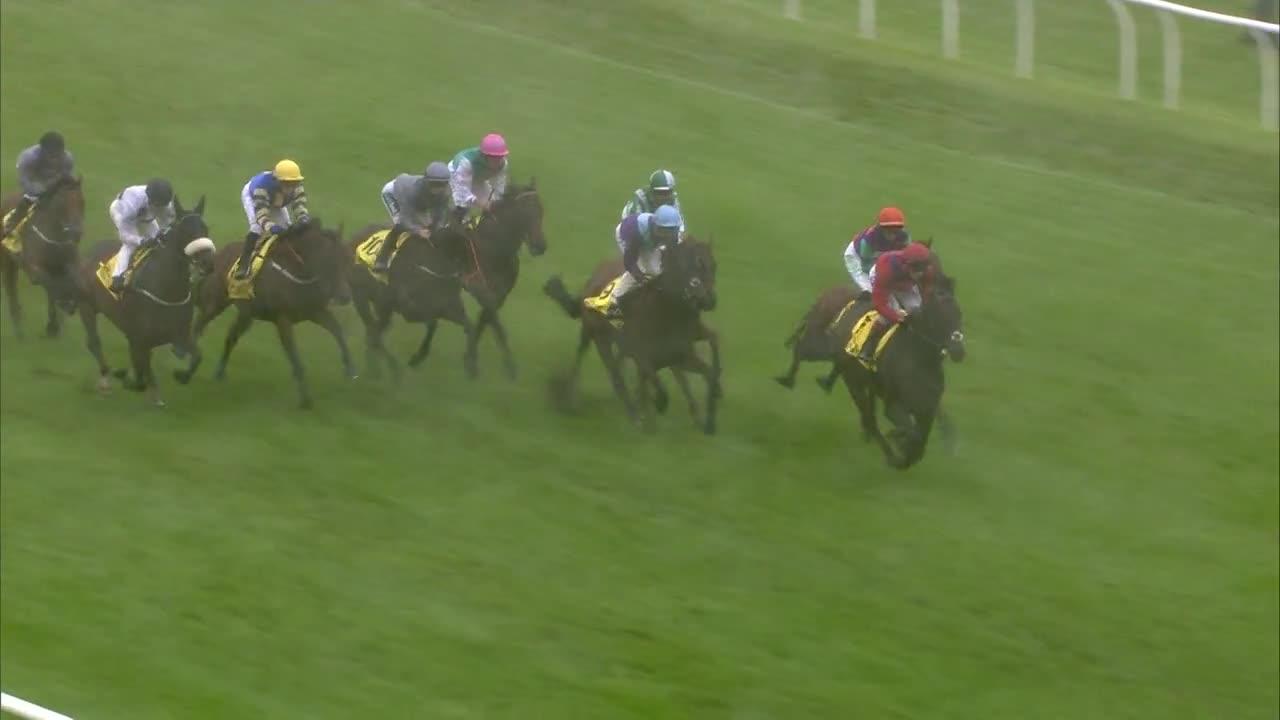 You see it in boxing all the time.
Muhammad Ali. Mike Tyson. Evander Holyfield. Larry Holmes. They all tried to defy father time. Instead, they drifted from their peak after being hit by the middle age bus which has a target on us all. None of them retired at the top.
Not so Take Cover. Or so it seems.
The 11-year-old nearly pulled off a miraculous swansong at Newbury on Saturday when, weighed down by rain-softened ground, he could not repel the late thrust of five-year-old Mr Lupton in the Dubai International Airport World Trophy.
At the line there was only three-quarters of a length in it but seeing the old boy blaze a trail in the unsuitable rain-sodden conditions under Fran Berry was a sight to behold. As soon as they crossed the line trainer David Griffths shouted an unprinatble expletive. It showed how much he cared. So, too, did half the racegoers hiding from the rain crowded around the television in the grandstand in the ground floor cafe.
Take Cover began his extraordinary career by finishing last on debut at Doncaster in November 2012 and bows out having returned over £750,000 in prize-money to owner/breeder Andrew Hollis. It was his 49th start and, according to Hollis, his pride and joy will not register his half century.
"It is important that he comes back safe and sound," Hollis said.
"He will definitely retire today. It has been incredible.
"He's the best horse I have bred and raced. He'll just retire and hopefully enjoy himself in the paddock now.
"You don't see many horses aged 12 running and you see them start going downwards and I don't want that to happen.
"I don't want him running next year and being rated down to 100 and then, where do you stop? He's finished on a high."
Hollis hailed Take Cover's two wins at Glorious Goodwood as the sweetest of moments and go back through the bay's CV and it is a who's who of Europe's best sprinters.
Sole Power hunted him down three times. Flying filly Mecca's Angel took him on and won. So, too, did flash in the pans Goldream, G Force and Move In Time. More recently it was Marsha and Bataash who were simply too good and, in the cliché often trotted out by connections, for a horse who is by Canadian International, Japan Cup and Dubai World Cup winner Singspiel he owes Hollis nothing.
If Hollis felt he had delivered the final word, Griffiths still believes there is time before the full stop is added.
The Newbury faithful, who had braved the conditions and reconstruction work to the new parade ring, pretty much knew that this would be Take Cover's last race, but they were not sure. Before the race Hollis gave the racecourse announcer Philip Brannan an interview to say this was the end. Griffiths crashed the interview and suggested his owner could be for turning.
Even after William Haggas had wondered over to give his congratulations and the dust had settled, Griffiths still believed he will see his flagbearer for a glorious ninth season.
"We'll see," he said, with a mischievous smile. "Hopefully it is not the last time. I'll need it in writing.
"I'm delighted with him. He's put me on the map. He's been brilliant to operate at that level every year and to win Group or Listed races is unbelievable.
"He loves racing. He loves coming back. He's grown up so much and has finally chilled out. He's as good as ever."
The irony of Take Cover is that he was bred to be a 10-furlong horse. His half-brother by Fantastic Light, out of the 20-year-old mare Enchanted, also operated at under a mile so it is anybody's guess what the future holds for his siblings. There is the half brother by Australian sprinter Sepoy, who is one of 32 at Griffith's Bawtry base. There is the half-brother colt by King George winner Nathaniel and his yearling half-sister.
Hollis knows all too well the ups and downs of racing, and, whisper it quietly, he probably knows he is unlikely to find another quite like this admirable 11-year-old.
"We'll see what happens," he said. "I'll probably never be this lucky and nobody will speak to me again."