From jockey to jockeys' agent, via three years pedalling his way around the world as an elite-level cyclist. It's fair to say Wilson Renwick has already crammed in more career twists, turns, climbs and sprints than most people manage in a lifetime.
Now he has returned to his racing roots and is about to embark on the next stage of his professional pursuit from a home office in Inverness, capital of the Scottish Highlands, and 90-minute drive south to Britain's most northerly racecourse of Perth.
Conor O'Farrell and Craig Nichol are the first two riders to leap on to Renwick's books ahead of jump racing's resumption on July 1, but he has ambitions to add more and gain a foothold in the Flat too.
Always one to follow his gut rather than the peloton – unless specifically instructed by his cycling team bosses – Renwick doesn't see any reason why being based in such a remote location should be considered an insurmountable hurdle.
"As long as I've got a phone, a TV and a Wifi connection, then I have everything I need at my fingertips," he says. "I've also got an extensive contacts book from my riding days.
"When I go into something new, whatever it is, I give it my total focus. I know what I want to achieve and I have a fair idea of how I want to go about achieving it."
Renwick's journey into the cut-throat world of professional cycling began not long after dual former Olympic champion Victoria Pendleton – who, coincidentally, is only a week younger than Renwick – had set out on a much more high-profile switching of saddles.
Yet Renwick's came about through accident rather than design. An X-rated fall from the Donald McCain-trained Sindarban at Market Rasen in May 2015 saw Renwick whisked to Hull Royal Infirmary with a list of injuries as long as his left arm.
Only a few weeks after that tumble, while still feeling the effects of concussion and wearing a neck brace for protection, he married his Inverness-born wife Sarah, a former yard manager for Mark Johnston, who he had met while riding out at Kingsley House 10 summers earlier.
"Starting from the top, I suffered concussion, broke my jaw, collarbone, several ribs and C7 vertebrae," recounts Renwick, who to this day has no recollection of driving to the Lincolnshire track, or of the career-shaping events which followed.
While those injuries all eventually mended, the nerve damage to his left arm didn't, leaving the Hawick native to call time on a slow-burning career which, at the age of 35, had belatedly begun to take off.
"I was just coming off my best-ever season of 61 winners," muses Renwick, whose victory on Clever Cookie in the Grade 2 Premier Hurdle at his home track of Kelso only 14 months earlier was the biggest of his near-400 career winners.
"Most of the jobs in the north are tied up, so you have to be patient and wait for an opportunity. I'd done that. Jason Maguire had gone off to become racing manager for Paul and Clare Rooney, so I was basically riding as stable jockey for Donald. Everything was going well. I had a good job with Donald, plus I was riding a lot of retained horses for (owners) Straightline, Keith Dalgleish and Rose and Tony Dobbin. I had a lot to get back to.
"What's most frustrating is it was a borderline decision. By the following May, after a year of rehab, I kind of knew then that I wouldn't be getting back on a horse. It took a bit of getting my head around, which is why I didn't officially announce that I'd retired until the August of 2016."
The legacy of that injury still stalks him today. "Most of the time I go about life as normal and have full power in my arm," he says. "But then, out of nowhere, I can be carrying a cup of tea and I'll just lose grip and drop it on the floor."
Renwick's passion for cycling was ignited in 2013 by the involvement in racing of Dr George Wilson, a renowned exercise physiologist and sport nutritionist at Liverpool John Moores University, who has worked successfully with many jockeys.
Already a highly competent cyclist at the time of his retirement, Renwick began competing in elite amateur races for Essex-based outfit Velo Schils in 2017. From there, he got a move into the professional ranks with the Java-Partizan Racing Team for 2018.
Renwick, who turns 40 in September, says: "I was 36 when I officially retired from riding, so I was never going to make a career out of cycling. If I'd come to it 10 years earlier, then I probably could have done.
"But I got out of it what I wanted. Like a lot of jump jockeys who are forced into retirement, rather doing it on their own terms, I needed something to throw myself into. I hadn't intended for it to be cycling, I just kind of fell into it and some doors opened for me.
"It took me all over the world, to places I never thought I'd see – China, Hong Kong, Sweden, Estonia, Africa, South America, the Caribbean. The furthest I got as a jockey was the Channel Islands, where I rode the winner of the Jersey Oaks and the Jersey Champion Hurdle!
"Riding for a pro team, I competed in a few 1.1 races, which is one rung below the World Tour. So it was a pretty decent level."
Two experiences remain particularly vivid. "The Tour du Senegal was a real eye-opener," he adds. "The difference between the haves and the have-nots was striking. There would be guys dressed from head to toe in designer clothes, right up close filming you on their iPhones; then next to them would be young kids with nothing but a bucket, begging for food or money. It was crazy and chaotic. Last year's Tour de Guyane, in South America, also stands out – I won Stage 2 of that to take the overall race lead!"
Star of the screen in Guyana! Wilson Renwick's victory was on national television.
Having initially fallen out of love with racing as a result of the cruel hand fate dealt him, Renwick's enthusiasm for the sport was rekindled last year.
"Going racing at Happy Valley in Hong Kong sparked my interest again," he explains. "After that, I found myself watching races, checking the results, seeing what was going on. I always hoped I'd come back into racing one day, but going away from it for a while was the best thing I could have done. It gave me a new focus and some time away from racing to work out what I want to do for the next 20 years. Without that, I doubt I'd be coming back to racing now."
In Nichol, the champion conditional of 2015-16, and O'Farrell, a Cheltenham Festival and Midlands National winner, Renwick believes he has inherited two riders with unfulfilled potential. To him, possessing the aptitude and attitude of wanting to make the best of your talents will be a crucial component in the make-up of any jockey he takes on.
"Whichever trainer might ring me up, I need to have confidence in all of my riders that they can do the job," he says. "My aim is to build a team of jockeys so whatever a trainer requires I have someone to offer them, be that a professional jump jockey or a 7lb apprentice on the Flat."
"Conor and Craig are two guys I have total confidence in. They're both very talented riders, who maybe haven't got the breaks at the right time. For me, they both have the potential to improve on what they've done already and get the results and the rewards their ability deserves. It's my job to help them achieve that."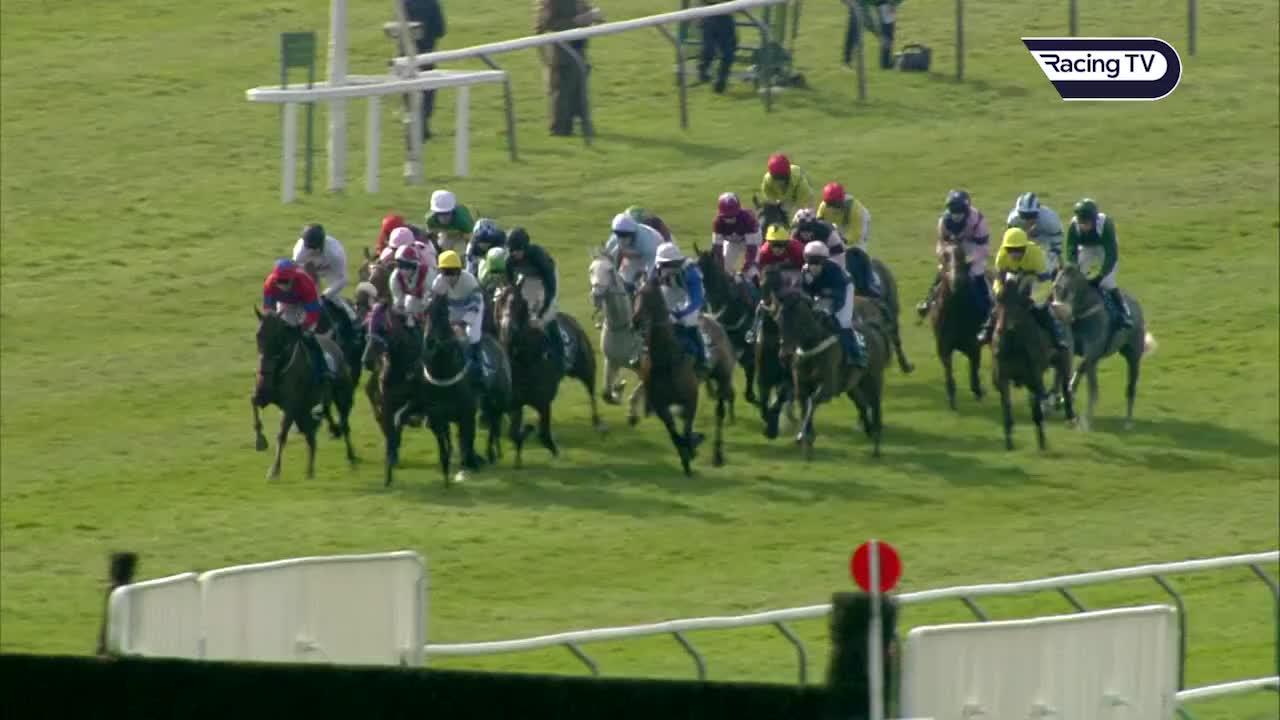 Conor O'Farrell wins the 2011 Pertemps Final at Cheltenham on Buena Vista
Renwick reckons his two decades' experience in the saddle gives him an advantage over some agents. "I understand what jockeys go through," he says. "I've been there, I've made all the same mistakes, I know the pitfalls. There's no jockey who doesn't make mistakes, especially if you're a young lad making your way in the game.
"Knowing how to handle all of that, I think, is a big plus. A few small things here and there can have a big impact and change a career for the better, just like it did for mine. That's where a good agent comes in.
Get your free Racing TV fleece - the latest in our range of high-class Racing TV merchandise! Click here for more details.