Fergal O'Brien was left brimming with pride after his daughter Fern made a winning start to her riding career at Carlisle.
A card confined to professional and amateur female jockeys gave the recently-turned 16-year-old the perfect opportunity to make her competitive debut aboard her father's 25-1 shot Lord P in the VL Aesthetics Honours Shona Cunningham Handicap.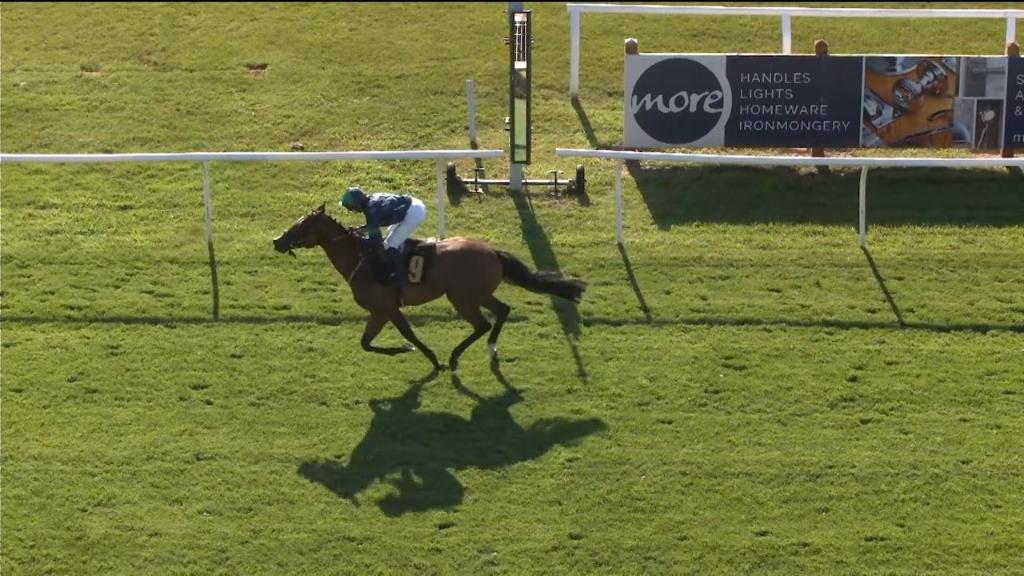 First ride, first winner, first interview - Racing TV meets Fern O'Brien
A winner at Kempton last year when trained by Richard Hannon, the four-year-old had disappointed on his first outing over hurdles and twice on the Flat since switching stables.
But having undergone a wind operation since his latest appearance at Newbury in early July, Lord P appeared much improved, travelling strongly before comfortably kicking three and a quarter lengths clear of Singe Anglais.
O'Brien senior – who has trained just three winners on the level – said: "It's amazing really, for a little girl who started off riding ponies – this has been her dream. Every day I watch her fulfilling her dream.
"It's unbelievable, for her to come up here on her first ride, on a not overly-fancied horse. Sally [O'Brien's partner and assistant trainer] gave her some great instructions and she followed them through.
"When I watched how she was going two out and pull her stick through I thought she was feeling confident, so I did look away. All week I've been really excited, then at the weekend I started to get a bit nervous. (But) it all went really well. I'm unbelievably proud of her."
The jubilant jockey said: "It was a bit of a steering job to be honest! He's very good and it was just very easy, I didn't need to do much more than push the button.
"I did my pony amateur course back in June so I was all ready to go the second I turned 16. I had my last pony race four days ago, turned 16 two days ago and now I'm here. I had five winners on the pony circuit, they all came on the same pony who's for sale if you're watching!
"We got very lucky with her and I'm even luckier now with my first ride."
She added: "A lot of people said to me before that it would be over before I know it, but it wasn't really. Maybe pony racing helped with that because it's flat out from the start in that.
"I was lucky with the draw in that I was in quite late and only sat in (the stalls) for a maximum of 30 seconds and it was very easy after that. From halfway I was thinking he was still travelling very well and I found a bit of a gap which opened up for me, he went through that and just stayed on all the way to the line.
"I got in a bit of trouble last week in pony racing because I didn't ride out to the line, so all I had in my head was to get over the line as soon as possible and I wasn't worrying about what was going on behind me.
"Horse racing is the long-term goal for me, but I'm staying on for A Levels at my school now so that if racing goes wrong I've got something to fall back on.
"I've been broken up from school since the end of May and I've been riding out since then. We've been working flat out, but it's been really good.
"I'm so lucky, my dad, my mum and Sally (Randell) are all horsey so I've grown up around it all my life and it's worked out so well."
Local trainer Dianne Sayer could not hide her delight at training another winner at her favourite track, after Iolani (4-1) struck in the VL Aesthetics Honours Pam Eland Handicap under Josephine Gordon.
The nine year old didn't look as though he was travelling for a long way of the mile and three furlongs journey – being under pressure from virtually the get go – but he responded well to his rider's urgings to eventually run out a three and a quarter length winner and seal a 24-1 double on the night for his jockey in the process.
That victory was the Cumbria-based Sayer's 12th victory on the Flat in the last five years and she was pleased to return to the winners' enclosure. She said: "We didn't quite see that coming! I'm not sure what happened at the start but Josie said he wouldn't have even come out of the stalls if she hadn't have given him a nudge.
"That isn't normal for him, but Josie has not given up and he's kept kicking. It's so great to be here and I think Carlisle have done a great job to make this affordable for everyone. It's great to see and they've been rewarded with a big crowd tonight – which is what we need."
VL Aesthetics Ladies Night is exclusively for female riders and Sayer – who is a big supporter of the evening – praised the track for offering valuable opportunities to women in the saddle.
She added: "We love this card. The first time they had the Ladies Night I think we had 11 runners in the yard and we took nine to the racecourse. It's a fabulous initiative and it's just wonderful for the girls to have the opportunity."
It proved to be a good evening for Josephine Gordon, who bookended the card with a pair of winners. The first of those came on Yukon Mission (4-1), who got off the mark at the 19th attempt in the five-furlong VL Aesthetics Honours Lesley Maxwell Handicap.
And Gordon was pleased that John Quinn's four year old was able to finally put everything together. She said: "She has been very unlucky on her last few runs and has been second or third and always in the placings.
"She is a decent filly and I thought we got the run of the race really. The stiff track helped and she is probably better at six furlongs but she has done it nicely. John Quinn's horses are in good order and he did she would run a big race."
One combination with a good record at Carlisle is Karen and Gemma Tutty and the pair picked up another winner at the Cumbria track with Strawman (5-1), who completed a double in the VL Aesthetics Honours Ann Ford Handicap over nine furlongs.
And Gemma Tutty was delighted to see the four year old defy a 5lb penalty to win again. She said: "He's been really well at home and settled better today – maybe he was a bit fresh last time. He didn't feel as smooth today and he had to work hard for it in a much better race today but he stuck his head down when it mattered and I was pleased with his attitude.
"Last time it happened so easily for him that you never really know how genuine they'll be when push comes to shove but I was happy with that.
"It's always been a well-supported night and all the girls genuinely love coming here. It's just nice that it's been that popular that they've managed to make it an annual fixture and it doesn't look like it's going anywhere anytime soon."
Another rider with a good record at Carlisle is Faye McManoman, who improved her tally at the track to nine winners from 31 rides when striking on Strangerontheshore (3-1 Favourite) in the first division of the PC Abs Ahmed Memorial Race Handicap over a mile.
Speaking after the race, she commented: "I tried not to panic as I've been stuck in a pocket on this filly a few times, it's a long way home up that hill and she ran on well when she got a clear run. She was very unlucky not to win at Hamilton last time and she deserved it tonight.
"It's a super evening that they have for the female jockeys and it gives everyone such a great chance and opportunity."
Elsewhere on the card, leading apprentice Laura Pearson picked up her 51st career winner when winning the second division of the PC Abs Ahmed Memorial Race Handicap on board the Linda Perratt-trained Chinese Spirit (7-4 Favourite).
And she said: "It panned out perfectly for us, they set a good gallop which he needed and I was told he can be a bit of a monkey so getting him to hit the front on the line is the key to him.
"It's my first time at this evening and it's brilliant. It gives the amateurs and the girls who aren't riding as much the opportunity to ride a bit more and it's just a good thing so hopefully it can continue.
"That's 51 winners for me now – it's been a really exciting year so far and hopefully it can continue."
Also on the scoresheet was Joanna Mason, who picked up her 23rd winner of the year on the Linda Stubbs-trained Old News (100-30 Favourite) in the mile VL Aesthetics Honours Leona Hull Handicap.
And she was delighted to get another winner on the board. She said: "I'm thrilled. I was probably a bit out-paced at times but they've come to me at the bottom of the straight and he's got that nice turn of foot.
"Gemma Tutty has come to me (on Tanlged) but he's battled well and I think I got back up. It means everything because he's been second in two photo finishes and it means a lot to the yard.
"This night is brilliant, it gets all the girls out and unlike at normal meetings there's plenty of opportunities for the amateur riders, so it's brilliant and long may it continue."
Lastly, the penultimate race on the card was the VL Aesthetics Honours Deborah Earl Handicap over two miles and a furlong, which was won in determined fashion by the Tony Carroll-trained Be My Sea (11-2).
The 10-year-old stayed on well to the line Mollie Phillips, who was delighted to pick up a winner on her first trip to the track.
She said: "He's needed that hill to slow the others down and he just stays. He won over two and a half miles last time, we were back down in trip here but the hill has really helped him out there.
"This is my first time at Carlisle! I think this evening is great to give the girls an opportunity and it's nice to be with them all in the weighing room – there's a completely different vibe to it and it's just great."