Watch a full replay of the Dubai World Cup won by Godolphin's Thunder Snow at Meydan on Saturday, video reaction from Saeed Bin Suroor and Christophe Soumillon plus read Geoffrey Riddle's report.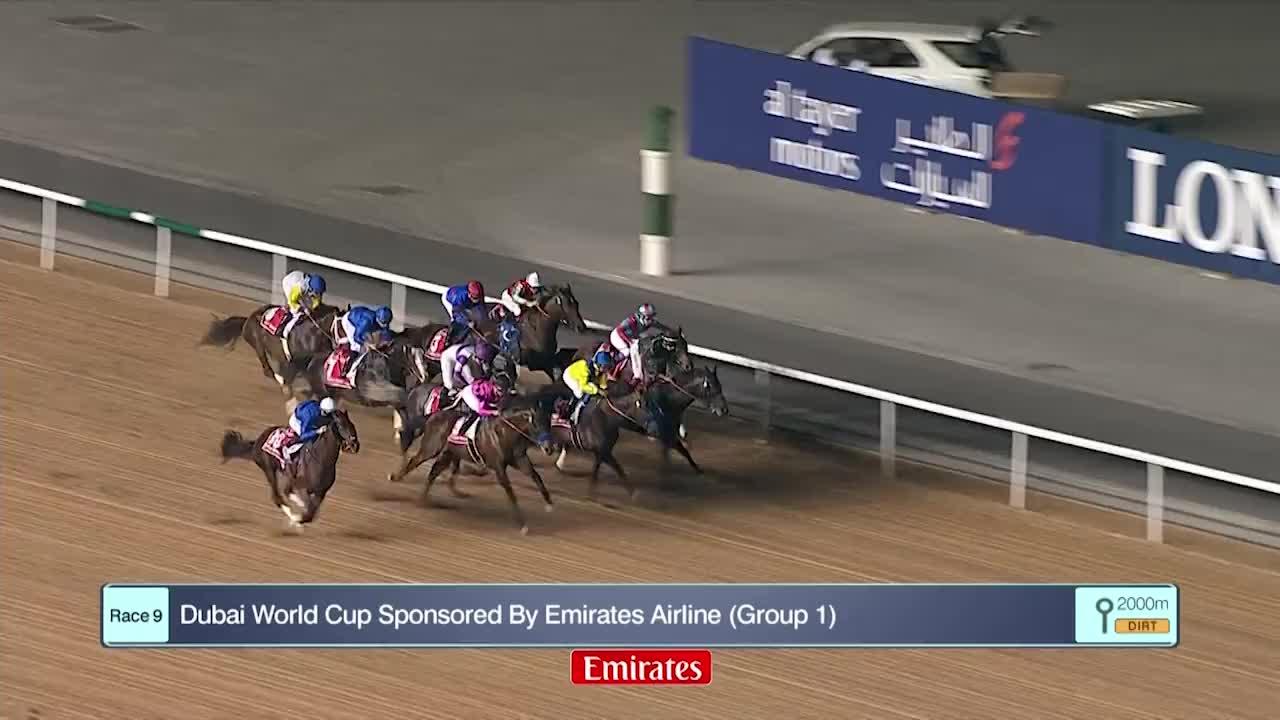 By Geoffrey Riddle at Meydan
Just after Thunder Snow had made himself an international laughing stock in last season's Kentucky Derby, Saeed bin Suroor chivvied along Christophe Soumillon to hurry. They were running late for their plane back to Europe and needed to leave Churchill Downs. They missed it.
In the subsequent 25 hours it took the two men to get home there was much reflection but when they finally boarded an aircraft, the trainer turned to the rider and suggested that the narrow 2017 UAE Derby winner could still graduate to win the Dubai World Cup.
Wind forward the clock and on Saturday night here in Dubai Thunder Snow did just that, and in some style to beat the Bob Baffert-trained pair of 5-4 favourite West Coast by an easy five lengths with serial World Cup contender Mubtaahij edged out of the runner-up spot.
Cue mayhem at a Godolphin winner in record time, and so much so that Sheikh Mohammed danced a jig on the winner's podium before presenting the trophy for the 23rd time.
Thunder Snow may not have been the best horse in the race, he was sent off at 8-1, but he had never finished out of the first two in five runs here and on board he had a partner who understood him completely.
In eight attempts Soumillon had barely a snifter of success in the $US10million contest but the Belgian jockey had been given some priceless advice before he was given the leg-up on what was officially Godolphin's second string.
"A little girl from the Royal family came up to me before the race," he revealed. "She said to me: 'the track here is small. If you go in front, normally you are going to win'."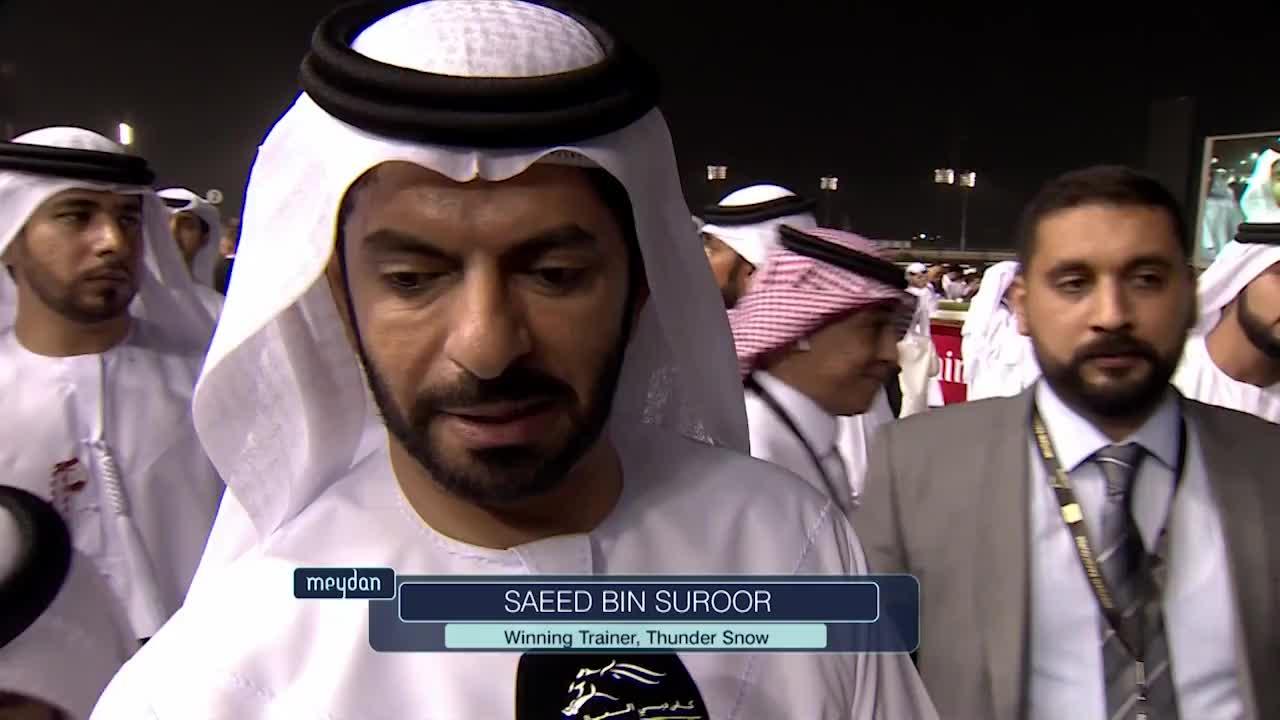 For the whole of the domestic season results had suggested that there was a pace bias, and one that manifested itself on the far rail.
Despite the ground-devouring victory of Mind Your Biscuits in the Dubai Golden Shaheen that resulted in the American raider joining Caller One as a dual winner, Heavy Metal's front-running success in the Godolphin Mile earlier in the evening showed that the little girl was right.
But Soumillon has ridden in Dubai time and again, and although there were four jockeys in the race who had won the iconic event previously only Richard Mullen on North America had more experience at Meydan.
Mullen missed the break aboard the horse who beat Thunder Snow in the official trial here three weeks ago and without him burning up his inside from gate two the Belgian jockey coasted through slow early fractions and effectively lulled his rivals into a slumber.
"I was surprised nobody really challenged me before the post," he said. "In the back straight nobody put the pressure on.
"When I came in to the turn he changed legs perfectly and was going smoothly.
Thunder Snow was Christophe Soumillon's first win in the race
(DRC)
"I was a half length in front of everybody and I knew I had to make a big effort and stay on the fence and I was surprised and happy that nobody came up my inside.
"I was aware nobody was coming around me in the straight and I hope it wasn't going to turn out like in the (UAE) Derby last year when he looked at the big screen, and I wanted to make sure he was concentrating much better than last year.
"I didn't feel any pressure at any point during the race."
The 36-year-old was just 14 when Jerry Bailey urged Cigar on to victory in the inaugural World Cup at Nad Al Sheba in 1996.
Soumillon watched the race on television and shouted the American jockey home. He was hooked.
The World Cup on dirt may not be to everybody's taste, but Soumillon pointed out that unlike other marquee races around the world, in many ways this is the only one that is eyed up by every rider across the globe.
"This is a dream moment for me. It is a race that everybody wants to win," he said. "The Australian jockeys, American jockeys, every jockey in Europe, Japanese jockeys, Hong Kong jockeys, South African jockeys – they all want it.
"I have won the biggest race in the world – the Arc de Triomphe, but the American jockeys don't dream about it because they never ride in it.
"This is very different and it is not easy for a European rider to say they are going to get a ride in it.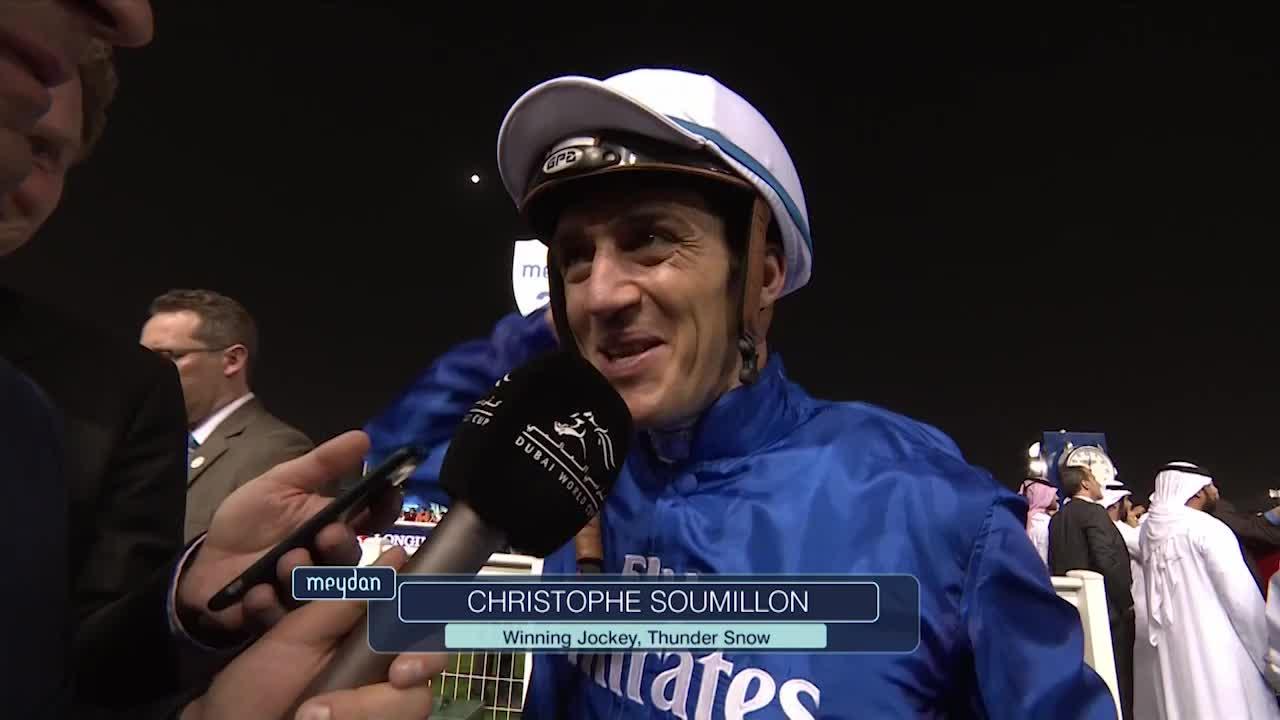 "I found this horse one November in Saint-Cloud and I have followed him everywhere. Sometimes we have good days, sometimes not, but it is an amazing story and we'll have to write a book about him."
For bin Suroor it is easy to assume that another World Cup win merges in to all the rest, but his eyes were burning brightly when he received the Golden Whip and he patted it with satisfaction afterwards.
"This only number eight," he said proudly, before conferring all the glory on to Soumillon and dedicating it to his family and mother in particular.
"The winner of this race is the jockey. He made this horse win the race. He was drawn ten. He is the best of the best.
"When I saw him being that confident at the front I was sure he was going to win and in the last two furlongs that was how it turned out."
Thunder Snow will now be given a break and could well be aimed at a dirt race in America in the autumn, but which one is not immediately obvious.
No World Cup winner has ever tacked on the Breeders' Cup Classic in the same season so a return to Churchill Downs in November for the self-styled World Championships looks distinctly unlikely.
"No, please!" said Soumillon. "I will need a blindfold because I will not go in to those gates again."