Charlie Appleby ended Godolphin's quest for a Derby winner in blue last year and is hoping for more glory this year, Andy Stephens discovers after a morning at Moulton Paddocks.
Sheikh Mohammed's Moulton Paddocks yard in Newmarket is so vast that William Buick estimates he got lost half a dozen times when first visiting.
Some villages are smaller than this equine community and the signposts, pointing staff and visitors to different destinations, are not just for decoration.
If there were a corner shop, there would probably be no need for Charlie Appleby and his staff to ever venture out of the big gates that guard its entrance.
There are 180 horses in training here; including some of the best in the world. A Derby winner, Melbourne Cup victor and others who have triumphed at Royal Ascot, the Breeders' Cup and the Dubai World Cup meeting all rub shoulders.
The older thoroughbreds are in the spacious main yard and the two-year-olds in another that mirrors it.
Drive a few minutes from the stables and you reach a multitude of pristine gallops set against a background of tall trees.
Horses and humans can go about their business in perfect solitude with, on this occasion, only a few pheasants for company.
Elsewhere in Newmarket, trainers have to book slots on crowded gallops as thousands of horses mingle. There is no such requirement at Moulton Paddocks, although Appleby still sends out first lot at 6.30am.
Those having their morning exercise are dots in the distance from where we stand. Appleby is observing them closely as they gallop past single file, with his binoculars flicking from one to another.
Cross Counter is among those striding out before him. In November, the globetrotting bay became the first British-trained winner of Australia's greatest race, the Melbourne Cup, capping an unbelievable year his trainer.
It was a historic moment for the 43-year-old, though not so momentous for him as Masar's emphatic victory in the Investec Derby five months earlier, which finally ended the Sheikh Mohammed's near quarter-of-a-century quest for a winner of the premier Classic in his operation's famous blue colours.
"When I started training and people asked me what my goals and ambitions were, winning the Derby was on the agenda and it was fantastic to do that with Masar," Appleby said.
"Winning the Derby has been the highest point of my career, and for Godolphin and Sheikh Mohammed to do it in the blue colours was a dream.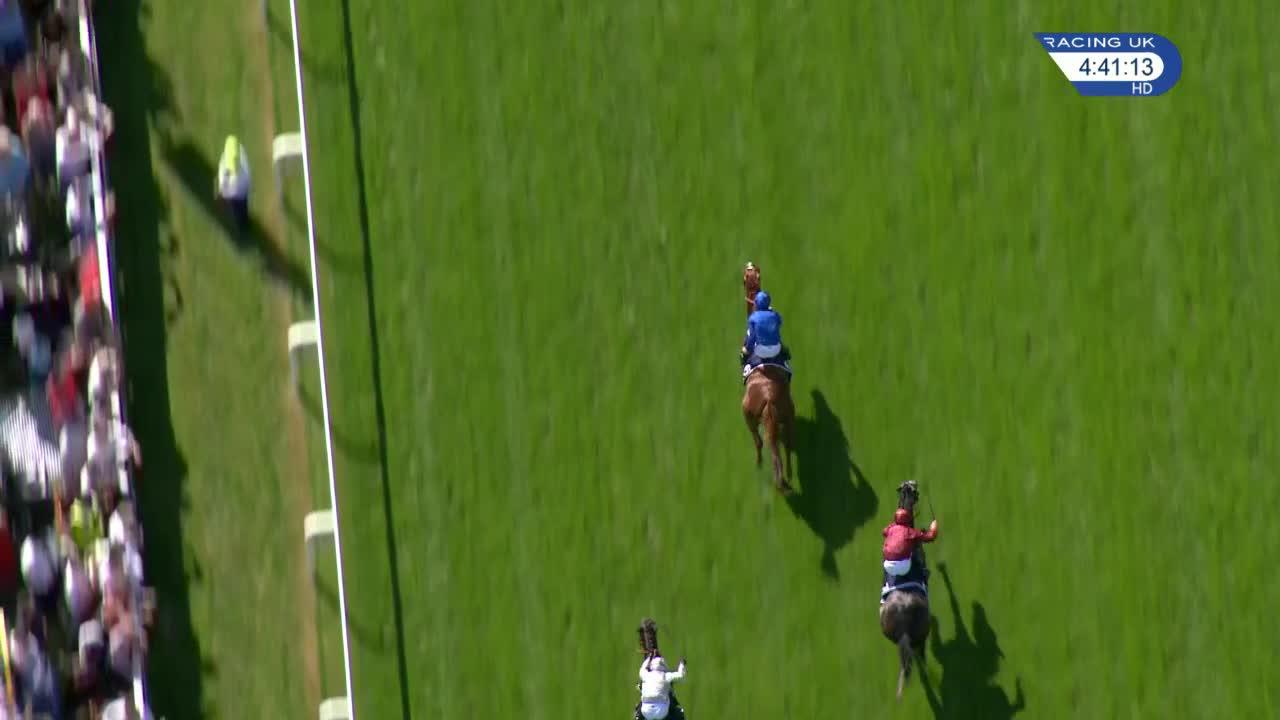 Appleby talks to Lydia Hioslop after capturing the Derby
"It was something that not only we here at Godolphin enjoyed. What I took from it all was that racing enjoyed it and the success was applauded by everyone within the racing community. We all know how much His Highness puts into the sport."
Next, comes the tricky part. Doing it all over again.
Aidan O'Brien-trained runners have been running riot in the traditional trials and he is quoted at 1-2 by some bookmakers to have the winner.
By contrast, Appleby has one dart to throw at the board in Line Of Duty, a general 16-1 to emulate Masar. The colt, absent since winning the Breeders' Cup Juvenile Turf in November, will make his seasonal reappearance against such as Too Darn Hot and Japan in what promises to be a compelling renewal of the Al Basti Equiworld Dante Stakes at York on Thursday.
"Line Of Duty is our main contender for the simple reason that he was one of our best two-year-olds and generally your best two-year-olds are up there with your best three-year-olds," Appleby said.
"The rest of the three-year-olds that we have this year - the likes of Jalmoud - are nice horses, but I am not sure they are Derby horses. Discussions will be had over the next couple of weeks about whether we will run them or not, but as things stand Line Of Duty is our main hope.
Watch how Line Of Duty won at Goodwood last year
"Going there with one live chance is enough, rather than making up the numbers and potentially weakening my squad for the second half of the season."
Appleby reveals he has never watched the popular BBC police drama Line Of Duty, which drew the biggest TV audience of the year when screening its series finale this month. Instead, he has been piecing together his own puzzles with the equine version.
For instance, he had considered running him in the 2000 Guineas, like Masar 12 months earlier, only to reconsider the evidence in front of him.
"I have always said that a turning track is better for him, as it keeps him interested," he said. "Over the straight mile in the Guineas, with a horse like him I felt boredom could set in slightly. Added to that, his pedigree and run style suggest that a mile was going to be on the sharp side for him as a three-year-old against proper milers.
"There is no doubt that the Guineas is one of the best trials for the Derby, but I felt it just was not going to suit this horse. I would rather go the Dante route to give him that opportunity up in trip and see where we are."
He added: "In terms of what it takes to be a Derby horse, I like a horse who has been well travelled and takes nice experience into the race.
"He and Masar have very similar profiles; they both raced five times at two, they both went to America and Line Of Duty actually came out with a better result than Masar (who was only sixth in the Breeders' Cup Juvenile Turf) on the day.
"I was confident going into the Breeders' Cup that the turns there as well as the hustle and bustle would suit him. He is terrier-like and enjoys getting into a bit of a scrap. Those are things you are sure to get around Epsom."
Line Of Duty is a son of Galileo, making him an unlikely player in blue. For many years Sheikh Mohammed stubbornly refused to buy any progeny of Coolmore's flagship stallion, but his change of heart could yield a spectacular dividend.
"The last couple of years, new doors have opened for us in respect to different pedigrees," Appleby said. "It was interesting learning about the few Galileos we had around last year; what they like and what they enjoy.
"I asked a few questions to people that have more experience with Galileos and learnt along the way what type of Galileo you need. If you asked me about Dubawi, I could tell you front to back what you should be looking for."
Nobody can question Appleby's pedigree. Few outside racing circles had heard of him when he succeeded the disgraced Mahmood Al Zarooni in the summer of 2013 but his association with Godolphin had started 15 years earlier when he was assistant to David Loder.
He held a number of important roles under Loder, Saeed bin Suroor and Al Zarooni before being announced as Godolphin's second main trainer on July 25, 2013. He had his first winner at Ascot only three days later and has not looked back since.
"Six years ago the big question when I stood on these gallops was 'Can we produce Classic horses and other Group One horses at Moulton Paddocks?' he said.
"The first horse who took the pressure off me was Outstrip, when he gave us our first Grade One winner at the Breeders' Cup.
"Going forwards to now, hopefully we are seen to be doing our best. Thankfully we are having the right horses, turning up on the right days and producing the right results.
"Having Classic and Group One winners is what we are about at Godolphin. His Highness is great with myself and the team in that he knows we are trying to do the best for the horses. And what's best for them is best for everybody in racing."