Watch how Bryony Frost became the first woman to ride a Grade One winner over jumps at the Cheltenham Festival aboard Frodon in the Ryanair Chase.
Bryony Frost became the first woman to ride a Grade One winner over jumps at the Cheltenham Festival after Frodon produced a tremendous front-running performance in the Ryanair Chase.
Already a four-time winner at Prestbury Park, Frodon was a 9-2 chance stepping up the highest level, with trainer Paul Nicholls eventually deciding to run in this event rather that Friday's Magners Gold Cup.
As is his wont, Frodon went straight to the front and produced some prodigious leaps under a swashbuckling ride from Frost.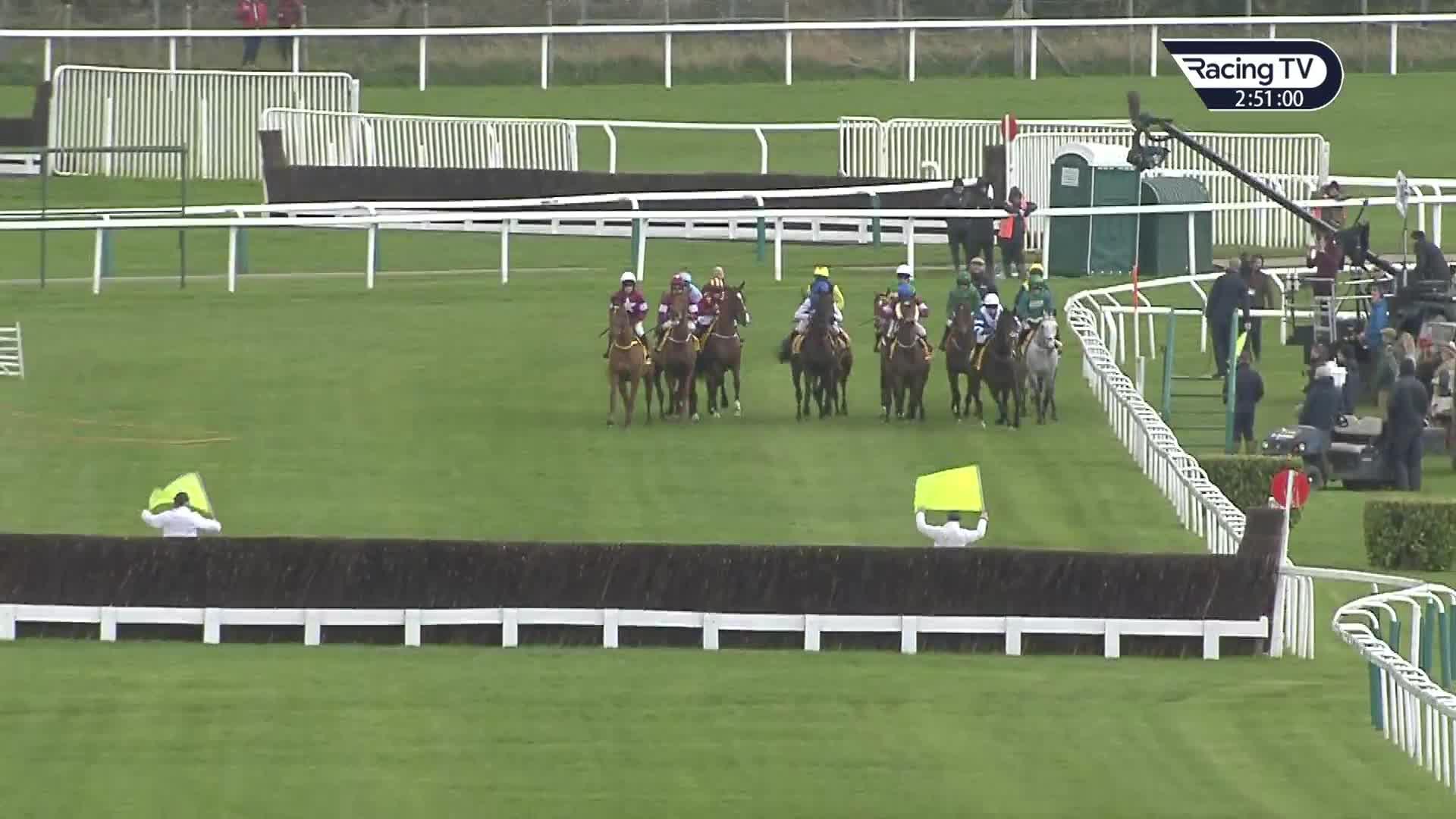 Watch a full replay
The challengers were queuing up from the home turn, but one by one Frodon saw them off – battling all the way up the famous hill to prevail by a length and a quarter.
Aso ran a fine race to fill the runner-up spot, ahead of Road To Respect in third.
Wiping away tears she said: "Frodon has got his day. He is Pegasus, he has wings, and he is the most incredible battler.
"He travelled and by God he jumps. When he got overtaken two out, most horses would quit, but he grabbed me by the hands and said 'don't you dare give up, don't you dare not send me into the last, I want this more than you, now come on.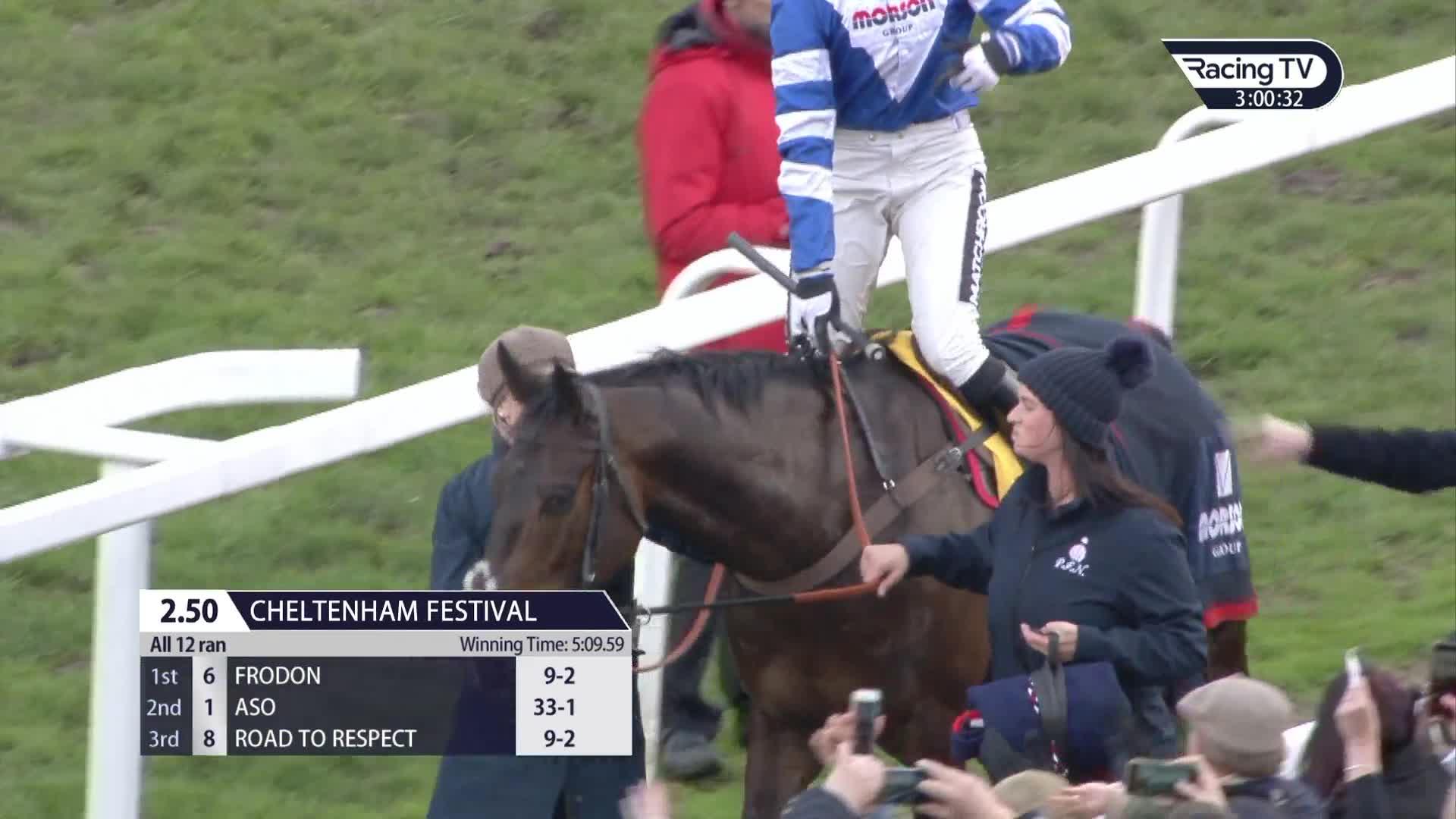 Frost and Frodon get a huge ovation walking back past the stands
"He is the perfection of determination. Look at what he has done there and tell me he does not love racing. He is unbelievable. The dream he has just made come true for me is just incredible. He deserves every single pat, carrot and polo. This is his day."
She added: "What can I say about that. Honestly out there we were just in synch.
"Literally our heartbeats were probably together, and every time I needed him to come up a bit longer and take a bit more of a chance with a fence, just to keep him there for me, just to give him those moments and have those few breathers he was brave.
"We had to be brave. Every time he's won, he's won by being the bravest. He grabs a hold and he tells you to give it to him. Down to the last we were beat.
"Two out he was headed and that horse (Aso) was going better than us for a minute, but he would not believe it.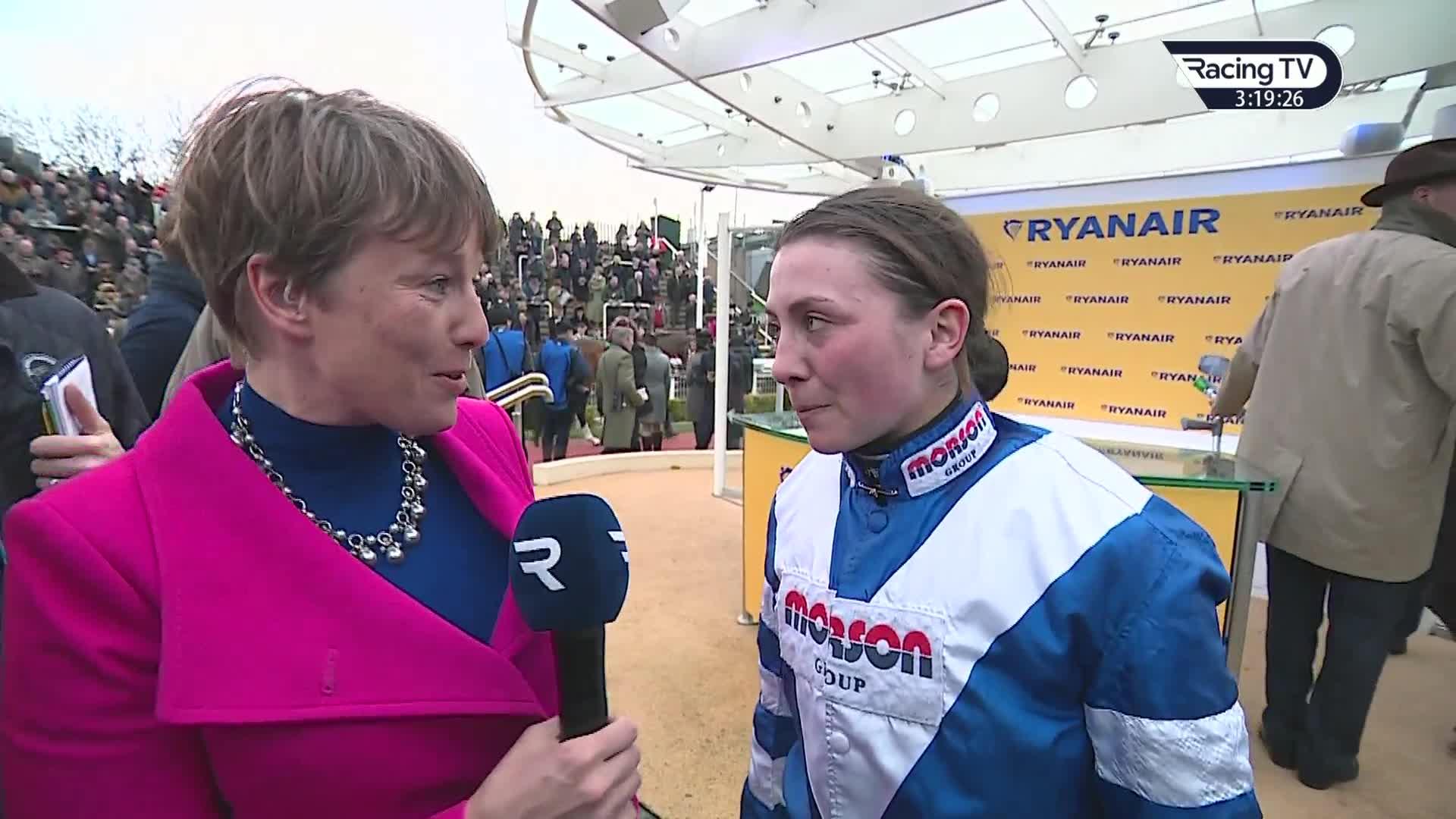 Frost tells Lydia Hislop about how she and Frodon took the glory
"He would not lie down. It's a lesson for us. Sometimes you might go down but you've got to get up and get going again, and at the last he was just magic. Then when he got to the front he did his usual and just looked up at the crowd and made sure he took it in. Just like I did.
"It was just incredible. I can't explain how much I love that horse."
Frost was already a Festival-winning rider, having landed the 2017 Foxhunter Chase as an amateur aboard the Nicholls-trained Pacha Du Polder.
She broke her Grade One duck later that year when steering Black Corton to success in the Kauto Star Novices' Chase at Kempton on Boxing Day – emulating Lizzie Kelly, who became the first woman to ride a Grade One winner over fences on Tea For Two in the same race two years earlier.
Paul Nicholls reflects on a famous victory
Frost had steered Frodon to three previous wins at Cheltenham, as well as his victory in the Old Roan Chase at Aintree earlier this season.
Winning trainer OPaul Nicholls said: "That is one of the best days ever. Frodon is a brilliant horse.
"That was awesome - I lost my voice a bit! It hasn't been easy to get him right and I knew he had to be 120 per cent.
"In the middle of last week, me and Clifford felt that we were a gallop short, so we took him to Wincanton on Friday and let him have a mile and a half with Pic D'Orhy, just to put the finishing touches to him.
"I said to Bryony that there was no point getting in behind - make all, keep saving a fraction and use that kick just once from the back of the last. That was brilliant.
"He has massively improved, like a lot of the young horses this year, and we worked out how to get him at his very best today. It's a brilliant, brilliant team effort.
"The decision to go for this race wasn't difficult in the end with the ground. The good thing is, to win this race, you need something that stays three miles and he got the three. That was perfect and we might look at something different next year.
"Bryony deserves it, everyone in the team deserves it and, most of all, the horse deserves it. He is just the most amazing horse you ever want to train. He is not very big and it is a very, very special day."
Charlie Deutsch was within touching distance of a first victory at The Festival aboard Aso.
Deutsch said: "After the last I did think I had won it. I'm just frustrated, really, because we'd passed Frodon and he's done nothing wrong, he's run to the line. He's run a brilliant race.
"We've come second to Frodon before, which is a bit frustrating, but his jumping was superb. He's got so much ability. But I'm pleased for Bryony.
"I feel it all went how I wanted it to go; I was a bit trapped down the inner but it didn't matter because we were flat out all the way and we haven't missed a fence."
Trainer Venetia Williams said: "We are just so thrilled with the horse. He jumped magnificently and it was a really strong race this year. I spent all last week trying to suggest the owners might like to run Frodon in the Gold Cup instead!"