Watch video analysis of the Coolmore Nunthorpe Stakes won by Alpha Delphini at York on Friday, Niall Hannity's interviews with winning connections and read Geoffrey Riddle's report from the Knavesmire.
Amidst all focus trained on Dubai-owned rivals Battaash and Blue Point ahead of the Nunthorpe Stakes at York on Friday, it was the seven-person syndicate who paid only 20,000gns for Alpha Delphini who were celebrating in Yorkshire on Friday night.
The seven-year-old gelding, who was ridden by Grand National-winning jockey Graham Lee, hardly had the progressive profile of the two favourites, but he wore his heart on his sleeve to deny fellow outsider Mabs Cross in a thrilling final furlong to the £350,000 race.
At the line, there was just a pixel in it, and the stewards took over five minutes to decide to award the winner his first triumph of the campaign. Blue Point stuck on for third, while 4-5 Battaash replicated his effort of 12 months ago to finish fourth.
At 40-1 it is fair to say it was an upset, and for owner and breeder Marie Matthews, who looks after her retired husband Barry, it was one of such magnitude that she was still shaking 10 minutes afterwards.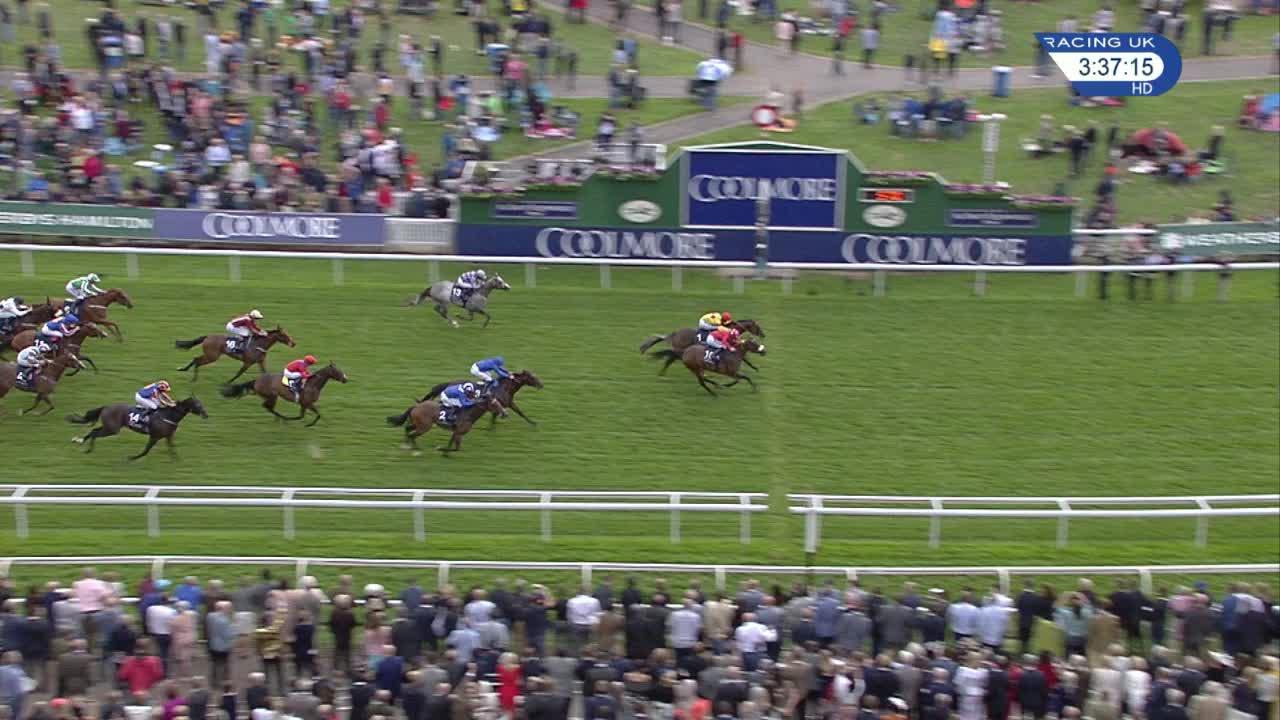 Watch video analysis of the Nunthorpe
"We always knew he was a very good horse, but to come and win a Group One at York is amazing," she said (pictured second from left). "It's wonderful. We've been beaten a couple of heads in the last two races. It is another nail-biter and it was very tense waiting for the result. I'm just so happy."
Matthews is not what you would call a big breeder but Alpha Delphini is her second Group One winner after Tangerine Trees, and having bought the dam of both sprinters Easy To Imagine, who has now produced six progeny who have all won it would not be a surprise if sponsors Coolmore hired her as a consultant.
Tangerine Trees still has pride of place in her heart after his win in the 2011 Prix L'Abbaye and with Alpha Delphini entered for the return to ParisLongchamp in October one day he may well supplant his half brother.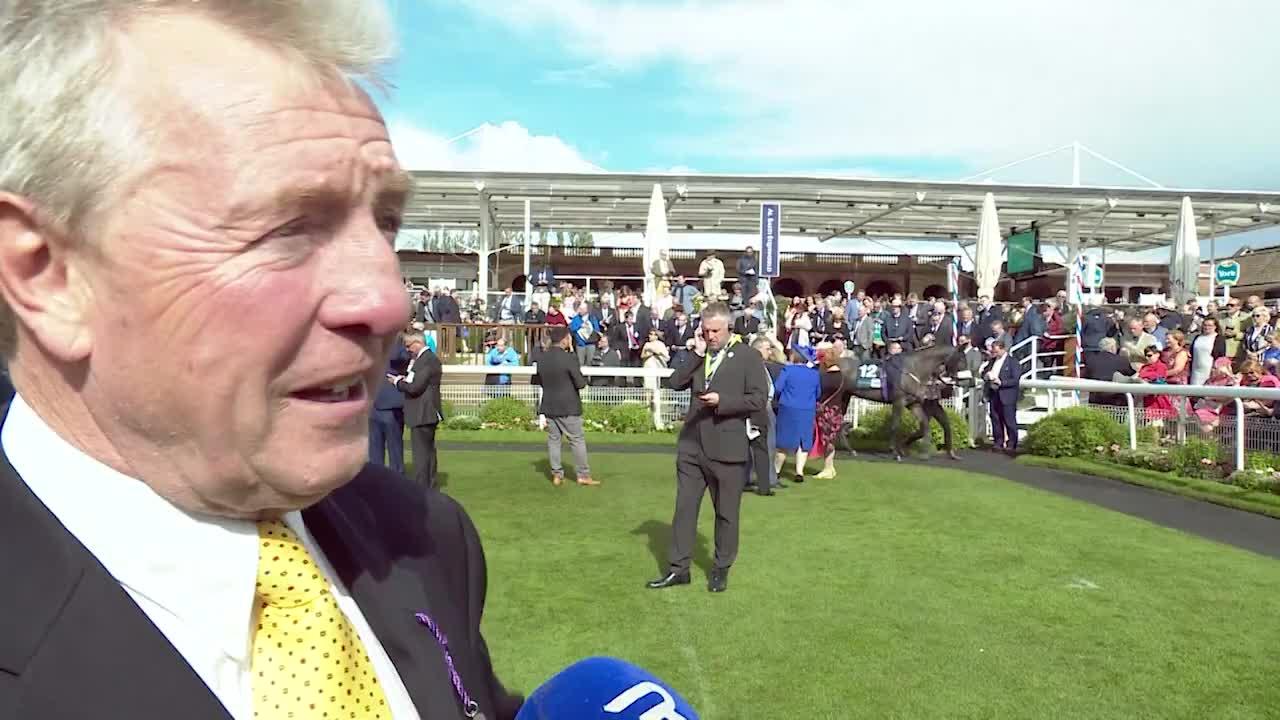 Watch Niall Hannity's interview with Bryan Smart
When asked why she sent the dam to Captain Gerrard, she said: "We were trying to keep the size of the offspring down a bit and it was quite a nice match on pedigree and it is worked out wonderfully. We've got a good one!"
The build-up to the Group One sprint had all been about whether Battaash would keep a lid on his fiery temperament and, having sailed through the preliminaries under Jim Crowley, the world's top five-furlong sprinter appeared primed for a huge run.
Chief rival Blue Point was also a picture in the pre-parade ring, with trainer Charlie Appleby electing to walk across the Knavesmire with the King's Stand Stakes winner, while Battaash was boxed over.
Alpha Delphini can be a free sweater, too, but has undergone significant work from trainer Bryan Smart's wife, who is an equine therapist. Perhaps we should all book in for a massage.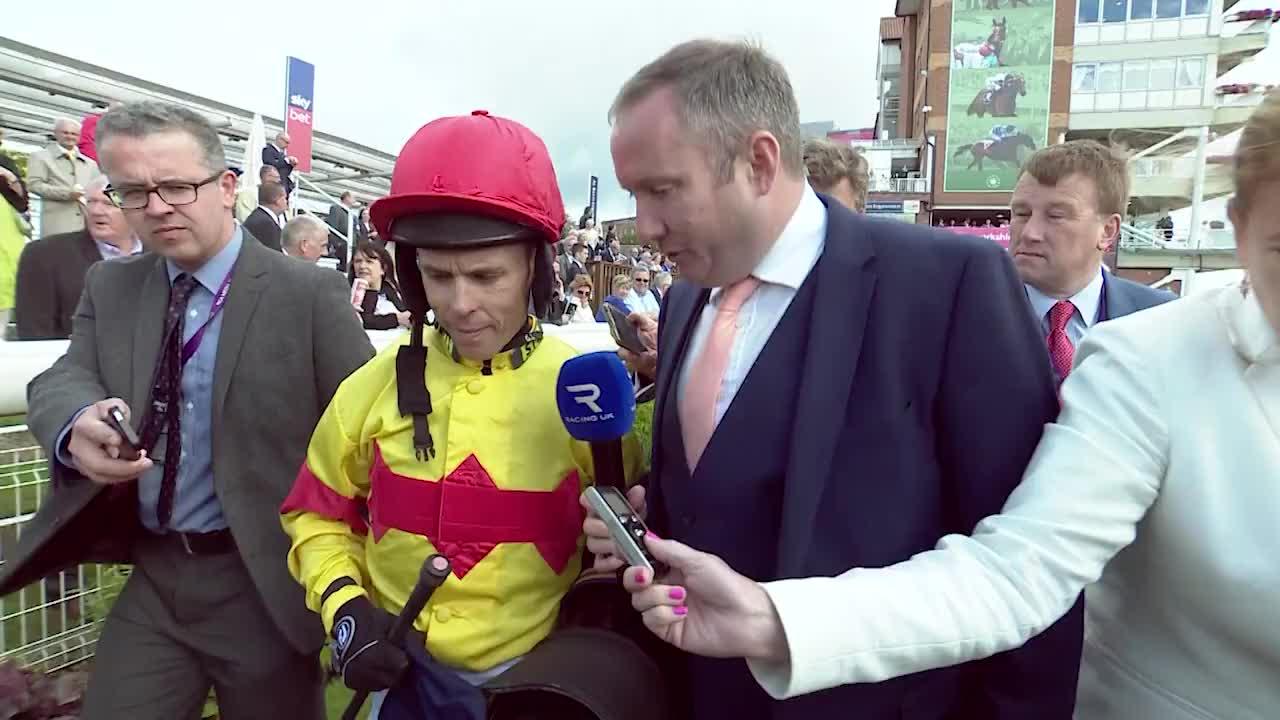 Watch Niall Hannity's interview with Graham Lee
"He was a different horse today," said Smart, who trains in nearby Hambleton and used to come to York with his parents as a boy.
"He usually sweats but he was fine and relaxed. My wife treats this horse like a king at home, he has back problems and gets treated like he owns the place.
"Great shout by Graham Lee - the reason he has been beaten this year is because of the sheepskins (cheekpieces). They have come to him late, just got past him and he has had to battle back without seeing them.
"Today he has seen it all. He puts his ears flat back and tries his heart out for you. To win here at York, and a Group One, wow."
Lee was the most restrained of the winning trio, and is not one to give himself too much credit. By adding one of the fastest races in Britain to the Aintree marathon he won on Amberleigh House in 2004, he has achieved a rare double of which he should be proud. His first thought was for the vanquished.
"The longer we were waiting I was sure it was a dead-heat," he said. "Obviously I'm delighted, but sorry for Tom."