Commanche Falls continued his impressive progression through the ranks when winning the Unibet Stewards' Cup at Goodwood.
Trained by Michael Dods, who excels with sprinters, the four-year-old has made giant strides this season.
A winner at Ayr in April off a mark of just 84, he has also won at Ripon before taking the Scottish Stewards' Cup last time out.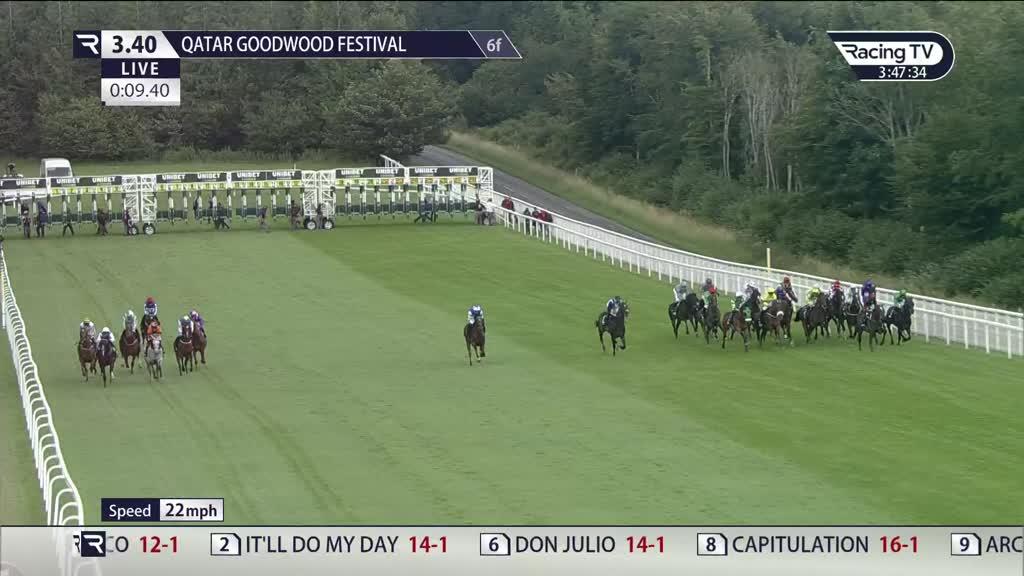 That win earned him a 6lb penalty – but as the handicapper only saw fit to raise him 5lb for that narrow win, he was effectively racing from 1lb wrong at the weights.
Usually in such a competitive race that could be crucial, but Commanche Falls (10-1) is clearly improving at a rate of knots still.
He initially looked to be on the wrong side of the track as Major Jumbo carried the far side into an early advantage.
With a furlong to run both groups appeared neck and neck, but Connor Beasley had only been biding his time and Commanche Falls burst clear to win by a neck from the fast-finishing Gulliver. Great Ambassador was third, with Total Commitment in fourth.
Dods did not make the long journey to Goodwood from his Darlington base, but said: "It was some performance as we were a bit worried about the ground. He has won on soft, but at that level we thought he needed better ground.
"To do that with a penalty was unbelievable, he would have got in without it but you don't know that at the time and the Hamilton race was a nice one to win.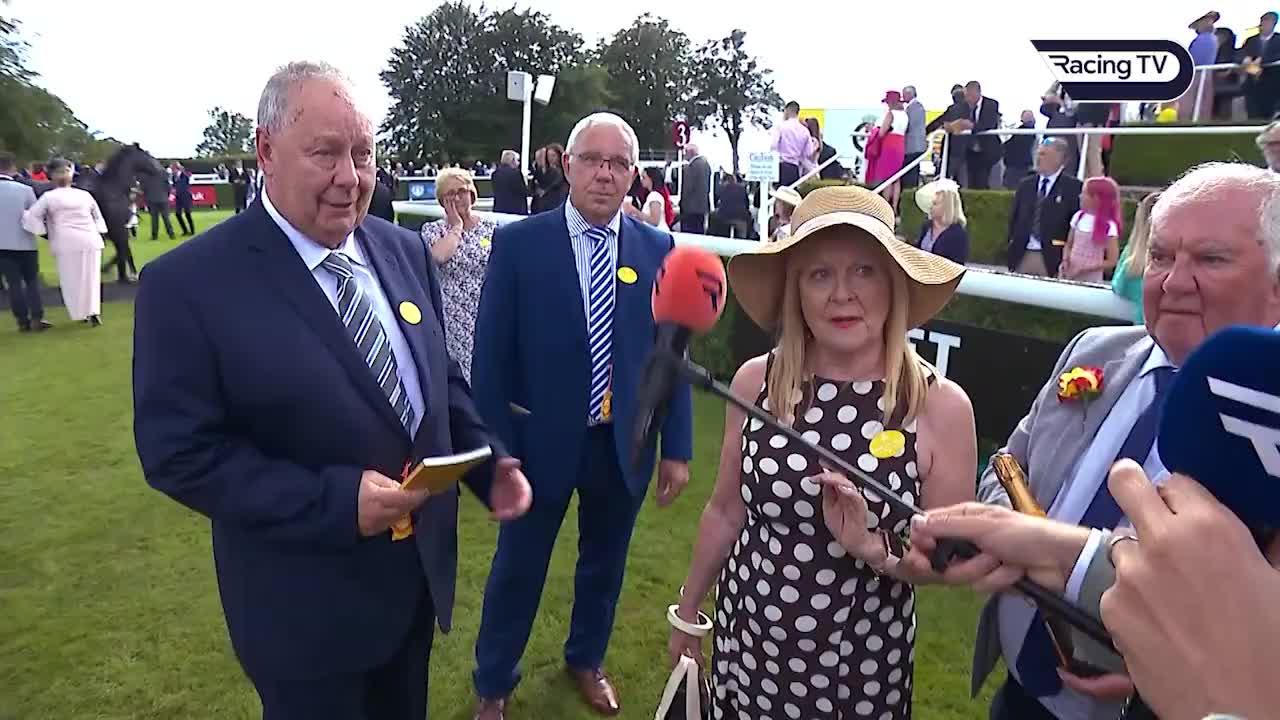 The delighted owners of Commanche Falls talk to Tom Stanley
"It's great for the owners, it's great for Connor and great for everyone, these are the races you want to be involved in.
"He's a half-brother to Dakota Gold, but the two do things completely differently as he would prefer to go forward while this lad likes to be off the bridle at halfway and come through horses. For them both to be at the level they are is unbelievable.
"He seems to be improving with every run this season, it's incredible what he's done so we'll see where we go. He's won a very competitive race nicely today so we can look forward to the future with him.
"He'll be entered for the Ayr Gold Cup, but he's surprised us a bit today really - we thought if he was in the first six or seven we'd be delighted in those conditions. I'll have a chat with Connor, but Ayr would be the obvious target depending on his weight.
"He's an exciting horse who hasn't had a lot of racing so we can look forward to the future with him."
Beasley said: "This means a lot. Commanche Falls is a horse that's just got better and better with each run.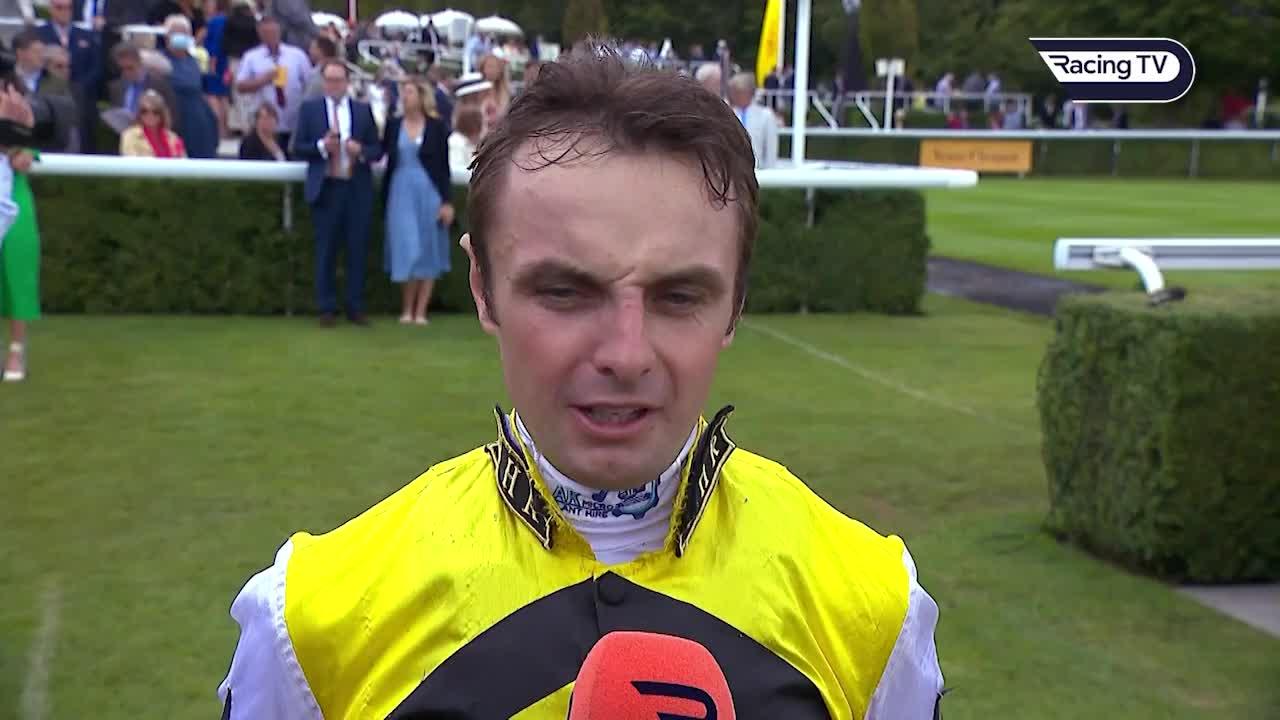 "Fair play to the boss and the team at home. They've got him in tremendous form. He comes to every gig and today was his best performance ever.
"He travelled really well today and when I got him off the bridle and got a bit of space, I knew he would always dig deep for me - it was a fantastic result.
"The far side were ahead of me when I looked with about two and a half furlongs to go. However, once I got him rolling, Commanche Falls digs deep. Once I got him off the bridle I felt he was eating up the ground and it all happened well.
"He has progressed with each race, has got better and better and today was a career best for me and the horse.
"Things are going well and it's nice to keep the momentum going. If things aren't going well, you can question yourself. However, I've really got the ball rolling, things are going well and I couldn't have wished for this.
"I had a bad fall at Wolverhampton in 2015. I fractured my skull, did my neck and back and did a good job on myself.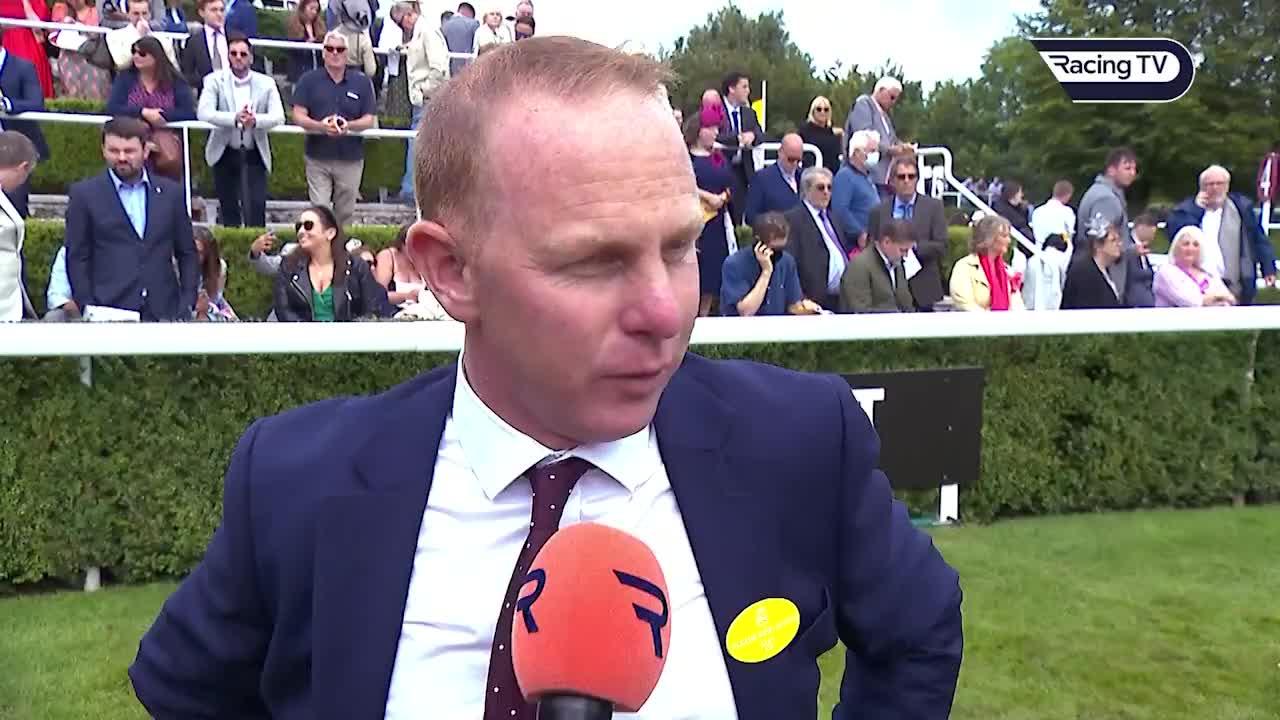 David O'Meara reflects on the narrow defeat of Gulliver
"There were always doubts, but there were no doubts in my mind about coming back. I went to Jack Berry House and was off for eight months in total. I came back and my first two rides were at Wolverhampton - it was some story to tell.
"I always had it in my mind that I would get back to where I wanted to be."
Winning co-owner Ian Drysdale said: "It was amazing, absolutely amazing.
"We weren't sure he would like the ground but he's been coming up the weights and we knew that he would get in so we decided to take our chance.
"The first three furlongs we couldn't see him but that's just the way he runs. Once we saw him we were confident that he would finish his race strongly. The heart was fluttering a bit.
"We've been very lucky because Dakota Gold won some very nice races for us. The first time Dakota Gold won a big race we were in cloud cuckoo land but this is the biggest occasion we've had. This fella is his half-brother. The mare sadly died when foaling this horse.
"He's in the Ayr Gold Cup. The handicapper will have his say but Michael [Dods] makes all the decisions."
David O'Meara said of Gulliver: "Gulliver has run really well. The ground was absolutely perfect for him, he loves it slow.
"He was getting there all the time late on. Slow ground really played to his strengths and Adam Kirby gave him a great run.
"He has run a blinder and there was no hard-luck stories. I just thought he was running out of time late on. The Ayr Gold Cup could be something we think about."
Adam Kirby, the jockey of Gulliver, said: "I am gutted. He was picking up really well and I thought we'd get there, but there was one a little bit better than us on the day. It is a great handicap and always very tough to win it, and this is the closest I have got to winning it, but take nothing away from the horse, it is a great run."