Most yards would savour having one Cheltenham Festival favourite. But Willie Mullins, who already has a record 72 Festival winners to his name, is no ordinary trainer and is responsible for about half of the 28 ante-post market leaders. No fewer of nine of them are in the Grade One races.
Whichever way you look at it, he has an awesome team for next month's bonanza. It is headed by two-time Cheltenham Gold Cup winner Al Boum Photo who will attempt to become the first triple winner of chasing's blue riband since Best Mate almost 20 years ago.
The "unremarkable" nine-year-old – Mullins' description of him, not mine – will get his join to join an elite band on the final day of the meeting but before that he will have unleashed stars such as Appreciate It, Energumene, Gaillard Du Mesnil, Monkfish, Chacun Pour Soi and Kilcruit– not to mention an intriguing 50-1 chance for the Unibet Champion Hurdle in James Du Berlais.
Betfair and Sky Bet make Mullins a 1-3 shot to be top Festival trainer for an eighth time. He has never previously trained more than eight winners at the meeting - nobody has - but if all the bits of the jigsaw fall into place then who knows how far he might raise the bar.
On Monday, via Zoom, Mullins gave updates on his leading lights with 28 members of the media hanging on his every word. He revealed that his one-time Unibet Champion Hurdle Saint Roi would miss the meeting – "he has had one or two different niggles" – but the preparation and wellbeing of the rest of his team is pleasing him ahead of a pivotal fortnight when many of his principal players will have their crucial final bits of strong work.
"After the Dublin Racing Festival I was astounded when I read we have so many favourites because last autumn we had a lot of good horses go by the wayside," Mullins said. "If half of them come up, it will be a brilliant Cheltenham."
Mullins will be minus a pair of sheepskin gloves in the Cotswolds after Appreciate It, favourite for the Sky Bet Supreme Novices' Hurdle, munched them on Saturday evening while being rugged up. "He owes me", the trainer said with a smile.
Never mind his mittens. He also has to perform a delicate juggling act with his septuagenarian mother, Maureen, who annually attends the meeting and bred Kilcruit, market leader for the Weatherbys Champion Bumper. "I don't know how we are going to sneak her into Cheltenham," Mullins said. "She's making overtures about coming over and might be the oldest member of staff about the place."
Here's what he had to say about many of his leading lights, starting with a lengthy debrief on his golden boy.
AL BOUM PHOTO
WellChild Cheltenham Gold Cup
He is in great shape and worked well last week. He has a big bit of work coming up this week. He is uncomplicated and very nice to train – little did I think when we bought him or when he ran out at Punchestown or when he had the mishap with Ruby at Cheltenham that we would be in this position. He has a funny back history but here he is – a double Gold Cup winner going for his third. We are very privileged to have him. We think he is in a good position and any time Paul has ridden him he has been happy with him. I am happy with what I am seeing.
There are no negatives at this time and there have been no setbacks. The only surprising thing was that I thought I had him straighter for Tramore but when I analysed it all out, he had such a long break from last year's Gold Cup and no spring campaign as such. It was a long time back to Tramore and he probably should have had one more piece of work before, but he got through it and we learnt from it.
He is in great shape going to Cheltenham this year. It would be extraordinary [to win a third Gold Cup with him] - we never dreamed of it. Two years ago I had given up on the dream [of winning one Gold Cup] and now it's unbelievable to be on the brink of 'an Arkle'. He is easy to train, that's the thing about him. When you see him in a field he's unremarkable, but he stands out when he's on his own. He's always looking over a hedge to see what's going on but when amongst the horses he's just 'Ordinary Joe'.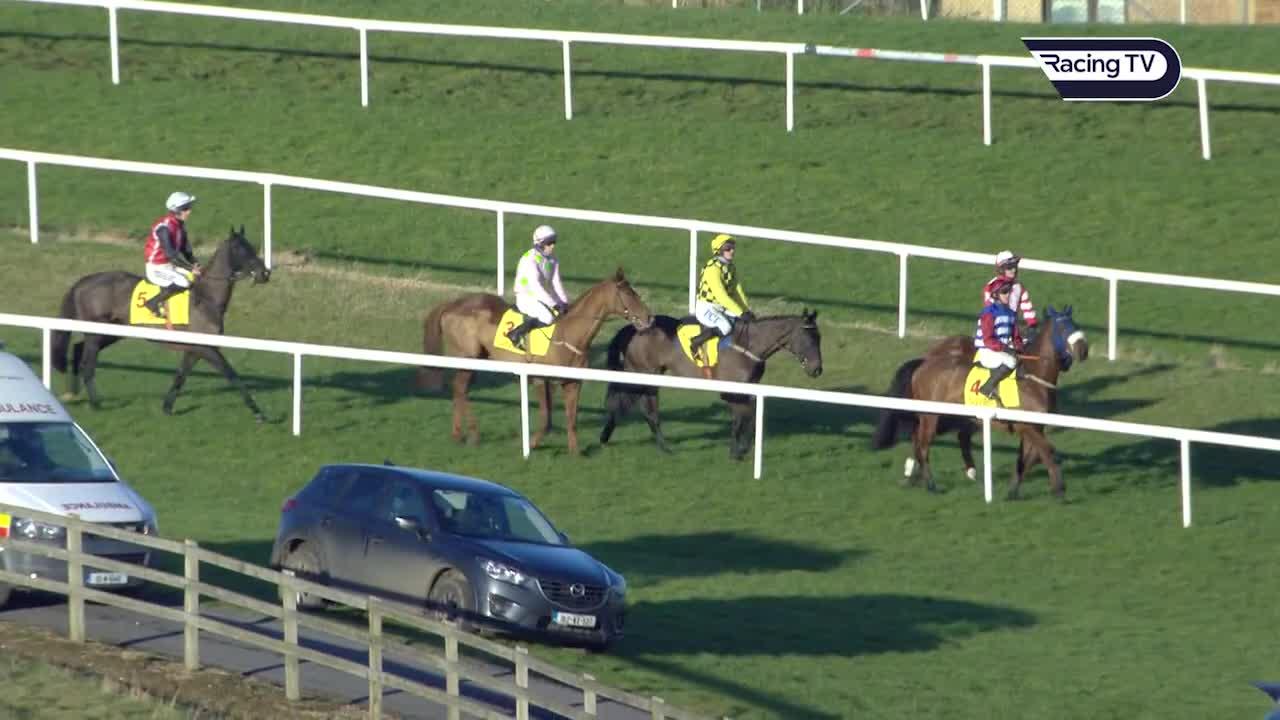 Watch how Al Boum Photo won on his return
He hasn't advertised himself really during the year but that is the way we have done it. It's hard to say that is by mistake - he missed Leopardstown because of the ground and we ended up going to Tramore – I have stuck with that plan. He obviously has an engine and if he is able to go back and do it three times then I think can sit up there with any of them. That is something we will worry about if he is able to do it. I think you have to take both A Plus Tard and Champ seriously. Both are stayers. A Plus Tard is bred to stay and Champ proved that he stayed all day last year. The two have both put in huge performances as their prep run.
ALLAHO
Ryanair Chase
The three of them (see Melon and Min below) have similar tactics/methods of running which might backfire against us a little bit but at the moment I would say that's their number one call unless we change at the last minute. I always thought Allaho was going to be a three-mile, out-and-out staying chaser the way he gallops and jumps, but his sire probably holds him back a little bit from having huge stamina, so he may just have a higher cruising speed at a shorter distance. He jumps very well and if you can match the two possibly over that shorter trip might suit him.
APPRECIATE IT
Sky Bet Supreme Novices' Hurdle
I had him down as a stayer so the fact that he has that turn of foot is good too. He owes me - he destroyed a pair of sheepskin gloves of mine on Saturday evening. But we're here with him, and his two performances have been good so far, so we're pleased with him. What he did at Christmas was terrific, and I'm wondering whether he was as good in himself at Dublin or was it a better race? He did what he had to when he had to and we all thought he was in trouble turning for home, but when Ballyadam came to him he got the job done – which was the sign of a good horse, and he's been in great form since.
ASTERION FORLONGE
Marsh Novices' Chase
I'd say the Marsh might be the race for him, although we may stay at home for the Ryanair Gold Cup at Fairyhouse. Could he run in both? I don't know. He's a hardy horse. We've not seen the best of him yet over fences - things just haven't worked out for him. There's a big performance in him.
BACARDYS
Paddy Power Stayers' Hurdle
I just wonder if it is a shade too short for him, but there isn't another race for him. We would be delighted if he can be placed again."
BLACKBOW
Sporting Life Arkle or Marsh Novices' Chase
I'm wondering whether I should go for a longer trip with him. I'm not sure that at this stage of his career he's an out-and-out two-miler, it just takes him out of his comfort zone. I'm going to do a lot of thinking about the Marsh Chase.
BILLAWAY
St James's Place Challenge Cup Open Hunters' Chase
He's in great shape. He was second in it last year and the key this year is that experience. A lot will depend over the first three or four fences and that he settles into his jumping quickly. He's got the experience he didn't have last year, so fingers crossed.
BLUE LORD
Sky Bet Supreme Novices' Hurdle
We could see Blue Lord in there as well. After he won his maiden at Punchestown I was thinking two and a half for him, but when I ran him at Naas he was too free. I think his jumping is good enough and maybe we'll just have a bolder approach to how we ride him. I know connections have entered him in the County Hurdle this morning, but I'm not sure he has the expertise to jump with them in the County. He might have the ability but I'm not sure he has the technique yet and I'd rather have him with the novices.
BRANDY LOVE
Weatherbys Champion Bumper
She was impressive at Fairyhouse and possibly did too much, too soon at Leopardstown. I think she could be a big runner in that race because of the way the race will be run.
BROOKLYNN GLORY
Weatherbys Champion Bumper
She's won two and also ran a fine race in defeat at Leopardstown. We've a lot of fillies who have run well and a nice team for the race.
CHACUN POUR SOI
Betway Queen Mother Champion Chase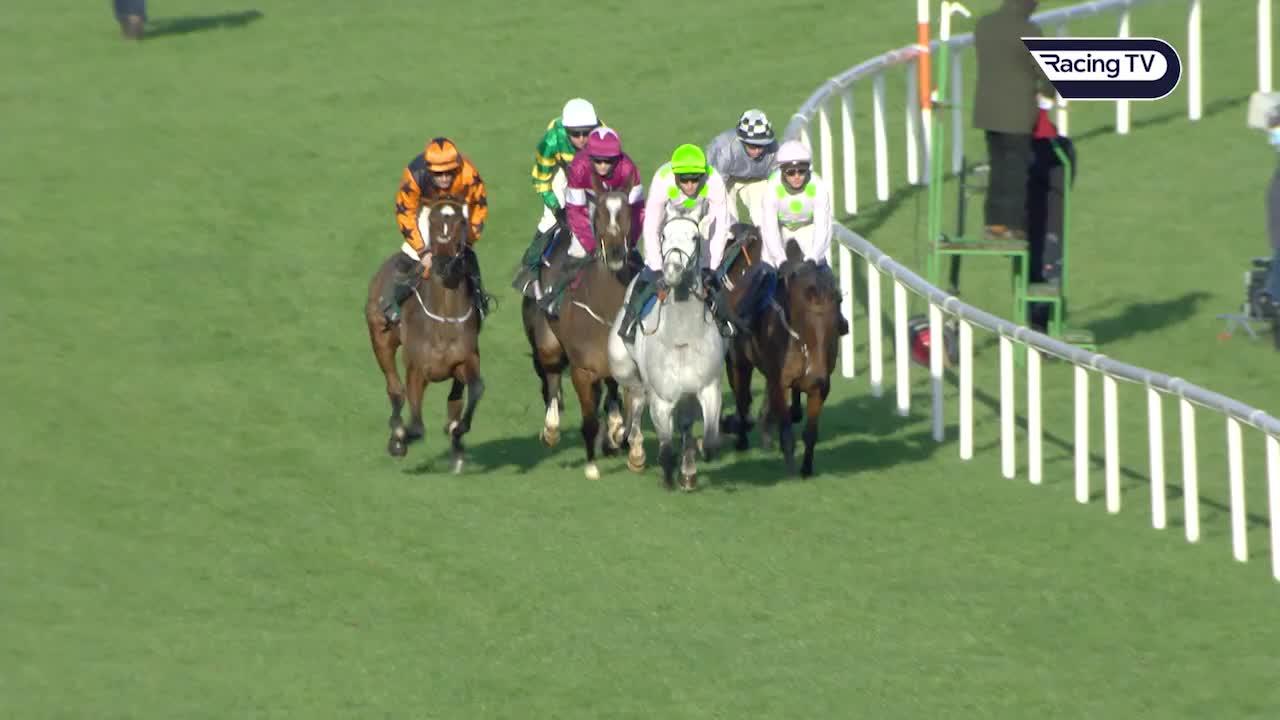 Watch how Chacun Pour Soi won last time
He had his troubles early on in his career but now everything has settled down he just goes up the gallop every morning and does his work. We want to get there and see what he can do at Cheltenham can he be as good as Leopardstown. He is one of the ones if you had to pick the top five or six travelling over, you'd say he is one that you are really hoping can bring his 'A' game there.
It would be huge for the stable and everyone here to get that (Champion Chase) win and have all the Championship races at the Cheltenham Festival. When we started off we just wanted a runner and then a winner, not dreaming we could be in the position we're in today, but it's something we've been lucky with and I'd love to do it. Hopefully he will give us a chance to try and put that away.
He's in great form since Leopardstown and does everything right at home, so fingers crossed. It hurts, but at Cheltenham, every 35 minutes it's a new page and you don't really get to think about it or for it to sink in and thankfully we had a good Cheltenham last year so it's history. It's different if you had one horse - you would probably wallow in it.
COLREEVY
Mrs Paddy Power Mares' Chase
I think she deserves a crack at it, for all that she could go to Limerick against what might be a lot easier opposition. When you have a horse who has a chance at Cheltenham, you should take a crack at it.
CONCERTISTA
Close Brothers Mares' Hurdle
She's in great form. The way she handled the track last year was fantastic. We changed how we worked her just before Cheltenham last year and so we've done that from the start this year. We've probably got the right way to train her.
COOL JET
Weatherbys Champion Bumper
Ran a terrific race when winning at Thurles after disappointing. Jodie got a great tune out of him and it's possibly he's on the improve.
ELIMAY
Mrs Paddy Power Mares' Chase
[She's not the biggest but] she's got huge scope and jockeys say coming down to the fence there's no problem with her. The further the race went last time, the better she was going and Mark [Walsh] was very pleased how she finished. That's a nice stepping stone towards Cheltenham.
ENERGUMENE
Sporting Life Arkle
It's going to be a great race, hopefully between the two of them [Energumene and Shishkin]. We bought him out of an English point-to-point and we always knew he could gallop, but to gallop and jump the way he does over fences is really exciting. You buy horses hoping they can do something like that, but it usually takes two or three years to find out by the time you've won a bumper and gone over hurdles before chasing, and they don't all turn out like that, so it's nice to have one like him. I don't think it's essential he makes the running - he goes his own gallop, but we never said he needs to make the running and we won't be hanging back. We have no problem with him staying, it was whether he's fast enough for two miles – so that's why we've tried him over two miles. He's had two runs and he seems to have plenty of speed.
FRANCO DE PORT
Sporting Life Arkle
I think he will run here. I know the Irish Arkle is 2m 1f and 100 yards and the Cheltenham version is probably a furlong and a half shorter, but that will probably be run at a very fast pace. It's the obvious thing to me, that we have one horse at the front and the other to hopefully do what he did at Christmas if the race falls apart.
FRENCH ASEEL
JCB Triumph Hurdle
NOW A NON-RUNNER
Where he came from, Ellmarie Holden's, is only down the road, so he only had to move about 20 miles. They have a similar type of woodchip gallop to what we have, so a lot of things are the same and he's settled in here well. I took the view that I didn't want to run him in the Dublin Racing Festival because he'd only just arrived here, and to instead wait and go to Cheltenham. He started his work three weeks ago doing little bits and now he's up to full work and I'm very happy with what he's done. He was very fit the day he won, he jumped very well, so I'm going to take that all on trust and just have him cherry ripe for the day. He looked a super horse on the day (when winning at Leopardstown over Christmas), so we're giving him every chance not to fluff his lines before it and appear there on the day.
GAILLARD DU MESNIL
Ballymore Novices' Hurdle
He hasn't done much wrong. We ran over 2m 6f last time because we didn't want to go back to two miles with him. I prefer this distance, and I think the pace there will suit us. He's a horse that I like a lot and I think he's improving all the time. Danny (Mullins) was very good on Stattler (at Leopardstown last month). He got the fractions right and nearly stole the race himself, but when push came to shove, Gaillard Du Mesnil showed what he's made of and hopefully he'll be able to do that at Cheltenham too.
GAULOISE
Mares' Novices' Hurdle
I'm not sure we had the right tactics for her at Fairyhouse, we might have given away the initiative but maybe we learnt a lot more about her there. I'm hoping she will come back to better form with more forceful tactics.
GANAPATHI
Sky Bet Supreme Novices' Hurdle or Ballymore Novices' Hurdle
He's a horse I want to bring there. I think he was very green when I ran him over two mile six furlongs at Leopardstown to get more experience into him.
GLENS OF ANTRIM
Mares' Novices' Hurdle
I don't think she's shown us her best yet. Her close relation [Glens Melody] won that race, when Annie Power fell, so she has it in her pedigree to go close.
GRANGEE
Weatherbys Champion Bumper
She won at Leopardstown against all the odds and I think she's going to improve.
HOOK UP
Mares' Novices' Hurdle
She ran a cracker at the Dublin Racing Festival, where she came from a long while back. That was a big performance and now she's back against mares.
JAMES DU BERLAIS
Unibet Champion Hurdle
We'd been watching him in France for the last 18 months and trying to buy him, but they wouldn't sell and were looking for a lot of money. Then, out of the blue, Simon [Munir] and Isaac [Souede] stepped in and did a deal with the trainer in France. The deal, I think, was that the horse would come to Ireland once their autumn season was over and that's what happened. He's been bought as a novice chaser but we will run in the Champion Hurdle and see what he's like. I was delighted to see he's 167 on English ratings, so that puts him in there with a shot. It's going to be a true-run race and that will suit. He jumps, he stays, he's got everything you'd want. He can be a tough ride, from what I can remember of watching him in France, but we'll know a lot more about him in the next two two weeks when we will be asking questions that we haven't asked him before. It won't be the end of the world if he disappoints because he wasn't bought with this in mind but he's a horse we are really looking forward to in the long term.
KEMBOY
Various options
We have to look at every option and I want to chat to connections, but we know he stays and hurdles are no problem to him, so he had to be entered anyhow. He seems fine after the Irish Gold Cup and we're happy with him.
KILCRUIT
Weatherbys Champion Bumper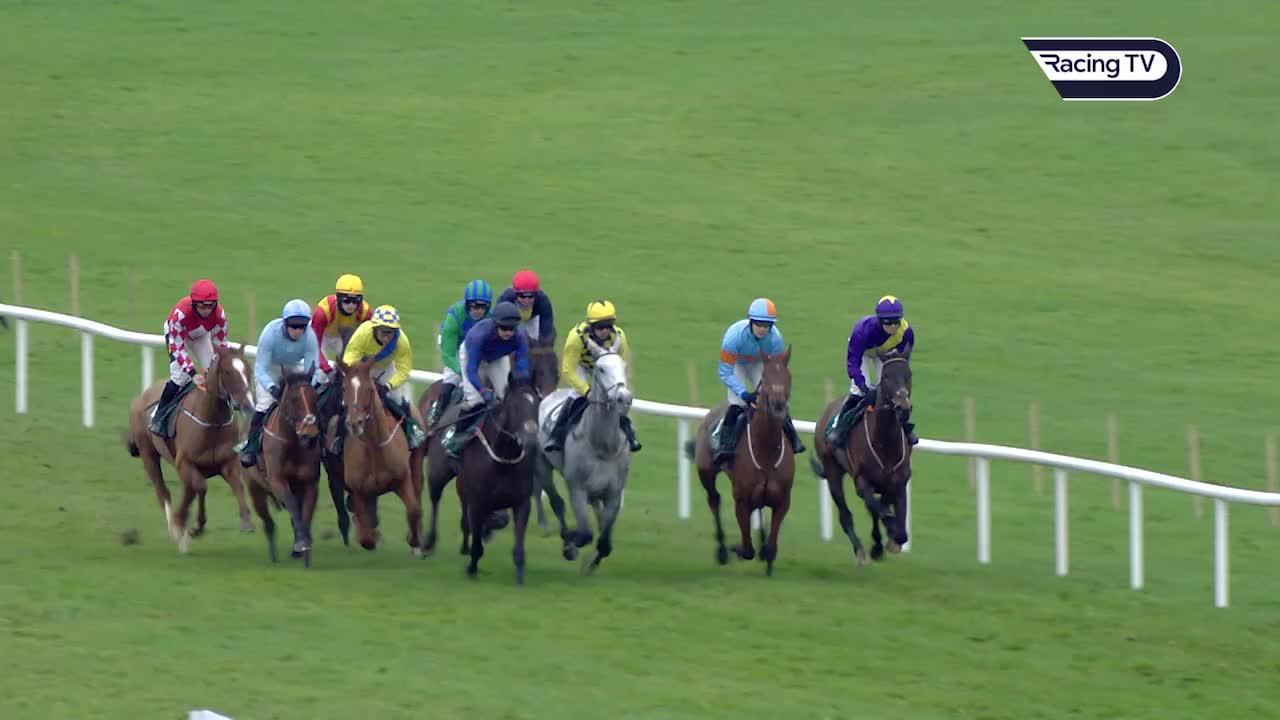 I was as stunned as you guys were [by his winning performance at Leopardstown] as I'd loved the way Ramillies [his stablemate, also in the race] had won the time before and thought he would improve a lot. I was absolutely stunned when I looked back and saw Patrick coming and not moving on him. He's a tall horse but very light framed, and I don't train him much at home and, as little as I do, Patrick wants to do less so he has huge confidence in him. Even when I discussed riding the other fella [Ramillies] he never wavered. He just put himself down to ride Kilcruit. Whatever feel he gives Patrick, it's obviously the feel we all saw coming up the straight at Leopardstown.
He's been very good since. There's an old expression that you train them on the end of a rope. He takes little training – he's just a natural athlete. He's floored me. I thought he'd make into a nice horse when we bought him but never dreamt he'd make into a favourite for a Cheltenham bumper.
LORD ROYAL
National Hunt Challenge Cup
He ran a cracker at Navan last time out. He'd been disappointing every time since he won his maiden hurdle (at Clonmel), but he's best held on to. I was delighted with the way he stayed on from the last (at Navan), and whoever rides him will have more or less have the same instructions. I think whoever rides him needs to hold onto him a little longer, and over 3m 6f you should be able to go a little slower pace wise and that will suit him. He's a beautiful jumper and I think he'll improve on better ground – he's not one to give up on and when we get it right he's one to win a big race down the line.
MELON
Ryanair Chase
Looking at the re-run of the race at Christmas, I think Melon will probably have to end up there and we'll have to adjust tactics for the day. We looked at Christmas and the race the other day and he doesn't enjoy being held up. He much preferred what he was doing at Christmas (tracking the leaders) and possibly the trip was too long (last time) so that's why we will probably go for the shorter trip [and not the Gold Cup].
MONKFISH
Brown Advisory Novices' Chase
So far, so good, I'm just hoping he can come back and do the same at Cheltenham. He had a grueller of a race there last year [when winning the Albert Bartlett] and I hope he doesn't remember that. Sometimes horses can – they come back and say 'I don't like this'. He's done everything right this year and well within his scope. He likes to be up there, about his business. He seems to have huge natural ability. You have so much bonnet out in front of you, as Ruby would say it. He's beautiful for a jockey to ride. He's a bit like Kilcruit – very light-framed and tall. He'd stand out in any group of horses because of his height and [chestnut] colour.
MIN
Ryanair Chase
Nothing has shown up with Min (after the Dublin Chase) and I'm not really worried. He just missed one fence down the back and took off too soon. Patrick did say he felt he wasn't galloping and maybe the pace was too fast for him over that shorter trip and we shouldn't have run him over the shorter trip – so once things weren't happening we were happy to pull up.
N'GOLO
Various options – probably Albert Bartlett Novices' Hurdle
I don't know what to do with N'Golo. I'd love to get some good ground and you can probably get good ground on the last day. We've entered him in handicaps this morning alongside every novice and he probably wants a bit of a trip in good ground. He has the profile of having enough runs under his belt – things might be happening a little slower for there too which might help him as he's had a couple of bad runs, so we'll see.
PONT AVAL
Daylesford Mares' Novices' Hurdle
We put her in the race this morning. She's improving. I think there's another novice hurdle at Limerick but I think I'd like to get her to Cheltenham.
RAMILLIES
Weatherbys Champion Bumper
I think he's got huge improvement in him. He's a big, strong horse. I'm not sure I can see a rib yet – I'm hoping I do before we get to Cheltenham.
SAINT SAM
JCB Triumph Hurdle or Boodles Juvenile Handicap Hurdle
We'd be aiming him at the Triumph Hurdle. He has an entry in the Boodles and I'll have a chat with connections and see what happens.
SALSARETTA
Mrs Paddy Power Mares' Chase
Soft ground is the key to her. She worked well on Saturday and we will see. We put her in the race this morning.
SALDIER
Unibet Champion Hurdle
He's another I entered in the County Hurdle this morning, but his aim all season has been the Champion Hurdle and both me and Rich (Ricci) would like to see him end up in there and we're pressing every button to get him there.
SHARJAH
Unibet Champion Hurdle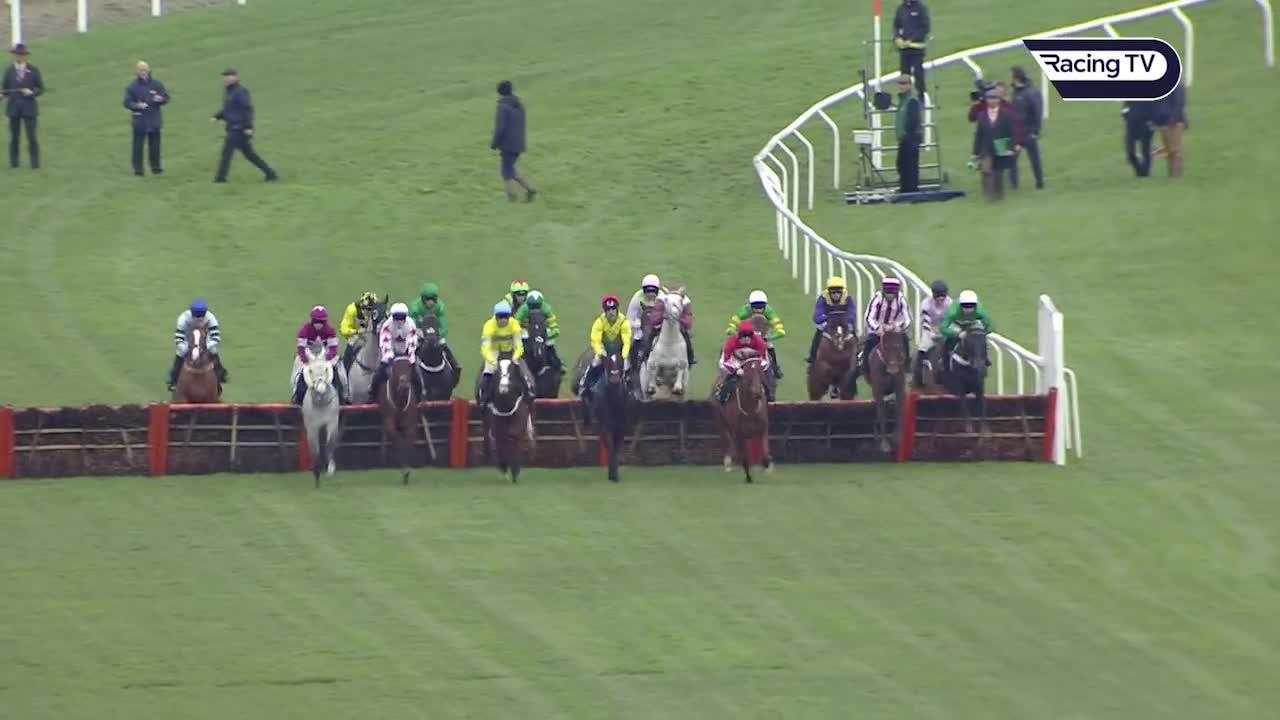 Sharjah was runner-up in last year's Champion Hurdle
I'm happy with him and maybe that race (Irish Champion Hurdle) just comes too soon for him after Christmas. It's funny he's done that twice. Patrick has his own way of riding him, he likes to sit and wait and he'll probably do that. The better the ground the better the chance and if he can adjust his tactics a bit, it might make the difference."
STATTLER
Albert Bartlett Novices' Hurdle
He jumps, he gallops, he stays, he's had a few runs. I'm happy that's what we you need for the Albert Bartlett and have been very happy with him since.
YOUMDOR
JCB Triumph Hurdle
We ran him at Leopardstown, probably looking at the prize-money more than anything else. It was a huge prize. I probably shouldn't have run him but I thought let's get some experience into him. He had a hard race and fall the previous day and it was a little quick – we took a chance and obviously it didn't pay off. I think he's had enough time to get over the whole thing and be ready for Cheltenham.
AND FINALLY...
FAUGHEEN AND DOUVAN
They are not on this team. I don't have any good news or bad news about them. They are tipping away. Myself and Rich [Ricci] haven't really got down to talking. We will look at Punchestown. If things happen for Punchestown, all well and good. If they don't, we'll have to have a big chat then."