Lydia Hislop is clear on her idea of the Ballymore winner in the latest edition of her must-read Road To Cheltenham series. Get the full round-up on all the latest goings-on in the novice and juvenile hurdling divisions and click here for Lydia's further column this week focusing on the chasers.
Novice hurdlers
Impaire Et Passe made a striking visual impression when claiming a ninth Grade Two Moscow Flyer Novice Hurdle for trainer Willie Mullins at Punchestown last Sunday – a race he's won with Cheltenham Festival winners Vautour, Douvan and Mikael D'Haguenet in the past.
For a horse having merely his second start over hurdles and his third overall, he is a remarkably polished performer. He jumped impeccably, often outleaping Shecouldbeanything but happily tolerating being steadied by Paul Townend to accept a lead or remain upsides the mare. He travelled strongly but didn't over-race in an event that was far from strongly run.
When asked to draw away, he readily injected speed in the straight to leave behind the fleeting menace of the more patiently ridden The Model Kingdom. Impaire Et Passe then put himself right at the last with his least fluent jump, but it was still alert and surefooted. I think he's the Ballymore winner and have taken 6/1.
Clearly, there's some jeopardy involved in playing Willie Mullins Bingo (© The Final Furlong Pod) because – as the trainer's late-ish switcheroo, but timely by his standards, of Sir Gerhard from the Supreme to the Ballymore again demonstrated last year – he understandably reserves his right to take in as much relevant information as possible prior to finalising his plans.
However, unless he jumps like a clutz at the Dublin Racing Festival, I can't see stablemate Facile Vega heading anywhere other than the Supreme and the rest of the Closutton squad will be slotted in around him. The blend of speed and stamina that Impaire Et Passe possesses – as well as the temperament to deal with the scenario of a crawl – makes him ideal for the longer race.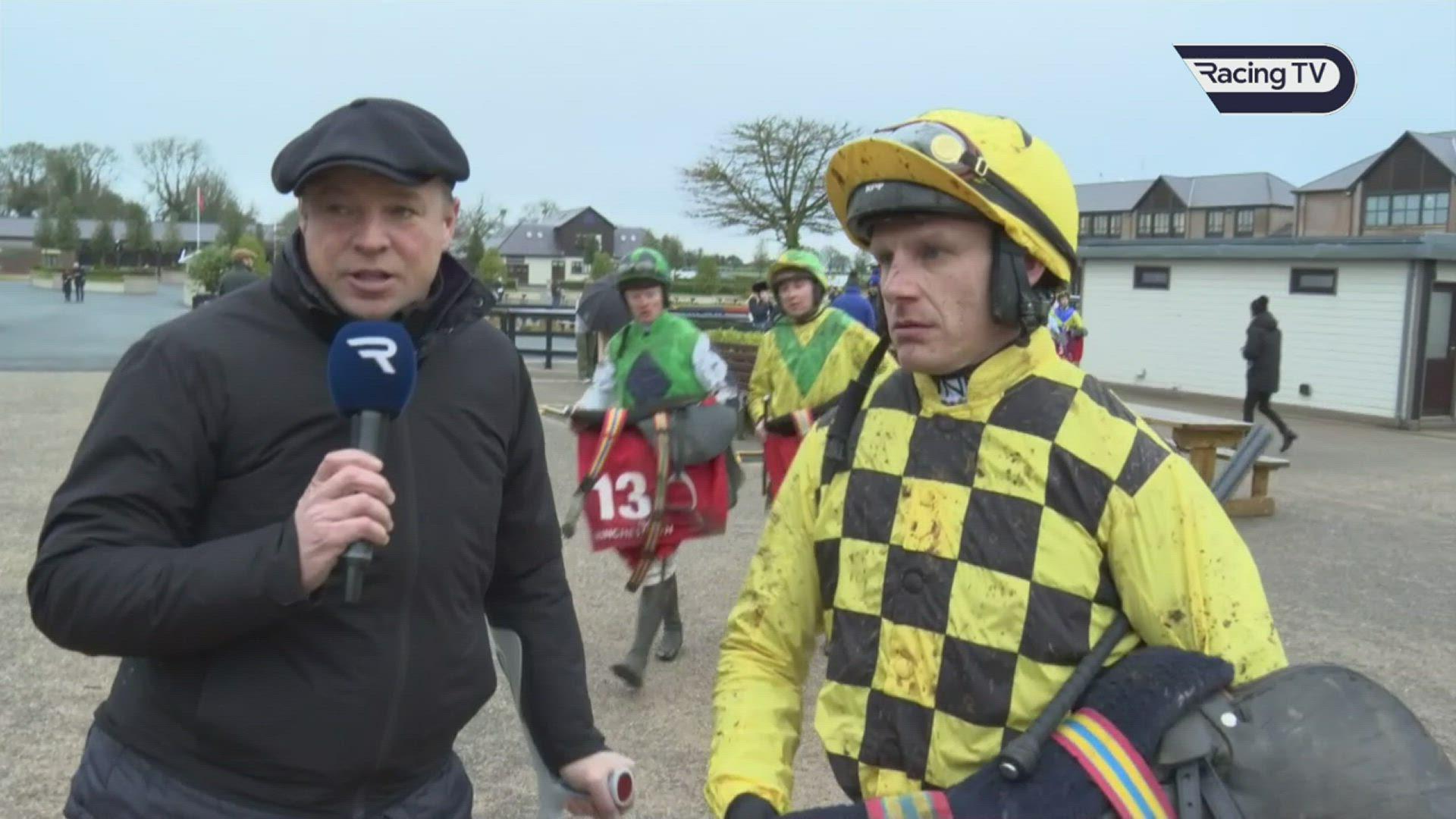 "Very impressive" - Paul Townend on Impaire Et Passe
"He showed a good turn of foot and he keeps doing it on the track – more than he does at home anyway. He jumped immaculately well, everywhere," an impressed Townend testified to Racing TV's Kevin O'Ryan. "The only one he had a look at was the last but picked up again at the back of it. I was jumping upsides Jordan [Gainford, on Shecouldbeanything] everywhere. We gradually picked it up from five out and we quickened a few times, I thought."
Asked whether it had been a worry to drop down to two miles from 2m2f the previous start, he admitted: "It was because of the way he works at home – he keeps a lot for himself – but it's a good sign that he can do it on the track."
Sporting a first-time tongue-tie, The Model Kingdom was played late by Bryan Cooper and whilst that was an understandable tactic, it also wasn't ideal given how steadily run this race turned out to be. That mare slipstreamed the winner rounding the home turn but went from going well to outpaced in a matter of strides. You can mark up her bare form for her positional disadvantage.
Shecouldbeanything looked eagerly for her first hurdle but that didn't mean she got it – or several others – right as she was consistently outjumped by the looming winner. She was dropping down in trip here and it didn't suit her.
Another Closutton character with a large reputation was in action at Clonmel's rearranged fixture on Tuesday. This was Gaelic Warrior, mentioned as a contender for the Grade One Lawlor's Of Naas until the Irish handicapper published a mark of 134 for this second-season novice and presumably caused the Mullins camp to recalibrate.
Re-routed to the Munster Hurdle, he enjoyed a public schooling session as uneventful as his previous plus-86-length demolition of a Tramore maiden last month and at even more prohibitive odds of 1/14. Setting out in front and keeping resolutely to the outside for better ground under Townend, he was already gifted a long lead after the first and won on the bridle, unchallenged, by 15 lengths.
Stable companion Blue Sari – rated 150 over fences – should in theory have been able to give him a race but he was making a belated seasonal debut after pulling up at the Punchestown Festival in April and sat a long way off the leader. When asked to give chase in the straight, it was far too late.
As at Tramore, Gaelic Warrior habitually jumped right – a trait that probably cost him the Boodles Fred Winter on his debut for this yard at last year's Cheltenham Festival. From a mark of 129, he still only failed by a short head, however. He's been put in 20lb higher by the British handicapper for next month's Betfair Hurdle and would also carry a 5lb penalty for this success.
Left-handed galloping Newbury is likely to be more forgiving of his jumping proclivities than the Old Course at Cheltenham, which hosts both the Supreme and the Ballymore. He's clearly graded standard, so Mullins' next step will be fascinating.
Earlier that day, Townend and Mullins had enjoyed another wide-margin success with the mare Night And Day. Tried on her debut for the yard in Punchestown's Grade One Mares' Novice Hurdle Championship Final last April – in which she ran creditably against the likes of Brandy Love, Love Envoi and Impervious until weakening from the third last – she found this company much more straightforward.
She pulled hard in the early stages and initially made some scrappy errors – stepping at the second (where she was left in the lead by a rival's departure), getting into the bottom of the third and lacking fluency at the next. However, good jumps at the fifth, sixth and seventh signalled that she'd warmed up and, galloping powerfully, she eased clear to win by 22 lengths.
"Night And Day found these hurdles too small for her, if anything, with her size," her rider commented. "She will improve for a fence but has a future over hurdles first."
At Punchestown the previous day, fellow mare and stable companion Eabha Grace seemed to find the fluorescent-jacketed fence attendants standing in the in-field much more interesting than the hurdles she was asked to jump. Palpably distracted at the first four flights and needing Townend to focus her mind, she also jumped consistently out to her left.
However, bar for a brief flash of absent-mindedness again four out, she soon became much more focussed and galloped her rivals into merry submission for a 30-length success. She'd previously been thumped by the very smart Halka Du Tabert at Naas and finished third in a muddling race there to Hiddenvalley Lake.
Later that day, Letsbeclearaboutit was handed a gold-plated invitation to get off the mark over hurdles and graciously accepted it with the minimum of fuss. He'd previously performed creditably in graded company behind Favori De Champdou at Limerick over Christmas and Hiddenvalley Lake at Cork earlier that month. He'd even run into American Mike on hurdling debut.
He raced with characteristic enthusiasm and established a clear lead from the first hurdle. Although his jumping lacked fluency at times, he was able to triumph by 22 lengths despite being eased down by Keith Donoghue.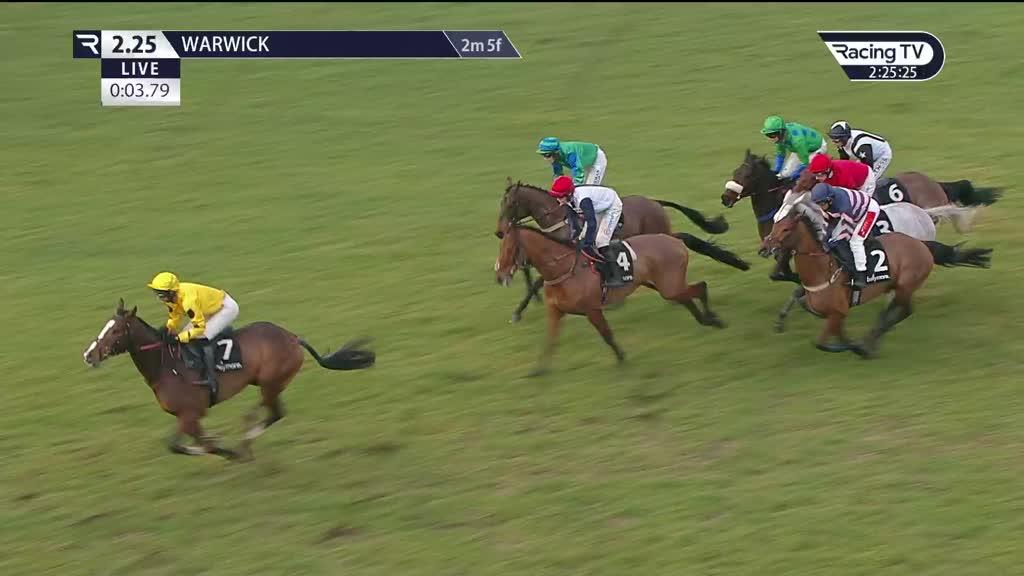 Grey Dawning wins the Ballymore Leamington Novices' Hurdle
Finally, to round up this section, we head back to Warwick on Saturday where the game grey pebble Grey Dawning took the Grade Two Leamington Novices' Hurdle with an engaging display of coverage and stamina to overpower Ginny's Destiny and Knowsley Road in a three-way battle in the straight.
The winner made a mistake at the third but could then always be spotted travelling well and clearly enjoying these testing conditions in a well-run race. A lesser competitor might have been knocked back by the stumble and peck he took shortly after landing five out, but Grey Dawning was immediately back in a rhythm. He then bravely reached for three out – and got it – when slightly outpaced as the other two moved on in front.
The rest of the field were dropped at that point – beaten favourite Givega having been too keen in the conditions, front-running Snake Roll racing too aggressively and making mistakes latterly, Mexico weakening approaching four out and Moon Hunter never travelling from the outset.
Ginny's Destiny looked to be travelling best on the home turn but Knowsley Road was still pitching alongside on his inner. Grey Dawning was responding to pressure from Harry Skelton to keep on their tails. Entering the straight, suddenly the leaders faltered slightly and Skelton took advantage of gap that developed between them to pinball his mount through to challenge at the second last.
There, Ginny's Destiny flattened the flight and Knowsley Road landed unbalanced. Meanwhile, Grey Dawning was just getting going and drew away strongly, coming up well when asked at the last for good measure. The likeable winner is a thorough stayer and will relish a step up to three miles, but all three principals emerged with their reputations enhanced.
Juvenile hurdlers
Willie Mullins augmented an unusually strong position in the juvenile hurdling ranks when French recruit Blood Destiny won for the second time in as many starts for his new trainer at Fairyhouse last Saturday.
Closutton now houses the top three candidates for the JCB Triumph Hurdle, with the fillies Lossiemouth and Gala Marceau – first and second in Leopardstown's Grade Two over Christmas – positioned either side of their stablemate, the new second favourite in that ante-post market.
Collateral form giveth and it taketh away. In Blood Destiny's case, his five-length defeat of Sir Allen at Cork in mid-December had been advertised by the runner-up's subsequent success at Punchestown on New Year's Eve. His raspberry derived from Bo Zenith's underwhelming third on his UK debut behind I Have A Voice at Sandown earlier this month – the former had beaten Blood Destiny by three-and-a-half lengths at Auteuil in April.
Prior to Cork, Mullins had been disappointed with Blood Destiny's homework but jockey Paul Townend was encouraged by his final spin, which the trainer had missed. They'd also disagreed over tactics, with Townend opting to allow his mount to stride clear from halfway on that occasion, after which his jumping improved.
In Fairyhouse's juvenile hurdle on Saturday, Blood Destiny decided to complicate matters by shying away from something after flag-fall and mildly hampering Jazzy Matty at the start. However, his rivals were clearly in an indulgent mood – waiting politely for the 8/13 favourite to recover and thus facilitating his taking of a clear lead before the first hurdle. Perhaps it was a late Christmas present?
Only Jazzy Matty attempted to keep tabs on the winner, but he seemed to find the gallop a shade too pacey for his liking and had dropped further behind, joining the others, by the bypassed fourth hurdle. At this point, Blood Destiny was more than ten lengths clear.
Neither Common Practice nor Nusret – who ultimately finished second and third respectively – were swiftly back into stride three out, but whilst the former was nudged along on landing after losing his pitch, a sense of urgency was widely lacking among the chasing pack until they'd entered the straight.
Meanwhile Townend had cruised around the home turn and, after his mount had negotiated the second last after a fashion, he checked to see what his pursuers were doing. Finding them merely three or so lengths behind by then, he shook the reins and Blood Destiny eased further clear once more.
The clock says the winner set a decent enough pace, so there's no question of him having stolen this race but he was nonetheless handed it on a platter at the start. Had his opponents engaged in battle sooner, they might well have been beaten further but that's always a back-fitting argument – one that we will encounter again, later in this column.
It would have been interesting to see whether he'd have jumped better or worse for company. At Cork, the answer was worse; here, he was scrappy all by himself – getting into the bottom of several flights, particularly two out. Townend brushed this concern away as merely a matter of lacking concentration.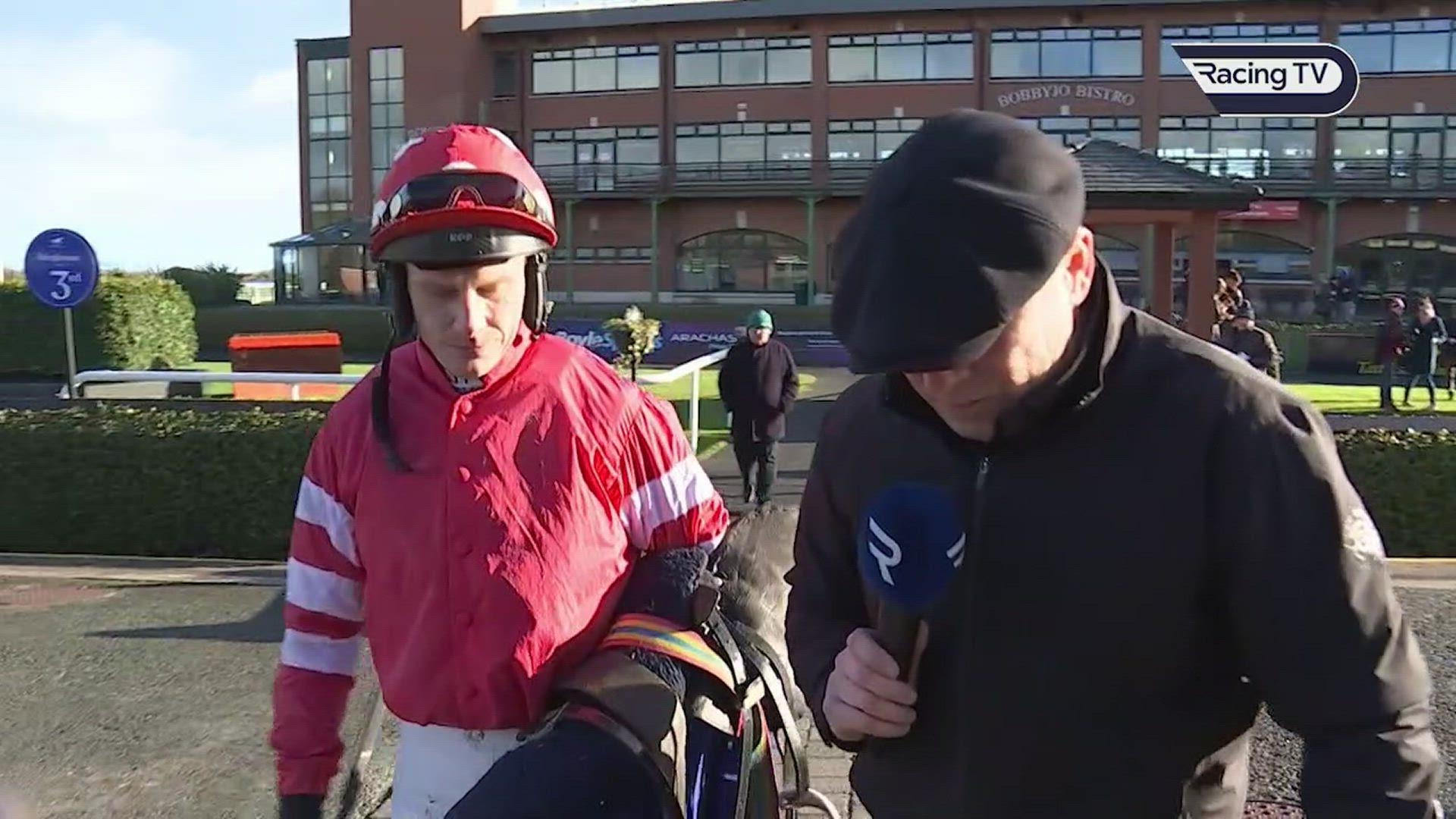 Paul Townend speaks to Kevin O'Ryan on Blood Destiny at Fairyhouse
"He's [got] a lovely way of doing it. He could probably have jumped better today, but he was idle enough and taking everything in – you've seen him down at the start – he was just looking at everything. But the second I gave him a squeeze at the back of the second last, he picked up and galloped away from them nicely," he said.
Asked by Kevin O'Ryan on Racing TV whether he was teaching Blood Destiny by getting in so close to the second last, Townend smilingly admitted: "It was a matter of getting over them, to be honest, at that stage. He came down the straight at Cork quite fast, so I know he can jump."
Common Practice will do better in handicaps, when returned to a left-handed track and granted a superior test of stamina. This was his fifth start over obstacles but his campaign has taken him to right-handed racecourses since his September debut at Listowel. He'd previously shown improved form when fourth to Lossiemouth in a Grade Three over this course and distance.
Here, he stayed on after the last better than Nusret, who'd been settled in rear to combat keenness in the early stages and fluffed that final flight, whereas Jazzy Matty weakened after two out before keeping on at the one pace.
When Daryl Jacob guested on the ninth edition of Road To Cheltenham, he argued that Nusret's best Flat form had come on right-handed tracks – albeit that asks you to ignore his sixth in the (blessed) Melrose – and that he'd been on the wrong leg around Leopardstown when third to Lossiemouth in its Christmas Grade Two. Jacob said the plan for owners Simon Munir and Isaac Souede was to stick right-handed, targeting the juvenile Grade One at the Punchestown Festival in April rather than attempt either the Triumph or the Boodles Fred Winter.
Both these form-lines link to Lossiemouth, which might yet pose an interesting dilemma for Townend come March. Timeform still has that filly topping its juvenile achievement tables, whichever side of the Irish sea you look at it, but Racing Post Ratings assessed Blood Destiny's most recent win 3lb higher than the filly's Knight Frank Juvenile success on St Stephen's Day.
The latter victory came in another steadily run race when Lossiemouth was ridden more towards the fore than on her previous start, taking over smoothly with a good leap at the de facto final flight (the first and last omitted due to glaring sunlight).
She is yet to encounter a strongly run race in her starts for Team Mullins, but given she won over 1m7f on the Flat for her previous trainer Yannick Fouin, she shouldn't fail for stamina in such circumstances. She's highly professional and her only blemish at Leopardstown came when getting too close into the bottom of the fourth flight jumped. She's a slick lepper as a rule.
Runner-up Gala Marceau – having her first start for Mullins after winning twice over hurdles in France for Sylvain Dehez last spring – refused to settle and so was buried for cover on the inside in the early stages by Danny Mullins before being switched out at the second last. There, she was roughed up on landing in some general scrimmaging before shadowing the winner into the straight, but she was soon chased along and hung left as Lossiemouth injected some pace.
Gala Marceau will have seven-and-a-half lengths to find on that winner when they meet again, but she hadn't then raced for eight months so it's possible she'll find something more. Timeform have her on 137p, with Blood Destiny 137P and Lossiemouth 141p. All three are entered in the Grade One Spring Juvenile at next month's Dublin Racing Festival.
In terms of collateral form, Sir Allen boosted Blood Destiny's profile via his victory over the mare Calico and the Mullins-trained Sinbad Le Marin – the beaten 15/8 favourite – in a 3yo maiden hurdle at Punchestown on New Year's Eve.
Apart from colliding with the persistently right-adjusting Sinbad Le Marin at the first, it was pretty straightforward for the fluent-jumping Sir Allen, who raced – in common with all the principals – towards the fore. The favourite – wasting energy and losing rhythm at every hurdle – made most of the running, except when outjumped by the winner at the fifth, as well as at three and two out.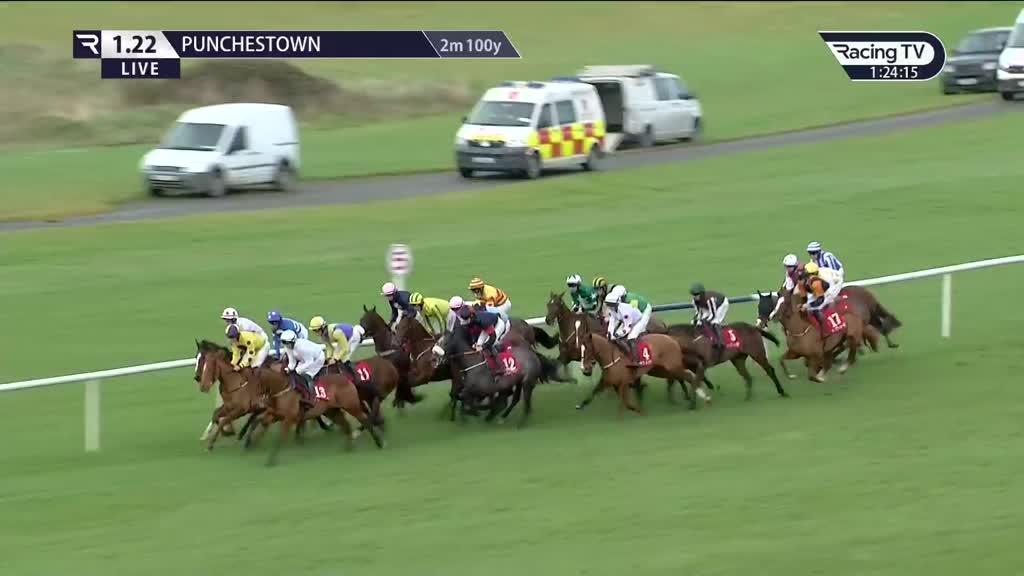 Sir Allen strikes at Punchestown
Approaching the penultimate flight, Calico was asked to enjoin battle between those rivals but Sinbad le Marin tenaciously regained the lead entering the straight. Predictably, he undid his own chances at the final hurdle, faltering right on landing, just as Sir Allen made his decisive challenge. Calico lost ground in the air but was back into stride quickly, only to be out-speeded by the winner under a composed ride by talented 7lb-claiming then-amateur Cian Quirke.
This was a nice step forward on his second start for Sir Allen, who stayed at least 12 furlongs on the Flat and for whom jumping is an asset. Trainer Andrew Slattery saw plenty of room for improvement, however, telling the Racing Post "he is still jumping a little bit high. He was free here and might just need a better race and a stronger gallop," he added.
Runner-up Calico, sporting a first-time tongue-tie, had previously chased home Dixon Cove in a mares' Listed event at Aintree, when signalling that stamina is her strong suit. She's been a busy girl, sent off the beaten favourite in a Punchestown maiden on Monday – of which more in a moment – on her ninth outing over hurdles.
Sinbad Le Marin was supported on his Irish debut on the basis of winning a 10-furlong maiden at Chantilly for Stephane Wattel in May and for having joined the Closutton squad, but he displayed a profound right-handed bias on a right-handed track here.
Back in eighth, 50/1 shot Luminous Light very much caught the eye – keen in the early stages, as reported subsequently to the stewards by Denis O'Regan, but then making a bad blunder at the seventh. It took a while for him to be switched out for a run approaching the last, where he jumped mildly into the back of a rival prior to running on strongly.
He's raced again since – in that same maiden hurdle in which Calico was third – getting more involved but also displaying the same drawbacks of keen running and poor jumping, making a blunder two out and almost tripping over the last. He's qualified for handicaps now, likely with a mark that undervalues his raw ability, and a truly run contest will suit him, but your heart might still be in your mouth at his obstacles.
It might have been that Calico did too much too soon in heavy ground here. She had a clear lead from the fourth but got in too close to the next two hurdles. Rider Sam Ewing then looked behind anxiously long before the last, where she slowed and handed the advantage to strong-finishing Metamorpheus, who'd shaped well on debut at Limerick on St Stephen's Day.
The winner jumped particularly fluently under a well-judged ride from Cian Quirke, even managing to negotiate the last cleanly despite getting into the bottom of it. This was just his third career start and he promises more.
Calico stopped to a near-walk, passed for second by Almuhit, whose rider had been at work since the third last. She remains a maiden and it's possible, given her profile, that her breathing might have started to trouble her. In the backwash, Secret Rock improved on his debut and shaped better than the bare result, but he had raced keenly and made a hash of the last, where he was also checked on landing.
Glaciers have moved faster than Tekao & co did in the opening three-year-old maiden hurdle at Leopardstown on 27 December. Still babyish, he pulled hard for his head in the early stages and jumped raggedly at the fifth but he was well-positioned and was always pulling out more to hold Ascending by half a length on the sprint to the line. He currently trades at the fore of an inchoate Boodles Fred Winter market – and he's entered in the Spring Juvenile, too, for Team Mullins.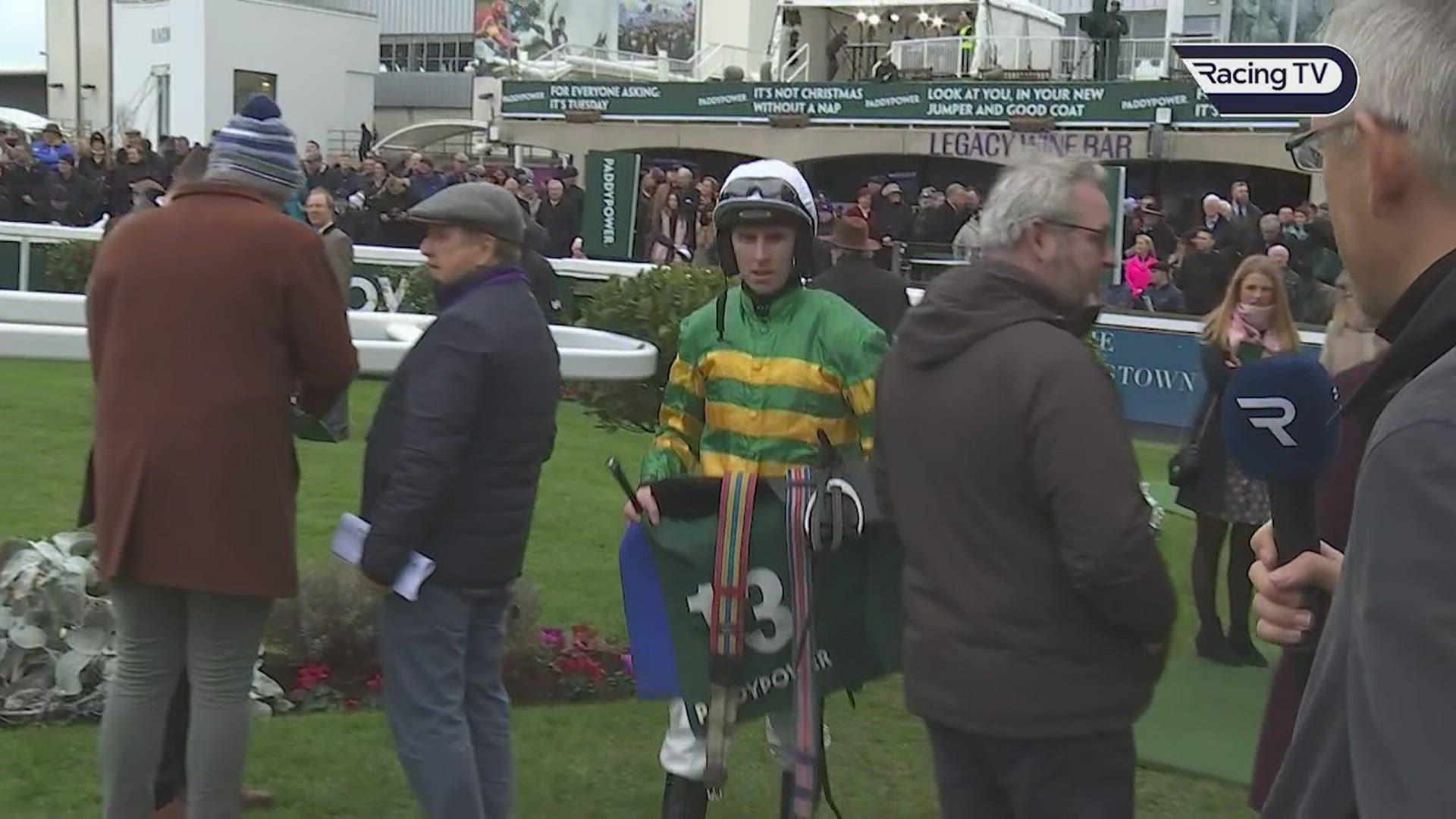 A better-run race will see Tekao in a better light, says jockey Mark Walsh
As Lisa O'Neill mentioned in our on-the-road edition of Road To Cheltenham from Leopardstown, the eye-catcher was third-placed mare Goodie Two Shoes, making her hurdling debut. She made a sweeping move into a quickening pace on the home turn before running about, jumping the final flight awkwardly out to her right and landing unbalanced.
The winner had previously finished third, as beaten favourite, to Comfort Zone on his Irish and hurdling debut at Navan – seemingly going best two out but making a hash of the last. That form is working out well, not just with runner-up Jazzy Matty triumphing at Fairyhouse pre-Christmas (before being well beaten by Blood Destiny, as discussed above) but also with the winner's subsequent Grade Two success at Chepstow.
That race – the newly downgraded Finale Juvenile Hurdle at Chepstow on 27 December – provides a suitable segue into this column's recap of Britain's juvenile scene since Christmas. The contest got going at the second attempt, a number of the competitors overly keen to get on with things. Comfort Zone was among them, pulling hard until well into the back straight, having been steadied into rear by Jonjo O'Neill Jnr.
He made ready inroads on the front-running Fils De Roi at the top of the straight, by which time Dixon Cove – penalised here for her Listed defeat of Calico at Aintree – had dropped to rear after increasingly struggling to hold her position. Perseus Way wasn't much better off, having been niggled along in the back straight, then short of room and checked when leaving it.
However, it's a long way home at Chepstow – particularly in heavy rain that had turned the ground from good-to-soft to plain soft by this juncture. The leader, keen throughout, stuttered into the third last and was joined by Comfort Zone at the next. Perseus Way had weaved his way through on the inside to a staying-on third and Dixon Cove was back in sixth but again finding her stride.
Comfort Zone began to paddle approaching the last, where Fils De Roi stepped at it and fell, whilst Dixon Cove emerged as the main threat. She inched ever closer in the drive to the line but was ultimately repelled by a neck by the all-out, wandering winner. Perseus Way also kept on despite looking jelly-legged, finishing a further two lengths adrift of the runner-up.
Comfort Zone, who'd previously finished third to Lossiemouth at Fairyhouse in early December, shaped like a horse who'll be much better when Joseph O'Brien is able to campaign him on a sounder surface in the spring. The tenacious Dixon Cove again suggested she needs far more of a test than juvenile events are likely to provide – even in deep ground.
Perseus Way has been out again since, not needing to reproduce this level of form to win the Chatteris Fen at Huntingdon last Friday, with cheekpieces applied for the first time over jumps. Neither of the Moores – trainer Gary and rider Jamie – deem him Triumph Hurdle material but rather a good handicapper and even a live dual-purpose candidate.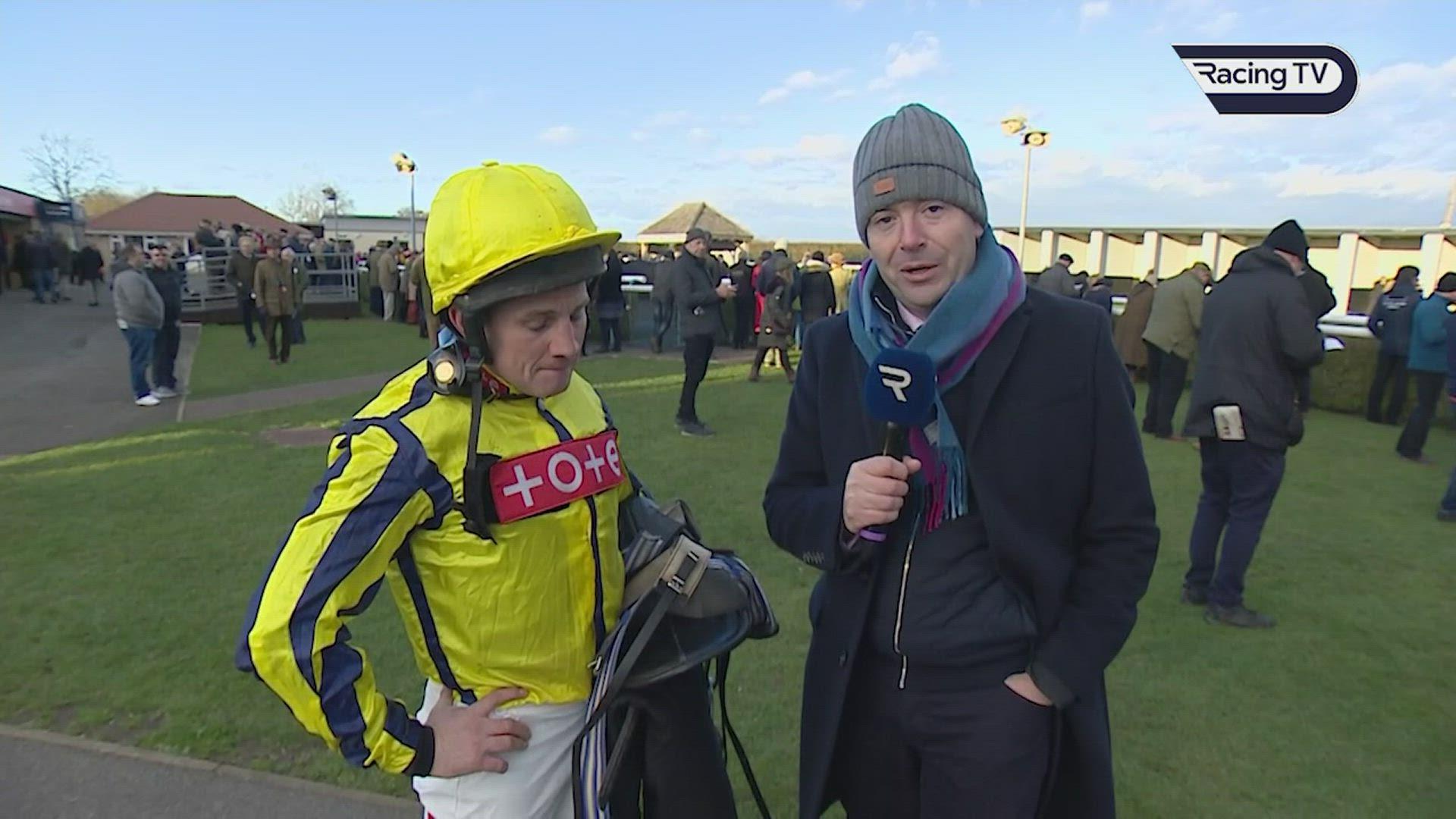 Jamie Moore speaks to Nick Luck about Perseus Way at Huntingdon
"He's not ungenuine; he's just lazy," Jamie told Nick Luck on Racing TV. "He ran in cheekpieces [on the Flat] for Charlie Appleby… but he does wake up when you want him to. He does get the job done but mid-race he goes a little bit cold. Like he did at Chepstow – I've got shuffled back and then I've picked up nicely, but the Joseph O'Brien horse beat us easily enough."
The Moores do have a Triumph candidate in Jupiter Du Gite, however – one of just two British-trained horses currently in the reckoning for a leading role in Cheltenham's Grade One event. The other is Milton Harris's Scriptwriter – a very different type, who beat Perseus Way comfortably on the latter's hurdling debut at Cheltenham in November despite stumbling after the last. He was withdrawn from the Finale due to the ground.
Jupiter Du Gite didn't race as hard up the inside as did his elder stablemate Inneston or Challow winner Hermes Allen at Newbury on New Year's Eve, but he still steered a tighter course than most of his rivals. Whatever advantage that might have been (see last week's novice-hurdling column, it did not detract from an emphatic success that clearly took his trainer by surprise.
Debuting in the UK and facing hurdles competitively for the first time, Jupiter Du Gite made all at a good gallop and jumped well, if showing flashes of inexperience by wandering into the occasional obstacle. He reached for three out when briefly threatened, but was still travelling strongly and simply powered away to win by 15 lengths.
His pace and commanding gallop are already reminiscent of his half-brother, the stable's high-class two-mile chaser Editeur Du Gite. It's tough to make all in a JCB Triumph Hurdle but he looks at least as tractable as Goshen, who raced prominently and should have won in 2021 by a wide margin. 12/1 underestimates Jupiter Du Gite and his presence at Cheltenham would present Lossiemouth with a very different scenario from those in which she's faced so far.
Instead of ploughing through the mud at Chepstow, Scriptwriter was redirected to Wolverhampton three days later. Sporting a first-time tongue-tie, he did well to win from a mark of 102 – that of a decent horse – nipping up the inside to triumph by a neck.
"I would have given him a piece of work this weekend because he's fresh and well, so we might as well give him a piece of work for £25,000 at Wolverhampton!" Harris said afterwards, explaining the reasoning behind his placing. "He was declared to run at Doncaster and then Cheltenham and unfortunately, we lost both meetings due to the weather.
"Then we went for Chepstow on Tuesday but he's a speed horse and in the end, we didn't like the ground, so we didn't run. I suppose if we'd had lost a bit more racing, they'd have put on more bumpers [for jumpers] and we'd probably have run him in one of those for £4,000, so I don't think it's a bad move at all. It was his first time on the synthetic surface but he works on it at home."
Formerly trained by Aidan O'Brien and considered good enough to run in the Ballysax Stakes, Scriptwriter was picked up for just 62,000gns for owners Mark and Maria Adams in the Tattersalls July Sales and is intended for the Triumph. At 16/1, he looks a shade underestimated still.
As he mentioned in last week's Road To Cheltenham show, Ruby Walsh was impressed by I Have A Voice's jumping when winning at Sandown two weekends ago. The market expected the Moores to unleash another brilliant French recruit, the aforementioned Bo Zenith, for a winning UK debut, but he was keen and jumped carefully in the early stages.
Meanwhile, I Have A Voice made all under a well-paced ride by conditional jockey Tom Buckley, having quickly utilised his slick jumping and superior experience to gain a decisive advantage by the second flight. Much more tractable in the race than reportedly when leaving the paddock, the winner still got tired in cloying ground and looked to jump the last on instinct. However, he'd already seen off his three rivals by then for a 17-length success.
"We knew he was fit, jumps well and would like the ground," said trainer Nigel Hawke. "He knows the job and showed his experience. Today was his Gold Cup and we'll see what the handicapper does us... We'd love to go to Cheltenham but he'd have to go up a couple of pounds and he may not get his run of the race. He wants this ground."
British Horseracing Authority handicapper Andrew Mealor has reacted by raising I Have A Voice 12lb – more than perhaps was bargained for, but it will facilitate the horse's passage into the calibre of race his trainer had envisaged. Hawke has done well in recent seasons by pitching juveniles into open handicap company sooner than many of his peers might.
Ruby and I also discussed a brace of juveniles from Paul Nicholls' yard, who each won a division of Taunton's 4yo+ maiden hurdles staged earlier this month. They will receive Triumph entries.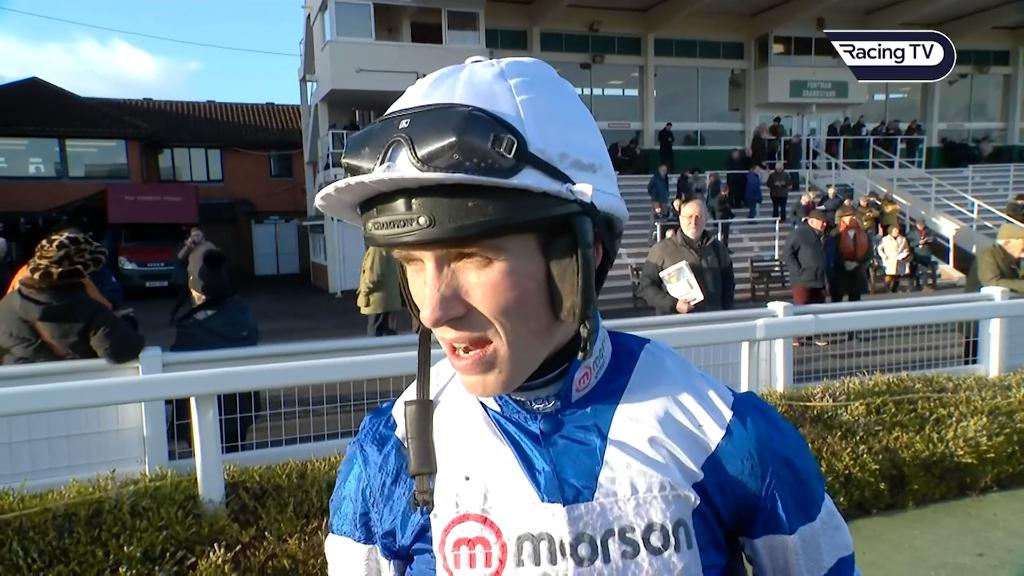 Harry Cobden on Rare Middleton and Afadil, two of his winners in a memorable Taunton four-timer earlier this month
Rare Middleton, who'd twice previously raced to a decent standard in maidens on the Flat in Ireland, took the first division more cosily than a three-quarter-length margin might suggest. He only needed to be nudged out by Harry Cobden after taking up the running, going well, approaching two out.
"He only started schooling six weeks ago and I don't like running them that soon," Nicholls admitted afterwards. "I was concerned about the first time on this ground and whether he'd get the trip. You'll hear a lot more about him."
Although he displayed more greenness than Rare Middleton, Ruby felt Afadil looked the more likely to prosper in the short term. After setting off reluctantly in the vanguard when none of his rivals cared to make the running, he tried to duck out at the first hurdle, running it down to the left and almost taking out Atlantic Fleet, who'd also been giving it an old-fashioned look.
Becoming keen, Afadil also ran about approaching the second and then went clear with the hard-pulling__ Champagne Mesdames__, who was wearing first-time blinkers. Novicey slow-motion leaps followed at the next two flights before the winner's jumping warmed up to the extent that he was well in control from hitting the front two out until crossing the line, hard held.
"Afadil will love the soft ground, so I'd expect he'd go to Haydock [for a juvenile in mid-February] and we'll try to keep them apart," Nicholls observed, having already earmarked Kempton's Grade Two Adonis Hurdle for Rare Middleton.
Finally, at Kempton last Saturday Arclight followed up her successful Doncaster debut with a straightforward task – made all the more undemanding by the exit of the second favourite with an unseat at the first hurdle.
Winning rider Nico de Boinville's problems were merely procedural – reluctantly but inevitably making the running and then avoiding the meandering path of the riderless Regally Blonde at the next two flights before that rival became suitably distracted. His mount won, unchallenged, by 43 lengths and trainer Nicky Henderson identified her next stop as the "different ball-game" of a mares' Listed event back at Doncaster on Friday week.
Ruby's portfolio
Advised 01/12/22: Noble Yeats at 66/1 for the Boodles Gold Cup with William Hill
Back now: Corbetts Cross at 25/1 for the Albert Bartlett with Coral or Ladbrokes
Lydia's portfolio
Advised 01/12/22: Ahoy Senor at 25/1 for the Boodles Gold Cup with various bookmakers
Advised 14/12/22: Hiddenvalley Lake at 8/1 for the Albert Bartlett with Bet365 or William Hill
Advised 05/01/23: The Real Whacker at 12/1 for the Brown Advisory with Paddy Power or Coral
Back now: Impaire Et Passe at 6/1 for the Ballymore Novices' Hurdle with various firms
Enjoy a free one month trial of Racing TV – the only channel showing every race live from the Cheltenham Festival! Watch every race live from all the meetings that matter across Britain and Ireland including the Dublin Racing Festival. Click above to start yours now
.