In the second instalment of the Road To Cheltenham column this week, Lydia Hislop rounds up the performances and names note in the chasing division. Don't miss the full round-up of the juvenile and novice hurdlers and Lydia's latest ante-post bet here.
Chasers
I had been sceptical about whether Pic D'Orhy was an improved model in the jumping department or had merely been fortunate enough to dominate inferiors to date this season. There was grist for both arguments from his Coral Silviniaco Conti success at Kempton last Saturday.
This Grade Two 16-length defeat of Clondaw Castle was indubitably a career best. Pic D'Orhy was accompanied at the fore in the early stages by the admirable veteran Coole Cody, who forfeited that position with an error at the fourth and then any chance in the race with a further mistake four fences later. He seemed to lose interest once headed and outjumped, but he's always preferred Cheltenham.
Paint The Dream then briefly attempted to press at the outset of the final circuit but the winner's fluid jumping and easy way of going saw him pull away again at the ninth, with mistakes starting to creep into that rival's round. Pic D'Orhy's sole blunder – when Harry Cobden saw a stride at the fourth last but his mount stuttered into it – offered his rivals brief hope, but it was soon all over by the head of the straight.
In his younger days, Pic D'Orhy would not have been so surefooted in righting that error – he never looked like falling here – but it remains true that his jumping has not been tested under pressure this season. It surely will be when he steps back up in grade, as intended.
"Pic D'Orhy's jumping has improved immeasurably and he looked quite quick today," winning owner Johnny De La Hey rightly observed afterwards. "We love the Ascot Chase and that would be the obvious race to go to now, and maybe Aintree after that. We always think he's slightly better on a flat track and he's not a million miles from a proper Grade One horse."
On his first start for 420 days, 11-year-old Clondaw Castle was ridden patiently and picked up the pieces for second when Paint The Dream tired and hit two out, but nonetheless shaped well. Sporting a first-time hood, fourth-placed Saint Calvados appeared still to be travelling characteristically strongly after the fourth last and was nurdled along in the straight until blundering at the second last and finishing well beaten.
Angels Breath showed plenty on his first appearance in more than three years, having left Nicky Henderson's yard for that of Sam Thomas. He raced keenly and clearly retains an appetite for attacking his fences, but lost his pitch at the ninth and began to make errors prior to weakening quickly at the mouth of the straight and wisely being pulled up. Let's hope he can build on this.
Novice chasers
Impervious may not have stature but she has got game. Again, Brian Hayes launched her at the final fence and again, she bravely reached for it and landed running to beat an improved Journey With Me in the Grade Three Madigan Group Novice Chase at Punchestown last Sunday.
Carrying a penalty for her Grade Two defeat of fellow mare Dinoblue at Cork last month that more than cancelled out her sex allowance and required her to concede 1lb to her gelding rivals, Impervious maintained her unbeaten record over fences. She also marked herself out as a serious rival to the less experienced Allegorie De Vassy and a host of other more established mares.
Patiently ridden, she jumped well bar for a mistake at the ninth. Stalking her main danger, she found little room on landing at the next two fences but agility is her hallmark. Ridden to deliver one final challenge after being waited with approaching the last, she claimed Journey With Me on the run to the line.
"It was a big ask today, to be carrying a penalty against those guys, but she's been very good," trainer Colm Murphy said afterwards. He'd opted for this race over alternatives at Thurles this weekend and at the Dublin Racing Festival because it fitted in well with March. "We can back off her, take the foot off the pedal with her and then freshen her up again and hopefully give her loads of time again."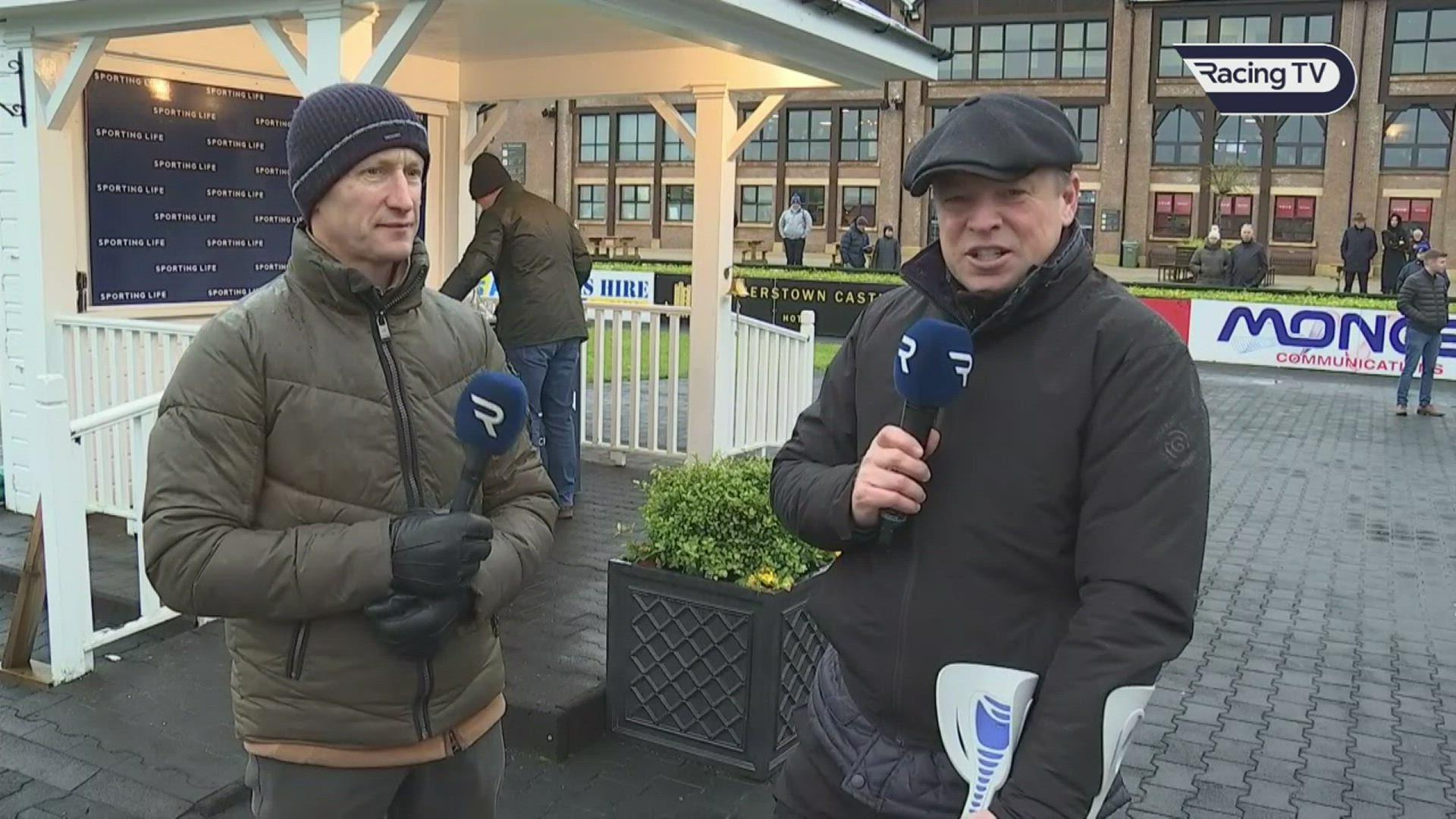 A "delighted" Colm Murphy on Impervious at Punchestown last week
At one stage, Murphy had been intending to campaign Impervious in Points but she has taken to jumping "like a duck to water". "She's just progressing," he said. "She's like one of those typical fillies – when they start improving you don't know where they'll stop."
He reiterated that she'd had a stop-start campaign over hurdles last season, meaning she wasn't at her best after winning a Grade Three at Down Royal early on and failed to build in Grade Ones thereafter. "You can't run [well] in those nicer races [if that's happening] and considering all the stop-starts we had with her, she ran absolute blinders," he said.
Murphy demurred from naming Cheltenham's Mrs Paddy Power Mares' Chase as her primary target, saying he'd need to discuss plans with new owner JP McManus and his racing manager Frank Berry. However, when entries for the Festival novices were published this week, her name was not among them – even though she had been trading as short as 7/1 for the Turners – so it's reasonable to assume that's where she's heading.
I'd say she's on the small side for that track but so is titleholder Elimay. They share the assets of good jumping and plenty of heart.
Henry de Bromhead should be pleased with runner-up Journey With Me, who produced a more accomplished jumping performance than previously – when falling behind Classic Getaway (who's without an entry at Cheltenham and therefore might have suffered a setback) at Gowran and clambering over the last to beat Brides Hill and Flame Bearer at Naas last time out.
Keen in the early stages, Journey With Me was given his head by Rachael Blackmore approaching the fifth and settled much better in front. He jumped well under pressure at the last, having travelled into it going less well than the winner. Interestingly, as well as the Flogas at the Dublin Racing Festival, he is entered solely in the Turners at the Festival.
Third-placed Minella Crooner hasn't taken to fences as well as expected, having been fortunate to beat the left-jumping extremist I Am Maximus at Fairyhouse previously. He has a tendency to be careful, such as when ballooning the fourth in response to Ha D'Or running about on the approach. He was stretched to hold his pitch from four out and surely needs to be stepped up in trip, however, probably to something like the NH Chase rather than the Brown Advisory.
Ha D'Or had looked good on chase debut at Fairyhouse just before Christmas for Willie Mullins, but jumped left and made fiddling mistakes against better opposition here. Stablemate Glengouly took an awkward-looking fall at the ninth and the Joseph O'Brien-trained Gracchus De Balme's exit at the fifth could have been predicted from his earlier fences.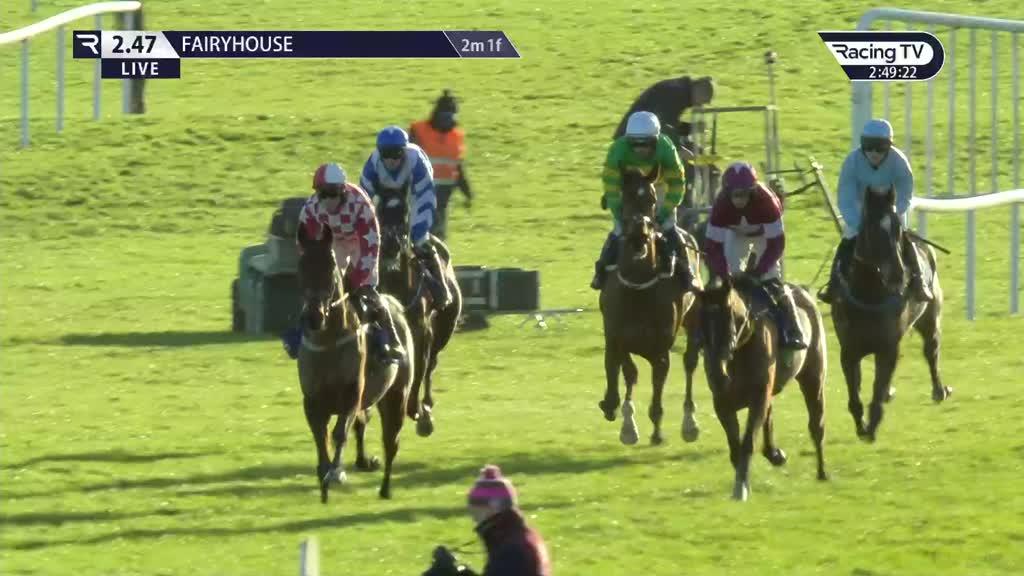 Flame Bearer wins by a huge margin at Fairyhouse
Flame Bearer won an utter farce of a beginners' chase at Fairyhouse last Saturday. Not one aspect of this race was satisfactory: what we could see of the winner's jumping, the technique of the second favourite, the competitiveness of the contest as a whole and the fact much of the key action took place either on a distant horizon or off-stage – if, like most, you were watching on TV.
The first fence set the template: Flame Bearer in front, Highland Charge appalled by his task and the other three maintaining a respectful distance after jumping carefully or sketchily. This pattern continued, merely with increasing exaggeration, until Bryan Cooper pulled up Highland Charge somewhere between the sixth and seventh fence. By this time Flame Bearer was a distance clear and jockey Paul Townend's perils were still in front of him.
Highland Charge is badly out of sorts. Perhaps he hates fences? Or, at the very least, jumping fences on a right-handed track? He was upright and airy at the first, screwing his way to the other side, and then appeared to lurch, stutter or blunder his way over, or into, the next five fences but always out to his left.
These details are not cast-iron, as he was mostly a dot on the screen. When Francin, Slip Of The Tongue and Themanintheboots eventually negotiated five out, even commentator Jerry Hannon could only report that Highland Charge "is failing to complete". "The finish-camera operator even struggling to keep up with this front-running Flame Bearer," he had observed, moments earlier.
Ross Berry later reported Francin "could not go any quicker at any stage of this race" whereas Simon Torrens stated Slip Of The Tongue "could not lie up with the pace and jumped left". What the camera operator said to the stewards' secretaries was not recorded.
For context, Flame Bearer was rated 149 over hurdles, 6lb higher than Francin and 11lb higher than Slip Of The Tongue. However, Francin had shown nothing like that level of form in four starts over fences for his new yard and Slip Of The Tongue, who did indeed persistently jump left (as he had previously), had fallen at the third behind Dysart Dynamo last time out. Themaninboots has no worthwhile form over any obstacles. You get the point: this was a giveaway masquerading as a horse race and did not work as a viewing contest.
This was of no concern to Townend. He was too busy concentrating on what was ahead of him. Flame Bearer jumped the first fine but appeared to adjust left thereafter before becoming a dot on the horizon himself. At the fifth-, fourth- and third-last fences, he was adequate – if hardly filling his supporters with confidence – and then out to his left two out. At the last, however, he almost came completely unstuck when asked to see a stride by his rider, putting in a safety step instead and catapulting Townend skywards.
"I was just praying Flame Bearer was underneath me when I came down at the last!" Townend admitted afterwards. "He had been magic up to that. I was looking for the others down the back straight and was thinking 'Can I just not see them?' but he goes a nice gallop and I think trip-wise he is versatile. It was a no-contest from early, but at least he showed us today what he's been showing us at home."
That's a more positive review than I can give Flame Bearer at this stage, but this success will hopefully build confidence for his new discipline and perhaps he will jump better in more conventional circumstances. On the clock, he came in under four seconds slower than the preceding handicap won by 136-rated Rebel Gold, who carried 22lb less, this achieved by racing slightly less quickly at first, then building up the pace mid-race until slowing late and, of course, forfeiting a chunk at the last.
He raced without the first-time hood he wore on chase debut at Naas behind Journey With Me, when his jumping lacked fluency whilst perhaps going a shade too quickly for the testing conditions and culminated with a chance-ending error at the second last. Here, Mullins had also reapplied the tongue-tie Flame Bearer had worn on all bar one of his previous Rules outings for Pat Doyle. Tougher assignments lie ahead, including two Grade One options at the Dublin Racing Festival.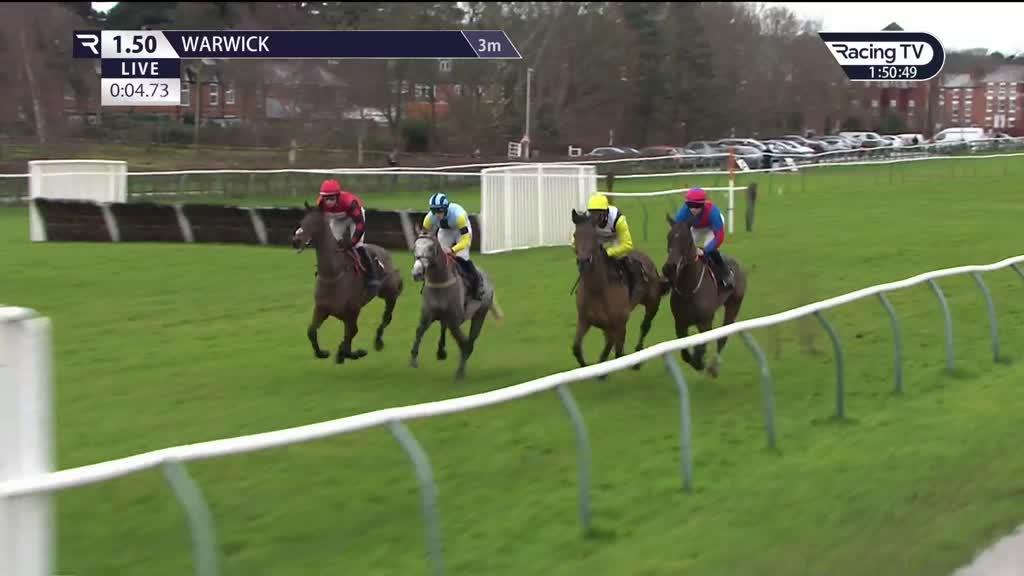 Galia Des Liteaux takes Grade Two honours at Warwick
At Warwick that same day, talented mare Galia Des Liteaux put the record straight after an error-strewn display in a messy edition of the Kauto Star by winning the Grade Two eventmasters.co.uk Hampton novices' Chase with an exhilarating round of jumping.
In Kempton's Boxing Day event, she appeared to frighten herself when standing far too far off and breasting the second fence. She could never find a rhythm thereafter, doubtless exacerbated by the low glaring sun at the next set of obstacles, and after slowing markedly into the 14th, was pulled up by Harry Skelton before the next.
This was much more like her promising chase debut against fellow mares at Bangor – and then some. Gaining a narrow advantage at the first, she was joined by keen-going Complete Unknown from the second but consistently outjumped the favourite. Turning into the straight for the first time, she took the lead with a fluent jump at the seventh. On the final circuit, she then answered Skelton's every call.
The essence of Warwick is its five quick fences in the back straight. First time around, they undid Gentleman At Arms – after landing steeply on reaching for the second of them (the third overall), the next obstacle appeared before he could regain his composure and, just two fences after that, he was detached and beaten.
The Goffer, who'd shied at the starting-tapes and jumped airily at the first but got his act together on the first circuit, reached for the tenth and was already being nudged along by Sam Ewing as they raced towards that quintet of quick-fire obstacles. The result was inevitable – a mistake at the eleventh, another two fences later and, though he stuck to his task creditably, the white flag was in effect raised by the next.
Complete Unknown's jumping hadn't been as silky as the winner's on the first circuit but he held his own until stuttering into the eleventh, meaning he was on the back foot for the next four rattatatat fences. He, too, hung in there until a particularly good leap from the mare three out sealed the deal.
Skelton galvanised Galia Des Liteaux around the home turn to draw further clear of her pursuers and only the usual two-out stood between her and victory, the last in the straight bypassed due to false ground on the approach. Of course, she jumped it perfectly and galloped home to triumph by 13 lengths over Complete Unknown, who was in turn 18 lengths clear of The Goffer.
After summarising what went wrong at Kempton, a gratified Dan Skelton added: "At the time our horses were in and out… they weren't flying and there was some speculation with her about whether she was in form or not. But I never felt like she wasn't in form. There's a couple that weren't but you give them the flu vacc[ination] and they come charging out of it much better."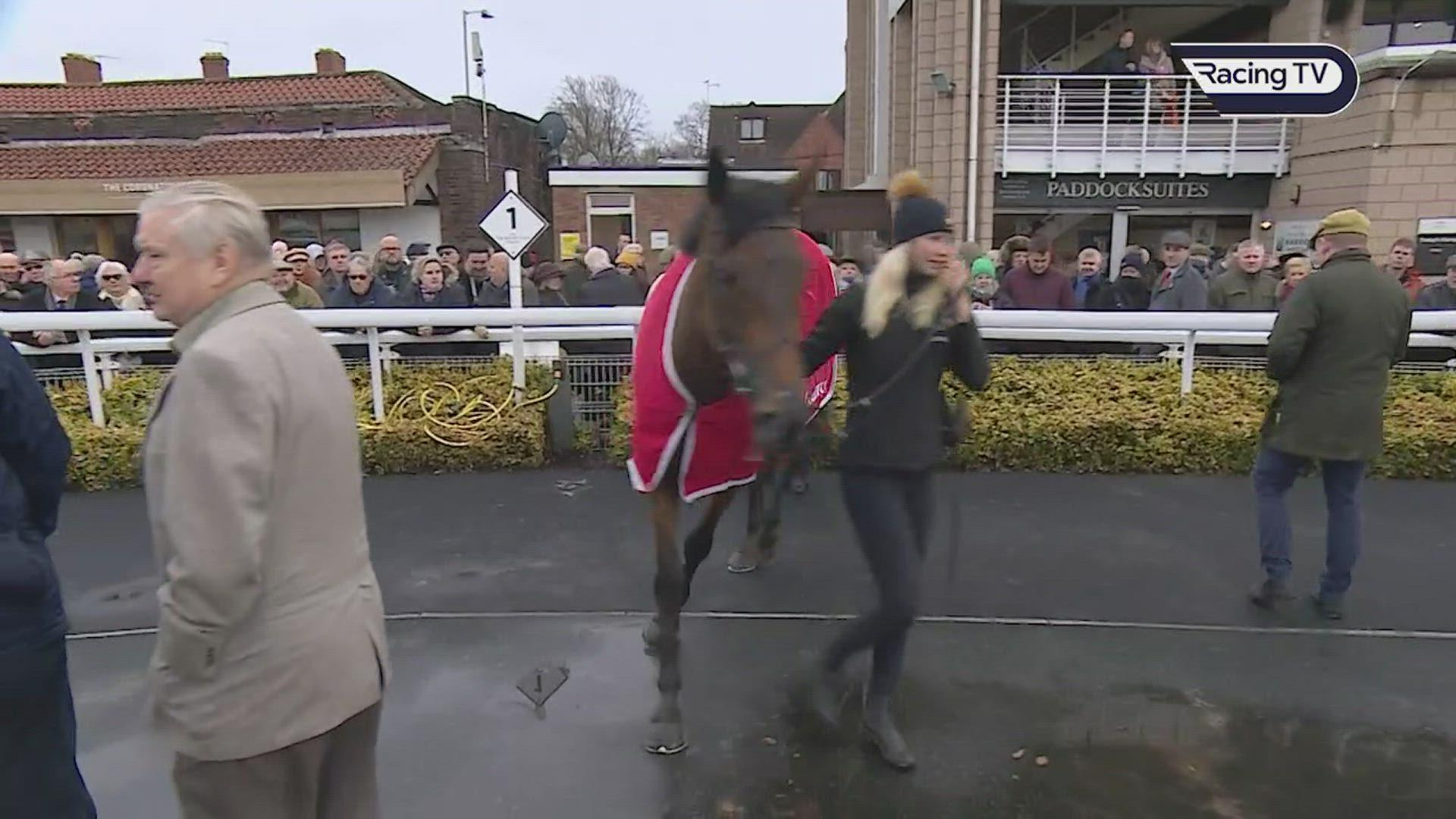 Dan Skelton gives the post-race debrief on Galia Des Liteaux
Skelton plans to frame the rest of Galia Des Liteaux's season around staying trips in testing ground. "I know she wants slow ground and I know she stays. She won at Bangor because she's good, not because two miles suits her. I was always confident that three miles was much more like it than two," he said.
"I think she's put an awful lot in there today. We will be respectful of her effort. It would be very easy to say we could go to the Towton in three weeks' time because the ground will be heavy, but I will harbour more respect for her than that. If we give her another two weeks and go to the Reynoldstown, that's fine.
"If you got a really, really soft Cheltenham it would come into consideration but I'd have to skip the Reynoldstown because you couldn't do both. Then I will just get a little bit adventurous and see what there is for mares perhaps the other side of the Irish Sea as well because I can't think of any mares' races that are really jumping off the page at me at the moment in the UK – other than in the Festival, but you'd have to have it really, really soft."
Pressed by Stewart Machin on whether he'll keep the mare away from better ground, Skelton explained: "I don't think she won't perform well on it. I just think she's very, very effective in that. And sometimes when you have a horse that's really, really effective in that, they're super-effective. They can out-run themselves not by single-figure digits; they can outrun themselves by 20lb or more. I think she's a horse that's really, really suited by bad ground."
As Skelton is thinking big, and if this season continues to go to plan, that sounds as though she could even be pitched into something like the 2023 Betfair Chase. It would be fabulous to have a mare competing over fences to that standard – something we were perhaps denied when the still-novice Colreevy was retired shortly after downing Monkfish at the 2021 Punchestown Festival.
Runner-up Complete Unknown was graduating from handicap company at Ffos Las and although he was outclassed, this was confirmation of that career-best performance and he can improve again. The Goffer didn't have the pace for this, even upped in trip. Having been well held by Loughderg Rocco on his chase debut at Leicester, albeit keeping on over 2m4f, this was a tough ask for Gentleman At Arms and he wasn't ready for it.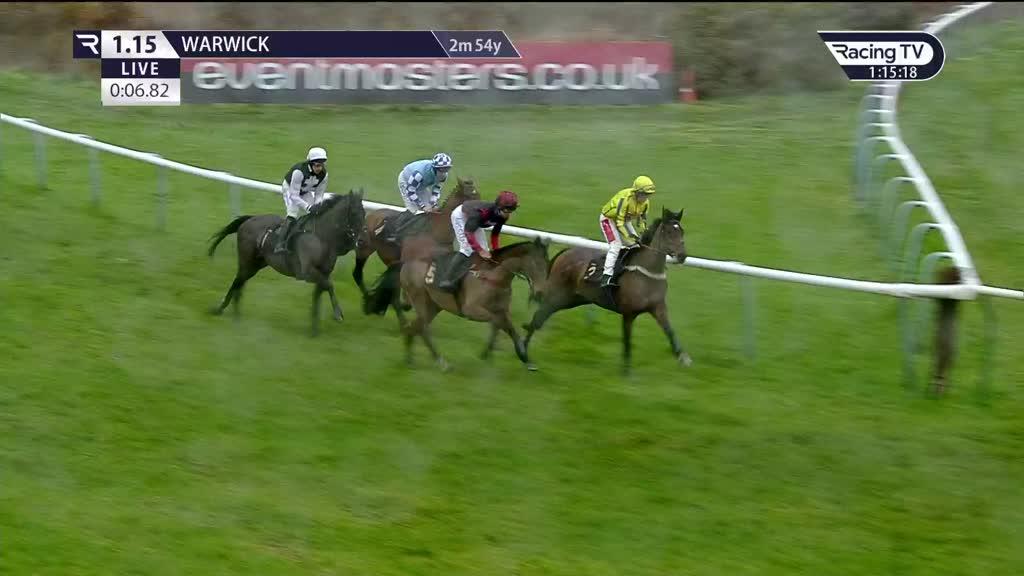 Haddes Des Obeaux impresses at Warwick
Haddex Des Obeaux dismantled Warwick's preceding Edward Courage Cup with a bold display of galloping and jumping that put seasoned performers Third Time Lucki and Bun Doran to the sword even before he'd turned into the straight.
Rider Jamie Moore's only problem seemed to be curbing his mount's enthusiasm but when he fired him into the third fence – usually the fourth – it broke the race apart at an early stage. Galop De Chasse lost his pitch pretty much immediately and although the other two were back on the winner's heels three out, they didn't last long.
Understandably, trainer Gary Moore has entered Haddex Des Obeaux in the Arkle but the prospect of taking on Jonbon over the same course and distance in next month's Kingmaker must also feature, given he was so electric at this tricky track. He was entered at Lingfield on Friday, too, but that card has been abandoned and his specific target is not among those races rescheduled for Sunday.
Intended for the other end of the distance scale, City Chief got off the mark over fences in a novices' limited handicap chase at Hereford on Monday. Having made a howling error in a match against Gelino Bello on debut at Exeter last month – not getting high enough at the seventh and sprawling on landing with his nose in the turf – he took time to warm to his jumping here.
Main rival Jet Plane was ridden too aggressively, taking over on landing at the first where City Chief was too upright, and low or guessy at several others. The favourite gave the next three fences plenty of air and also adjusted left at a few, but worked his way into the race with a good leap at the eleventh and responded to pressure as the pace lifted five out.
The sole other runner Coconut Splash was patiently ridden but at the second last, where City Chief led up the inner with a tidier jump than the tiring Jet Plane, it soon became plain that rider Adam Wedge was holding onto nothing on a horse trying three miles for the first time.
As City Chief asserted for pressure, Coconut Splash found nil and the jelly-legged Jet Plane weakened markedly, barely clambering over the last. The winner is entered in the NH Chase but doesn't yet appeal as a likely type for that contest.
Fakiera has a more suitable profile for that target, if not quite the ability. He was beaten by Royal Thief in Punchestown's Amateur National Handicap Chase last Sunday – a rival in receipt of 8lb but returning from more than two years on the sidelines.
The winner plotted a much wider course, in search of better ground, than the runner-up, who stuck to the inside under Jamie Codd. Wearing blinkers for the fourth time, Fakiera was always to the fore and built a good lead over his rivals from after the eighth, but he conceded ground and rhythm with a mistake at the 12th and when stuttering into the second last. Still a maiden after eight starts over fences, he was headed at the last and ultimately beaten 10 lengths.
Ruby's portfolio
Advised 01/12/22: Noble Yeats at 66/1 for the Boodles Gold Cup with William Hill
Back now: Corbetts Cross at 25/1 for the Albert Bartlett with Coral or Ladbrokes
Lydia's portfolio
Advised 01/12/22: Ahoy Senor at 25/1 for the Boodles Gold Cup with various bookmakers
Advised 14/12/22: Hiddenvalley Lake at 8/1 for the Albert Bartlett with Bet365 or William Hill
Advised 05/01/23: The Real Whacker at 12/1 for the Brown Advisory with Paddy Power or Coral
Back now: Impaire Et Passe at 6/1 for the Ballymore Novices' Hurdle with various firms
Enjoy a free one month trial of Racing TV – the only channel showing every race live from the Cheltenham Festival! Watch every race live from all the meetings that matter across Britain and Ireland including the Dublin Racing Festival. Click above to start yours now
.