Jack Kennedy wept tears of joy after winning the WellChild Cheltenham Gold Cup with Minella Indo and admitted: "This is the best day of my life."
The 21-year-old rider, who has broken his leg four times already in his career, landed the most prestigious prize in Jump Racing as Minella Indo fought off stablemate A Plus Tard and Rachael Blackmore to win by one and a quarter lengths.
And he said: "It's definitely the best day of my life. You dream about winning those sorts of races when you're a child. I know I'm still young, but I suppose I have been in the position where I could have been winning them for a couple of years, so to get it done is brilliant.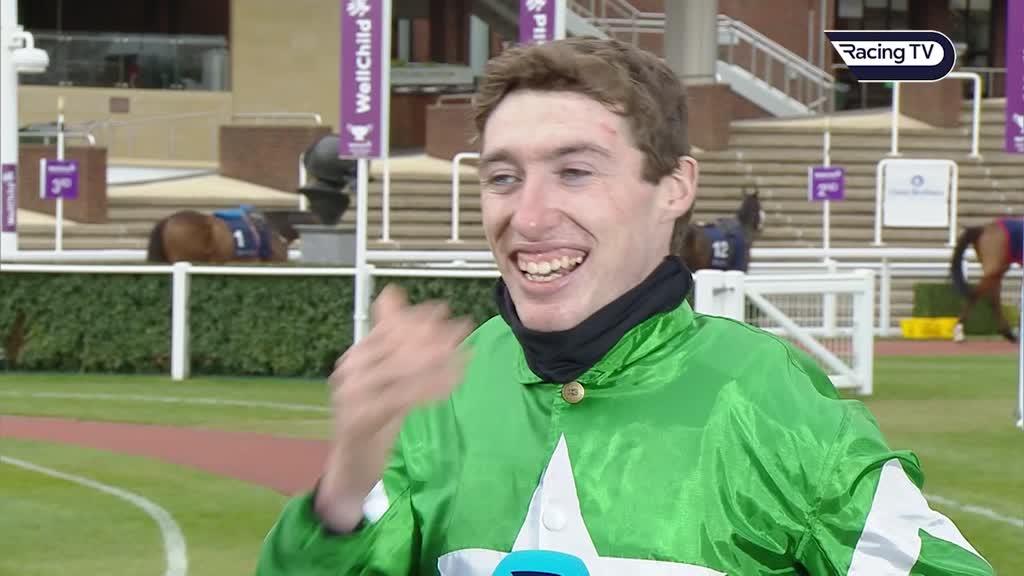 "I thought I had as good a chance as any horse in the race, to be honest. I had gone down to school Minella Indo at Henry's, and a few of the lads in the yard were keen on him, so I was fairly confident going out on him. I suppose the fact that Rachael [Blackmore] picked A Plus Tard probably took the pressure off, as well.
"I had to switch in and out a couple of times during the race because I wanted to get my lad a clear view of his fences without going too wide at the same time. It went very smoothly; he travelled and jumped great and there wasn't really any point in the race that I wasn't happy.
"I was left in front very soon though and he pricked his ears after the last, but when A Plus Tard came to him he went on again. I suppose turning into the straight I knew it was going to take something fairly good to beat him, and although I was there too soon I didn't want to disappoint him by taking him back and waiting a bit longer with him. I was very confident the whole way.
"This is massive - I can't believe it's after happening, to be honest, and I was emotional about it. It means the world to me.
"I've broken my leg four times. I missed last year's Festival because I broke it about two months beforehand, but thankfully I've had a year this year that I'll remember for a long time.
"It could always be a lot worse - broken legs and broken collarbones will heal. It's obviously unfortunate, but you have to get on with it.
"The atmosphere in the Irish weighing room has been great this week, and there's been so many lads who have had their first Festival winner, which is brilliant. We're all in fairly good form in there, anyway!"
Asked what has kept him going during the tough times when he has been off with injuries, Kennedy answered: "I suppose it's because I'm in such a good position - I've a very good job and any time I've been injured, Gordon [Elliott] and the O'Learys have stood by me and have always said that my job is there for me when I'm back and the horses are there to ride.
"I suppose when you've got horses of that calibre to get back for, if you can't get back for them, there's no point doing it."
In a separate interview with Racing TV, Kennedy added: "I can't thank Henry and Mike and Barry Maloney enough. I'm so grateful for the opportunity and I don't think there's anything that can top that now.
"A few weeks ago my agent, Kevin O'Ryan, rang me and said that Henry was looking for me to ride Minella Indo. I went down and sat on him and popped him over a few fences. It's the best thing that's ever happened to me.
"I was delighted to get the ride, I was kind of left at a loose end and had no ride in the race when Delta Work was out, so to get a ride in it was massive and for it to be him, he was a horse I suppose people had kind of just forgotten about. But all the lads in Henry's yard were fairly keen on him, and they were right and I'm delighted.
"I can't believe it. I was jumping and travelling very well, I probably asked him a couple of questions — I was probably just asking a bit much and he put down at maybe two fences, but was very good with it. I kind of figured out then that he was better if you just squeezed him down to them, rather than throwing him at them, so I did that for the rest of the race and he carried me into it and that was it.
"I really didn't want to get there too soon, but I didn't want to disappoint him at the same time when he was travelling so well. I just took it up and to be fair to him he kept going. He was idling up the straight, but when he heard A Plus Tard coming to him, he pulled out again."