This article was first published in March 2022
---
The Cheltenham Festival provides endless fabulous theatre. Winners can enter stage left, stage right, or seemingly from some part of the stage that none of us knew was even there.
Those assuming the lead role moments away from a huge ovation can find themselves relegated to the support cast before they know it. And vice-versa. It's why the Festival bewitches us from start to finish.
Identifying the victors beforehand is a difficult enough task and sometimes it gets no easier once even 95 per cent or more of the contest has been run.
If you like your productions to have a twist or three in the final act, then Cheltenham's uphill finish is the place for you. Expect the unexpected could be the tagline for those epic days in the Cotswolds.
Those in any doubt were given another reminder on Thursday when Galopin Des Champ fell at the final fence with the Turners' Novice Chase at his mercy.
---
Click here to visit our 2023 Cheltenham Festival hub
---
Bob Olinger traded at 999-1 in-running and became the fifth Festival winner to be matched at the maximum price in-running on Betfair since it was founded in 2000. The same number have traded at the minimum price and been beaten.
You might think there would be more in the latter category, but there have been stacks at just below the minimum, including such as Oscar Delta (1.02 in the 2013 Hunters' Chase); Annie Power (1.05 in the 2015 Champion Hurdle) and Benie Des Dieux (1.03 in the 2019 Mares' Hurdle).
We have to turn the clock back 18 years for our first act.
---
Mann ends up on slippery slope
2004: The Fulke Walwyn Kim Muir Chase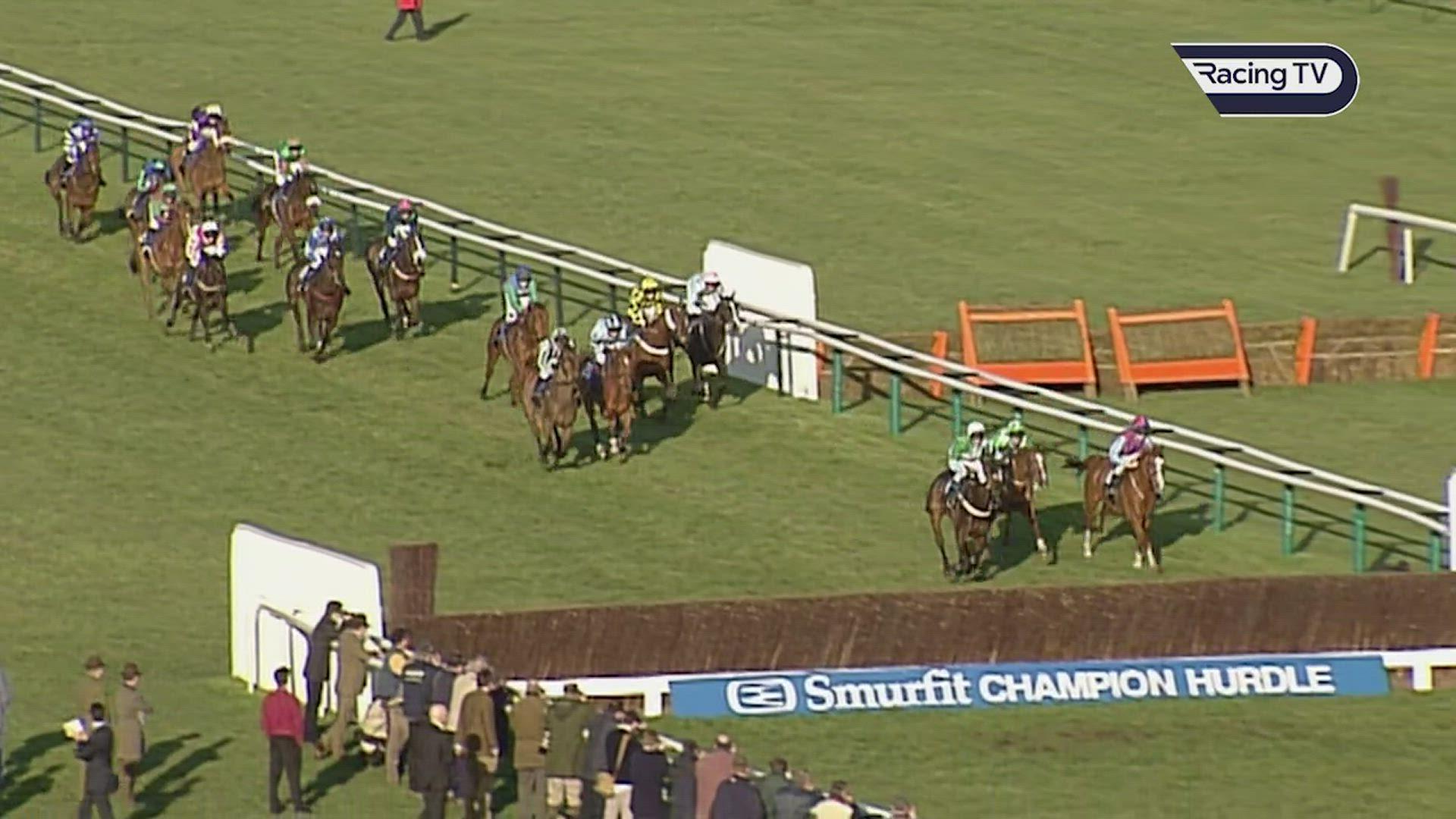 Merchants Friend first, the rest nowhere . . . until the final strides of a remarkable race that we pick up at the ninth fence
Charlie Mann had told his wife, Susannah, that he would take her on a ski-ing holiday if Merchants Friend gave him a first Festival win. "I was nearly on the phone to the travel agent," he would say later after the most agonising of near-misses.
Twenty-two runners set out for what looked a wide-open contest but for much of the final circuit only his horse counted. Devouring the fences and galloping exuberantly, the nine-year-old jumped two out in splendid isolation under Pat Cashman and was still about 16 lengths clear when leaping the last.
However, the hill still had to be conquered and, finally, Merchant Friend's zestful exploits began to take their toll. His engine began to cut out and, behind him, 40-1 chance Maximize was belatedly hitting top gear having been going nowhere for much of the way.
As the line loomed, Maximize swept past to the delight of jockey Darren Edwards (his first win for 73 rides) and trainer Martin Pipe. "Heartbreak" for the runner-up, said commentator Simon Holt, and nobody could disagree. A total of £9,690 was matched on the Merchants Friend at the minimum price of 1.01 on a day when Hardy Eustace (33-1) and Creon (50-1) were also surprise winners.
Mann retired last year, having never tasted success at the meeting.
---
Noland leaves us all "gobsmacked"
2006: Supreme Novices' Hurdle
Noland was struggling to stay in contention for much of the race but kept on relentlessly to win by a neck
The combination of good ground and a steady pace looked to have played into the hands of Straw Bear, a useful performer at up to 1m2f on the Flat who had won his first two starts over hurdles.
When AP McCoy quickened away on him heading down to the final flight, he looked sure to strike for Nick Gifford in the silks of JP McManus. The horse wasn't stopping; McCoy certainly wasn't stopping; and the opposition were struggling to keep up.
Straw Bear had jumped with precision but an untidy leap at the last opened the door for his nearest pursuers – Buena Vista, Sublimity and Sweet Wake – to have another crack at him. But he picked up again and, for the second time, the race looked won.
Behind them, the struggling Noland flattened three out and briefly dropped out of the picture. He was outpaced, looking more likely to finish nearer last than first turning for home. But then, suddenly, there he was in the thick of it, grabbing Straw Bear with an unlikely thrust in the final strides.
Ruby Walsh had refused to give up and the £20 traded on Noland at 999-1 meant someone began the Festival with a bang. Winning owner John Hales told Racing TV "I got caught up in hundreds of people and hadn't a clue he'd won the race. I couldn't see the finish. I didn't know where he had finished. I was gobsmacked." And he wasn't the only one.
---
Walsh backers have fingers burnt
2007: Top Jockey betting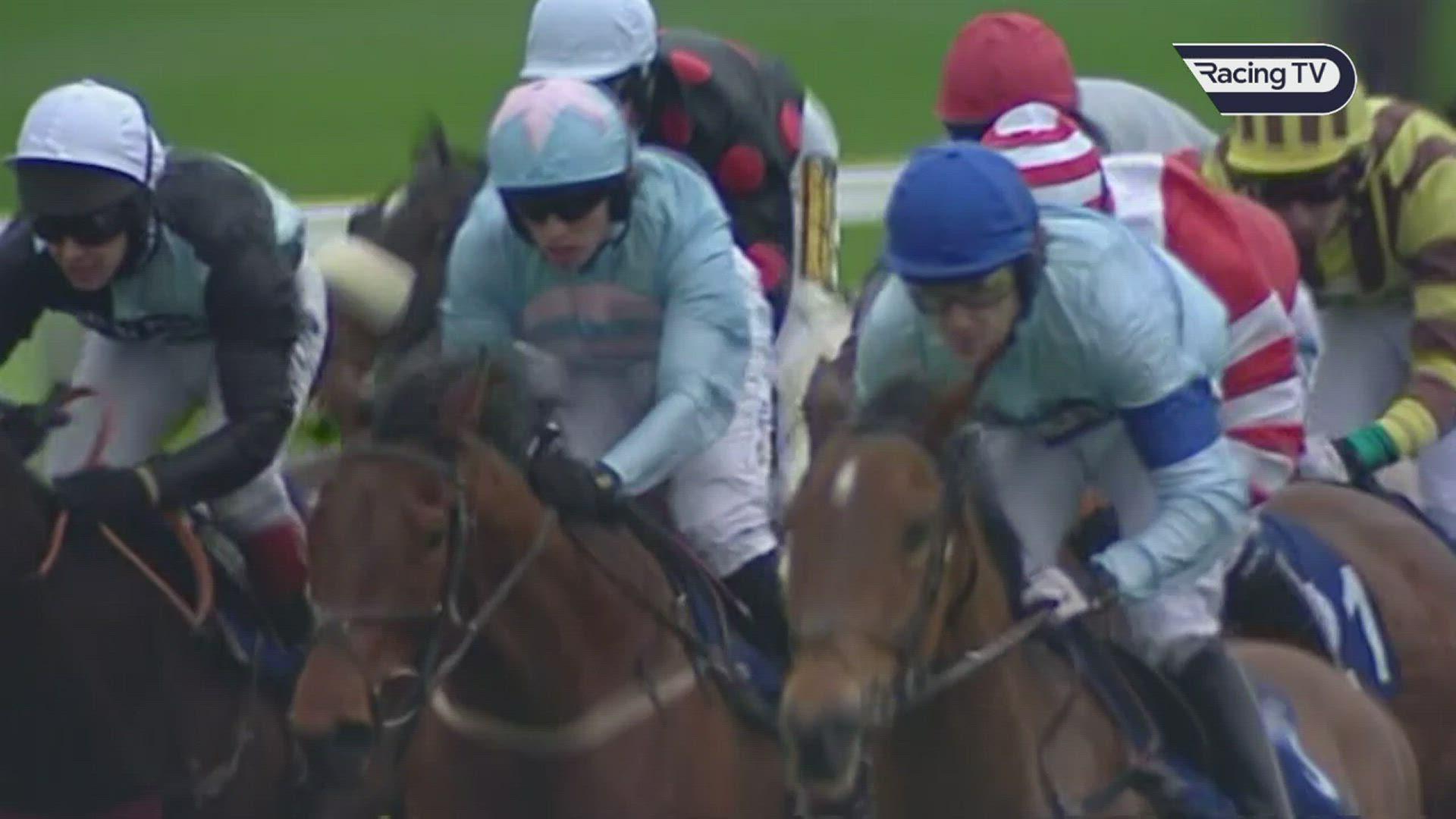 Walsh and Ounipohja come up a bit short in the County Hurdle, to the despair of those who had backed the jockey to be the leading rider at the meeting at 1.01
Ruby Walsh had been top jockey at Cheltenham in 2004 and 2006, and most expected him to take the crown again in 2007. But he didn't, to the chagrin of those who supported him to get the job done at Betfair's minimum odds of 1.01. Quite how he traded at those odds is a little difficult to fathom, but Festival fever can do strange things to those afflicted by it: such as risking £50 to win 50 pence (minus commission).
Day one of the meeting began with six different jockeys riding a winner each. Walsh wasn't among them and went to his lodgings reflecting on what might have been after second places on Granit Jack (Supreme) and Brave Inca (Champion Hurdle). In between, he and Twist Magic were tanking along in the Arkle when falling two out.
Denman delivered for him on day two but at midway in the meeting it was Robert Thornton led the jockey standings courtesy of wins on My Way De Solzen (Arkle) and Voy Por Ustedes (Champion Chase). Walsh made it 2-2 via Taranis (Ryanair Chase) on day three and so went into the final afternoon leading via his placed efforts. Thornton edged back ahead with Katchit's Triumph Hurdle victory but then Walsh replied with Kauto Star in the Gold Cup to get his head back in front.
There were only two races left for the pair to ride in and Walsh had fancied rides for Paul Nicholls in both, whereas Thornton was on horses priced at 12-1 (Nicholls' second string) and 33-1. A tough task for the latter looked almost impossible when his ride in the penultimate race, Andreas, a notoriously weak finisher, blundered two out in the Grand Annual. But he was up for a scrap this day and rallied in unusually tenacious style to take the spoils.
Walsh now needed to win the final race, the County Hurdle, on Ouninpohja to snatch the spoils and when he swept through from off the pace to lead over the last some put two and two together and came up with five. It was almost certainly here that some bettors tapped in 1.01 about Walsh prevailing to grab every bit of cash available.
But Ouninpohja curled up in front and Pedrobob outbattled him in the closing stages. Thornton trailed home in 22nd place, but the crown was his. Was Walsh scarred by the reverse? Apparently not. He would be top jockey again in nine of the next ten years.
---
McCoy toppled by a mighty oak
2008: The Mares' Hurdle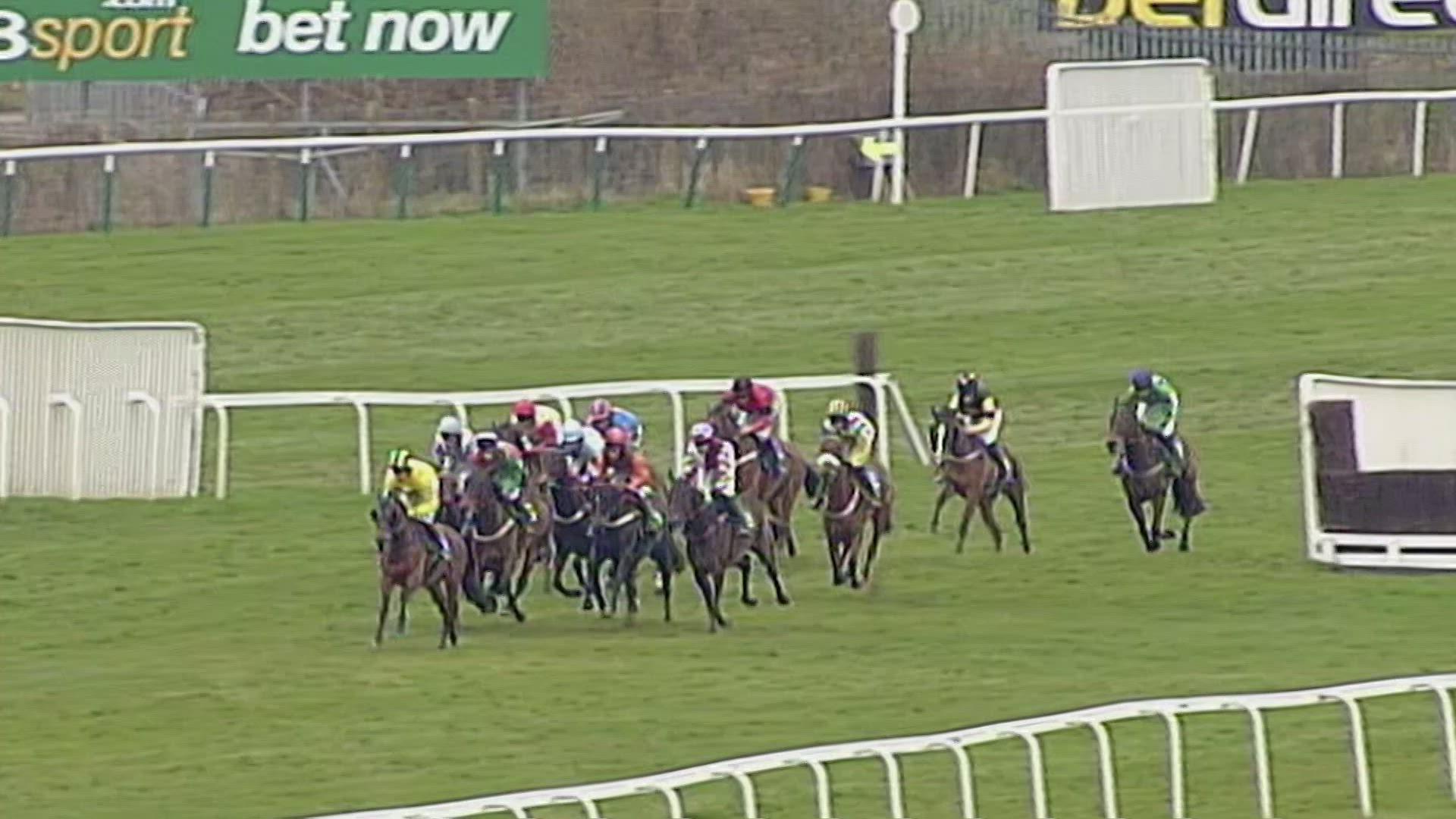 McCoy works wonders to get Refinement's head in front, only for Whiteoak to regain her lead
What was AP McCoy's greatest ride? There are so many candidates among his 4,348 winners that it is impossible to know.
A super-duper computer will probably give us the answer one day. When it does (it should probably be Drill Sergeant at Haydock; maybe Family Business at Southwell; or even Pridwell at Aintree) we will have to come up with a new debate, such as what was McCoy's greatest losing ride?
You'd have to think Refinement in the first Mares' Hurdle of 2008 would be up there, even if that will be of no consolation to those who punted the combination down to 1.01.
Refinement put in a scruffy round of jumping and, two out, McCoy was already hard at work in sixth going through his full repertoire of kicking, cussing and cajoling. The five horses ahead of him were all travelling much better. It wasn't pretty from the serial champion, and he got a four-day whip ban for his trouble, but Refinement was well-known for having a lazy streak.
Going to the last, McCoy's persistence gave him an unlikely chance of being placed. Then maybe second. Then, against all the odds, maybe first. "Refinement is being lifted home by McCoy," said commentator Mark Johnson. "This is fantastic riding by Tony McCoy! Refinement may have just got there . . . but it's desperately close."
Refinement had somehow nosed ahead but, once doing so, clocked off. Whiteoak, matched at 499-1 in those dramatic final strides, kept working and got back up to win by a short head under the deserving Jason Maguire.
The contest formed part of the final day of the 2008 meeting. On the first day of the 2009 Festival, McCoy and Wichita Lineman lined up in the Ultima Chase. Now, where's that super-duper computer?
---
Carberry crushed as Bay buckles
2013: National Hunt Chase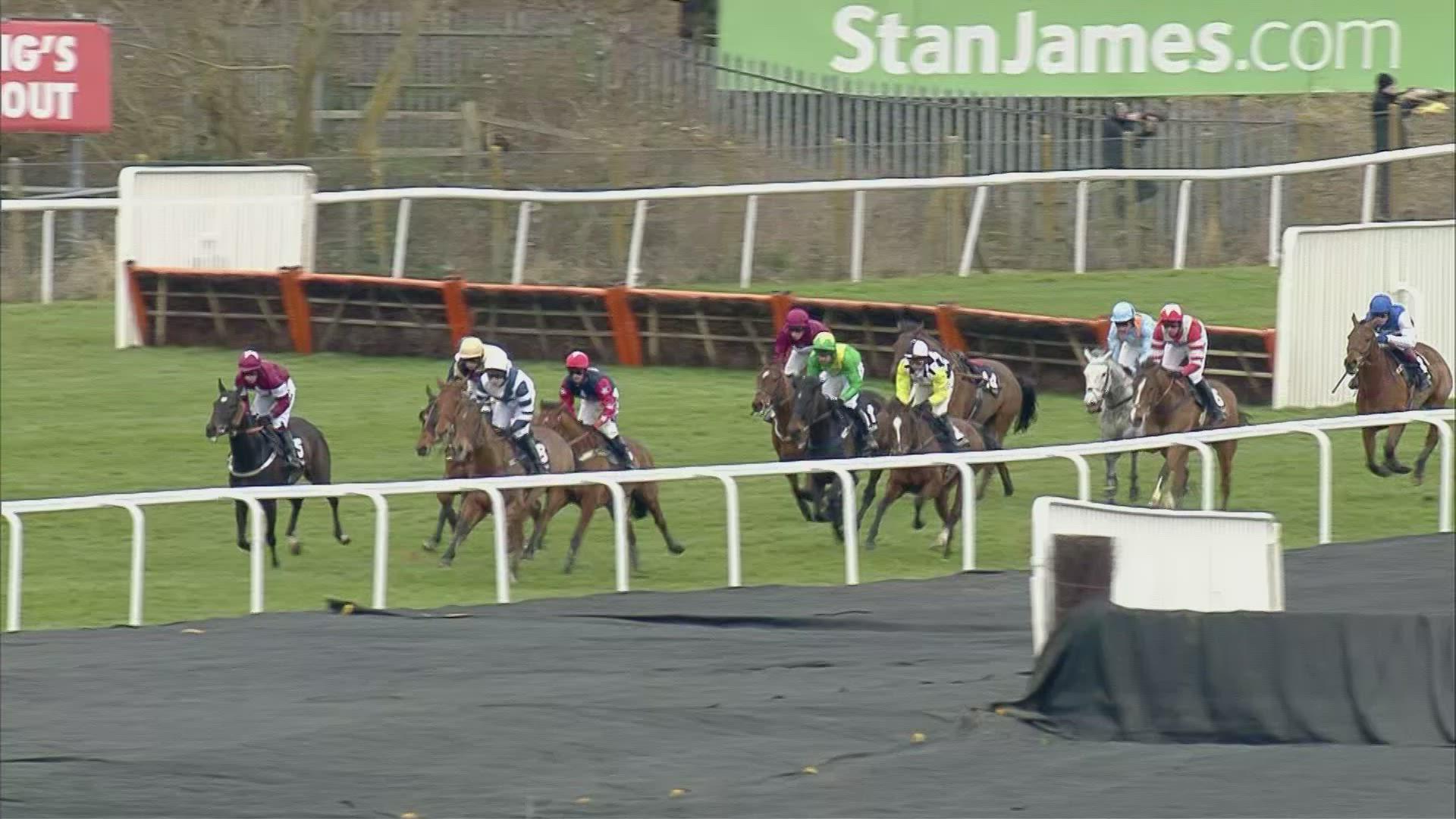 Carberry and Tofino Bay have glory snatched from their grasp by Mullins and Back In Focus
Back in the day, races restricted to amateurs were often dubbed "farmers' races" and you could get all manner of skill levels on show. The first thing to note about this epic is that the first four jockeys home were Patrick Mullins, Nina Carberry, Nico De Boinville and Jamie Codd. Huge talents, all.
The National Hunt Chase has been tinkered with in recent years, but this version was over 4m and was a slow burner with an explosive finish.
Key to the outcome was Derek O'Connor (another superb jockey) attacking going to two out on Rival D'Estruval, when he sneaked up the inner. Carberry, aboard the spring-heeled Tofino Bay, understandably felt she had no option but to cover the move by going with him. This was not the time to surrender lengths.
But this particular game of chess ended prematurely as Rival D'Estruval fell at the penultimate obstacle, unhurt. Suddenly, Carberry found herself six to eight lengths lengths clear on Tofina Bay with no option but to keep pressing the accelerator.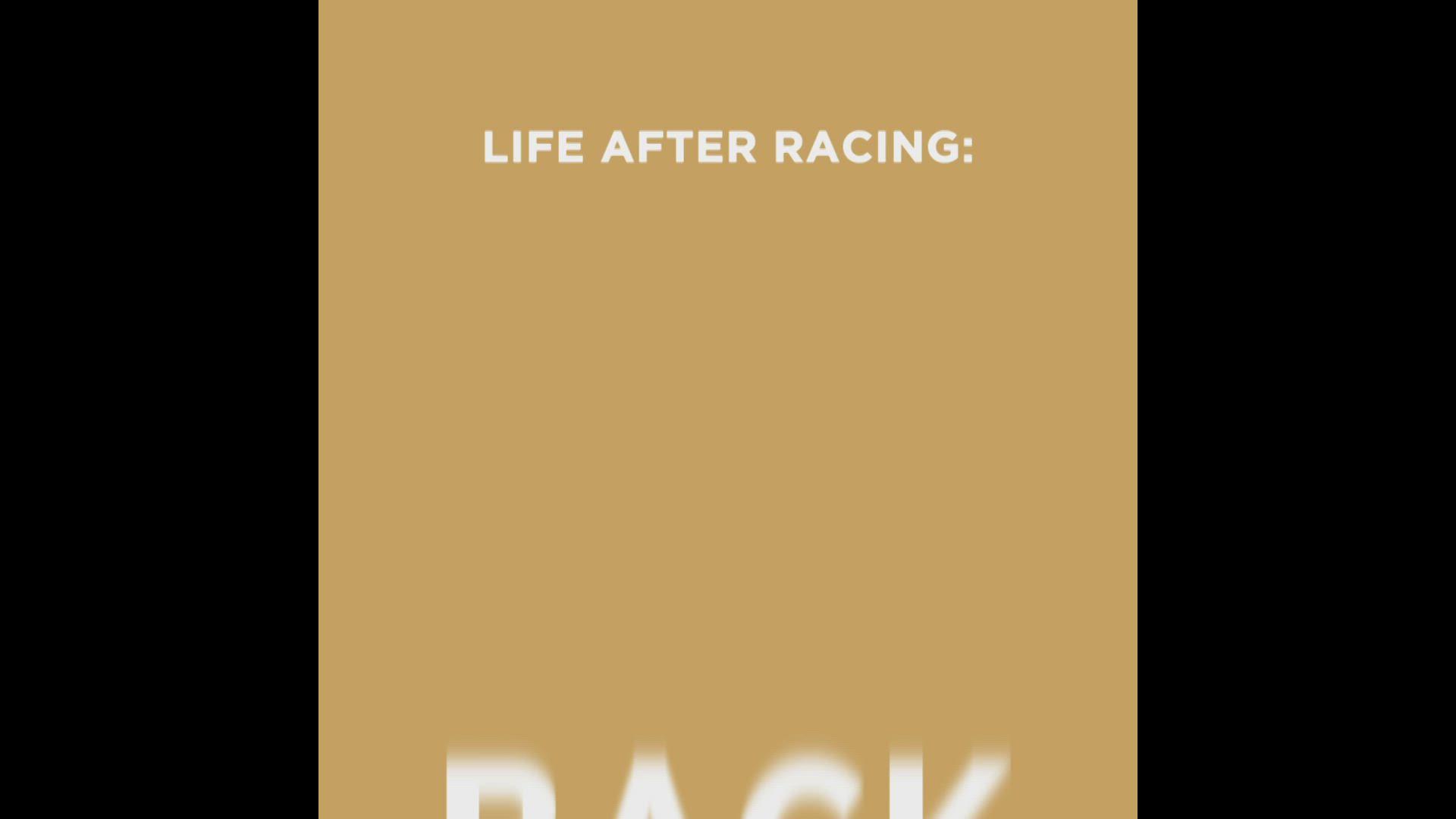 Find out how Back In Focus is doing these days
Once over the last, still with a decent cushion, Tofino Bay traded at 1.01 but then he began to wilt, or idle. Perhaps it was a bit of both. What he needed was another fence to stimulate him, but all 25 had been negotiated.
By contrast, Back In Focus had something to aim at and, galvanised by Mullins, stuck on willingly to get past and win by half a length. It was the first time Mullins had won a Festival race over fences and Carberry graciously offered a hand to him, but her facial expression revealed she was utterly crushed. "That winner means as much as any I've had here," winning trainer Willie Mullins said. The agony and ecstacy of Cheltenham.
---
Scudamore excels on Warhorse
2014: Arkle Novices' Chase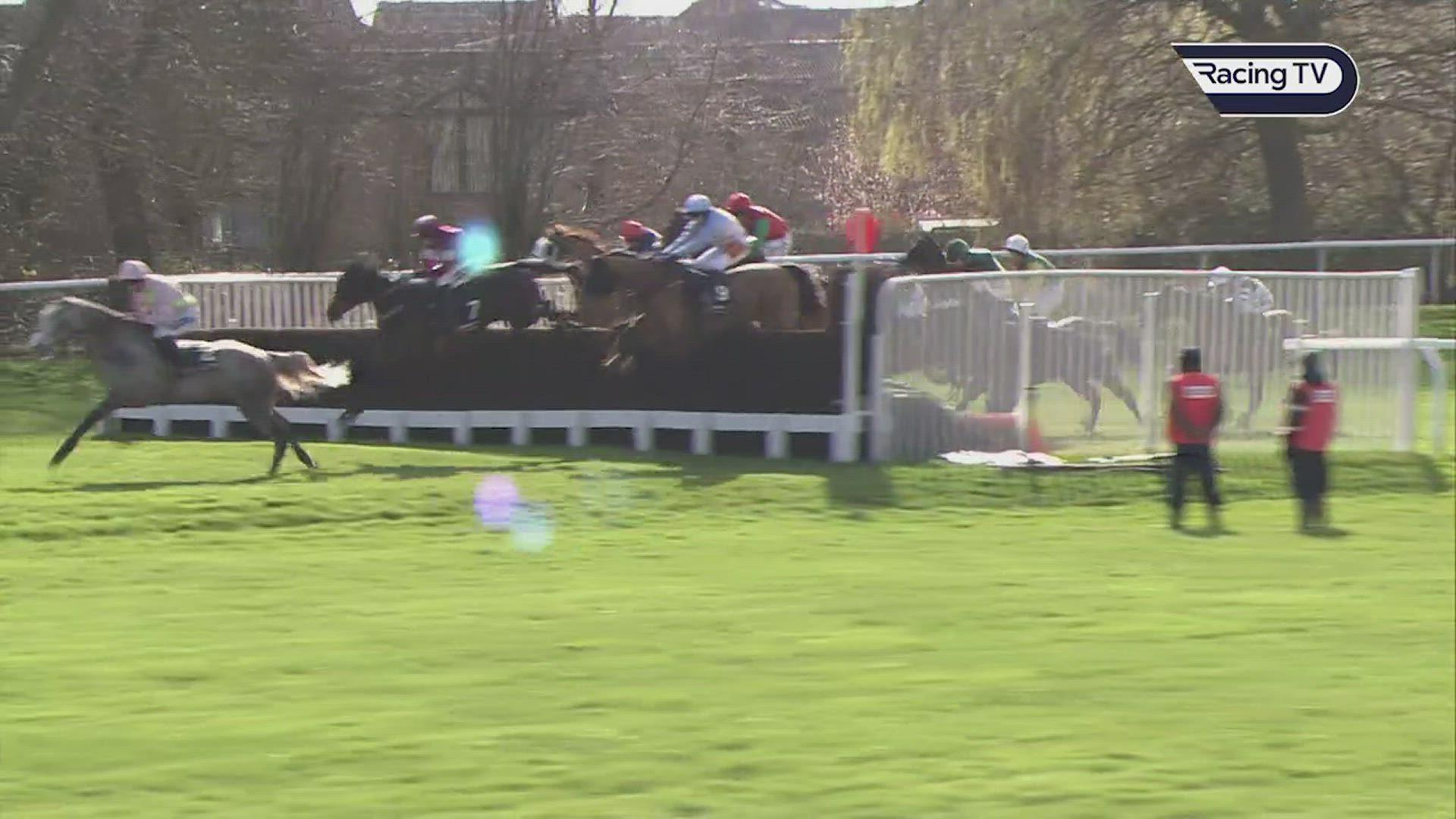 Plenty of runners at this year's Festival will be dismissed in a flash by form students. No chance. Making up the numbers. Social runner. Next.
Eight years ago, Western Warhorse was such a horse. He did not appear to have much going for him in an Arkle field that included a dual Festival winner (Champagne Fever), a future Champion Chase winner (Dodging Bullets) and former Champion Hurdle hero (Rock On Ruby). Apologies if you had to go all Marty McFly to try and make sense of that scenario.
Western Warhorse went into the race with an official handicap rating of 135, whereas his eight rivals were rated between 146 and 167. His main claim to fame had been causing merriment at Kempton's big Boxing Day fixture when he was withdrawn after unseating his rider and bolting before the start. David Pipe, his trainer, had wanted to swerve the Arkle and instead run him in a "nice handicap".
So when he was headed after making the early running, and then began to get outpaced four out, it seemed inevitable he would drift back through the field. Mark Johnson, the commentator, suggested he was "already beginning to hoist the white flag" and in-running players agreed, laying him at 999-1.
But then something odd happened. Western Warhorse hung in there, refused to go away. He was like a heavyweight boxer taking punishment on the ropes, but knowing that he still had a big right hook left in the locker.
He jumped two out in fifth and by the last was disputing third. Halfway up the run-in, it was clear that either he or Champagne Fever would win. His grey rival held sway for much of the last 100 yards but, when it mattered most, Western Warhorse had his nose in front. Knockout!
If he had been an Evens favourite, Tom Scudamore's ride on him would have been acclaimed as one of the greatest of all time. But he was on a 33-1 chance, so it wasn't.
---
Imagine that! Indefatigable finishes with a flourish
2020: Martin Pipe Conditional Jockeys' Handicap Hurdle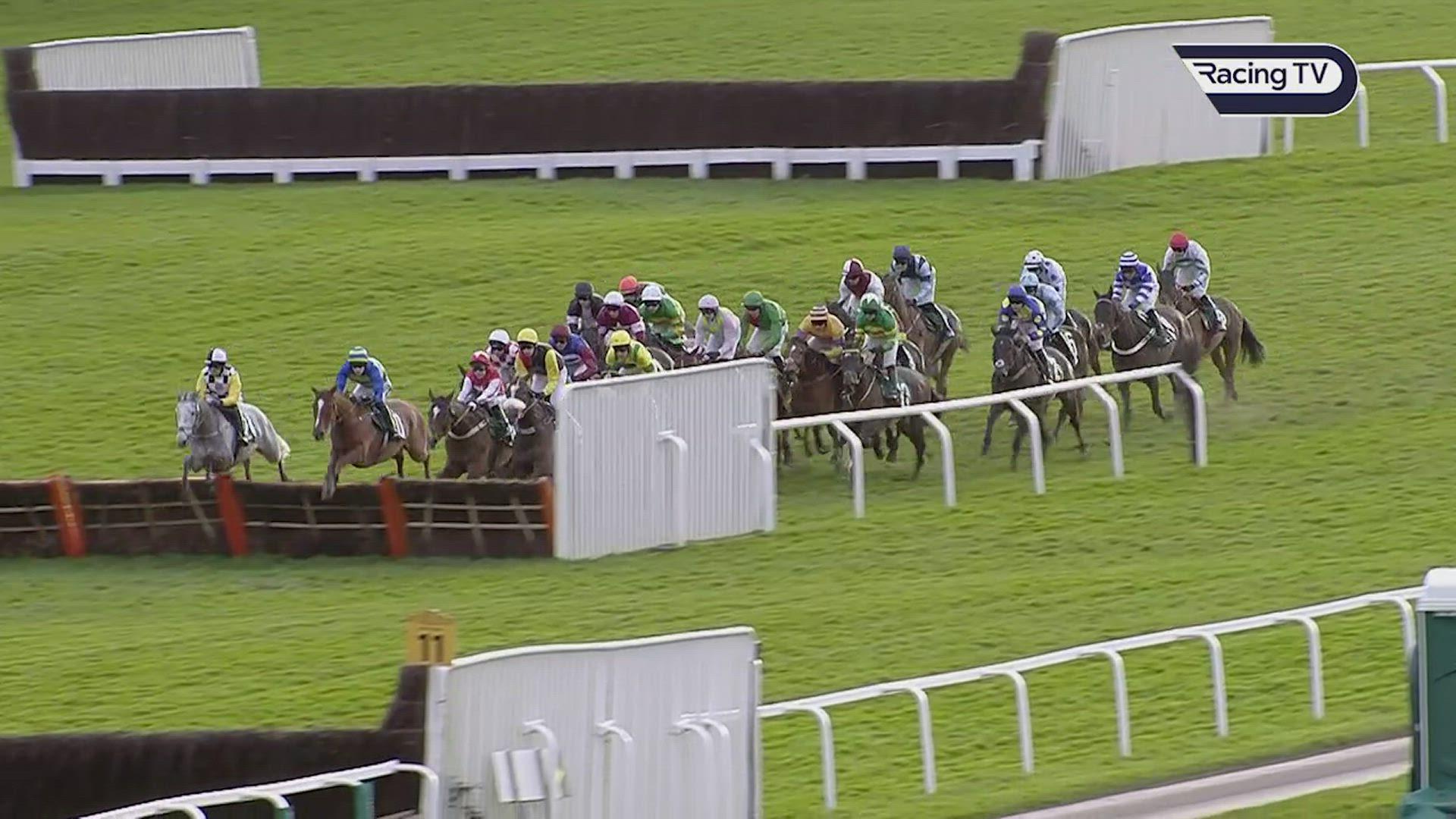 Indefatigable leaves it late in a frantic finish
The younger generation will find it hard to believe but there was a time when very few races were shown live on the television. Mostly, you had to rely on radio commentaries (Extel) in the darkened corners of a smokey bookmakers' shop.
They had a magical quality, not least because you could cling on to the hope that your horse still had a chance of winning, even when it didn't. You had to join up the dots and try and imagine what was going on, something which makes me smile when folk complain about occasional modern-day split screens where two races on TV at the same time bump into each other. Yes, two races on TV at the same time! The joys of the Extel service might have been lost on this brigade.
The bookmaker at my local independent shop would pace up and down listening intently, chomping his way through packets of cigarettes. You could always tell the identity of any horse he had layed a decent bet on because he would stop in his tracks whenever it got a positive mention.
Indefatigable's Martin Pipe win two years ago would have been a memorable Extel moment for anyone who backed her. She gets a mention after 20 seconds (Indefatigable is in rear) and then almost minute goes by before she gets another name check (now the back marker). After 2min 6sec another reference (still the back marker) and then another 87 seconds drift by before a fleeting mention as the whole field is expertly rattled off.
Finally, after 4min 47 sec, one of those comments which might have made my late bookmaker friend suddenly halt: "Indefatigable is staying on from a long way back". Then, in the final six seconds, two rapid mentions before the race, too close to call, is over.
Everyone was able to watch, of course, although I doubt some could believe their eyes. Indefatigable traded at 999-1 before coming from the clouds under Rex Dingle to snatch that success on the line. The fallers at the final flight were unscathed. "Everything went wrong for her and she still managed to battle up the hill," said Paul Webber, the winning trainer. And we saw him say that, too.
---
Mount Ida scales unlikely heights
2021: Fulke Walwyn Kim Muir Chase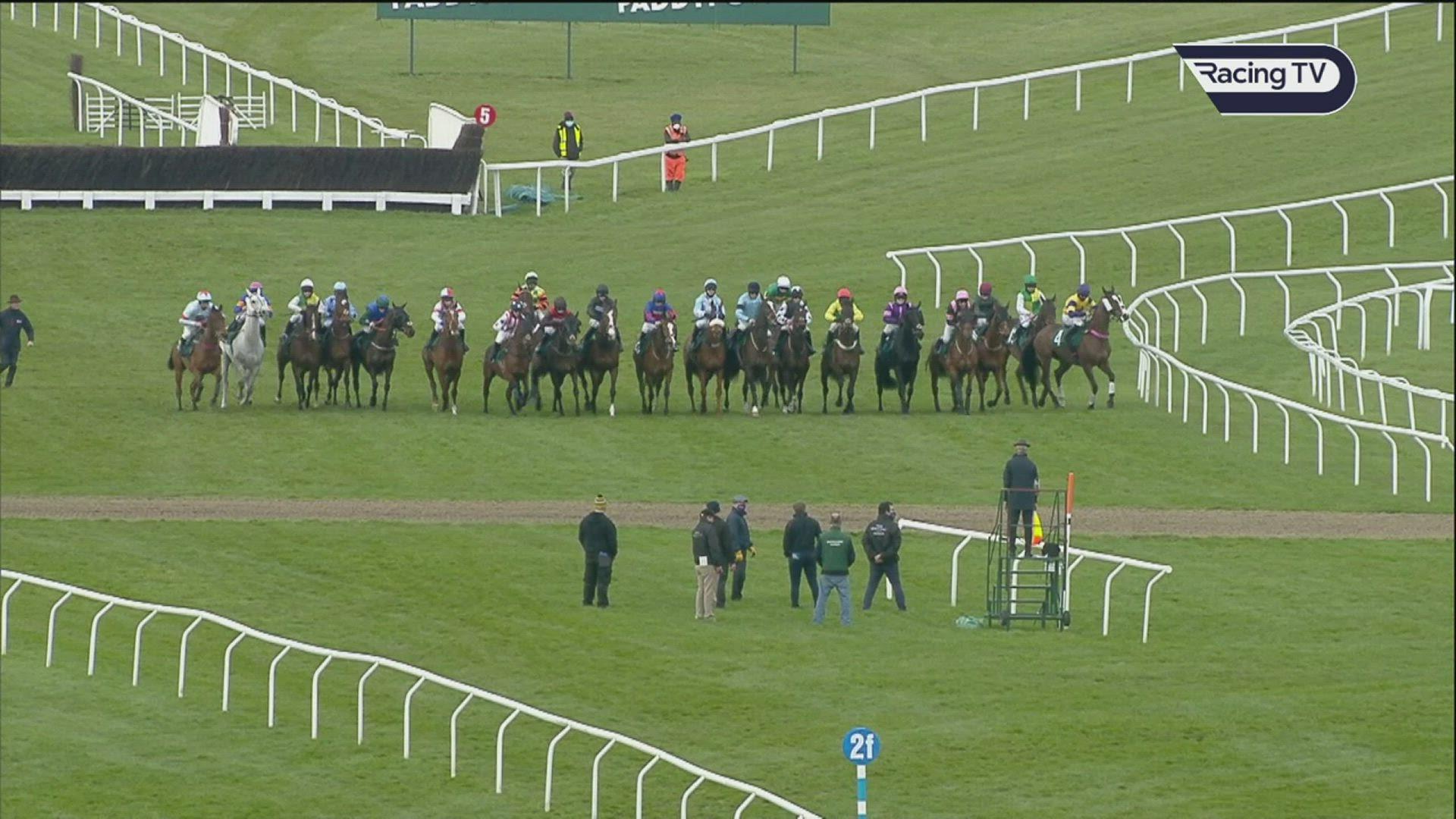 Mount Ida lookd like being pulled up in the early stages and Kennedy revealed afterwards it did cross his mind to pull up stumps
A year on, and it's still hard to comprehend how Mount Ida won this.
The gambled-on 3-1 favourite started off in rear and there looked something amiss as she continually jumped right, bumped into rivals and steadily lost more and more ground.
She dropped to last and at various times disappeared completely out of the picture. The words "And Mount Ida has been pulled up" seem imminent and it was no great surprise that within a few fences she had hit the ceiling price of 999-1. Had 9999-1 been possible, she might have hit that, too.
Jack Kennedy, the winning rider, would later reveal on Racing TV that "she wasn't helping me early on. It was a bit of a shock to her system and she got a bit of a fright."
He admitted that he had considered throwing in the towel, but then she started to jump straight and grew in confidence. And, once finding some rhythm, she began gliding by her rivals. By the home turn, she was tanking along just behind the leaders and when she pinged the last, two lengths clear, it was all over.
"A sensational ride," said Lisa O'Neill, representing the winning stable. "We were giving up hope, but he never gave up. I think she was a bit bewildered by the big field but she got into a rhythm after a mile."
---
Champ falls with race at his mercy
2022 Turners Novices' Chase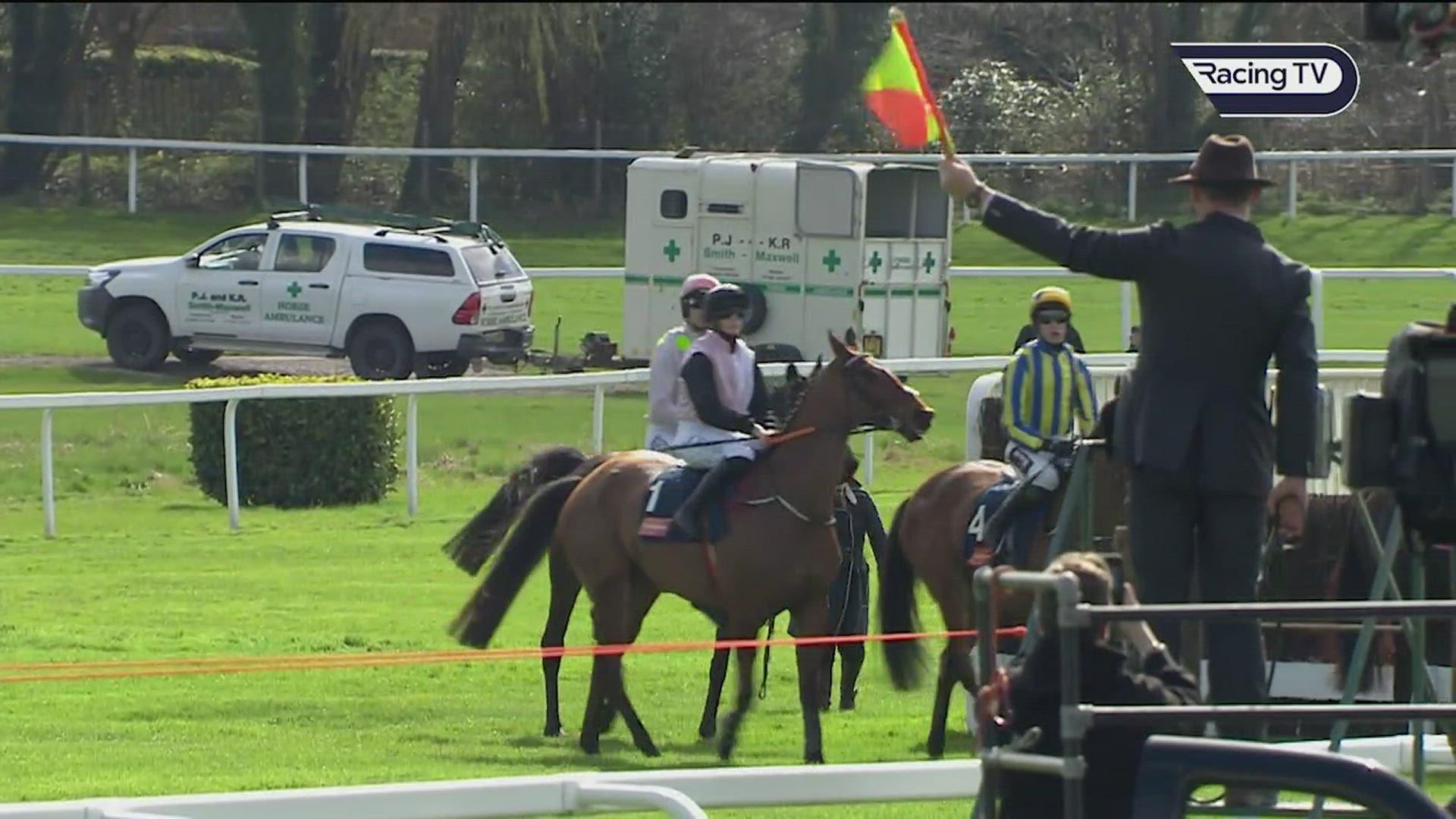 The Turners' Novice Chase was billed as a match between Galopin Des Champ and Bob Olinger. The exciting pair, both Festival winners over hurdles the previous year and unbeaten over fences in the build-up, had the rest running scared. Only two other runners dared take them on.
Galopin Des Champ was quickly at the head of affairs under Paul Townend, with Bob Olinger and Rachael Blackmore stalking them. The other pair declined joining in, or simply could not go the ferocious gallop, and had their own private battle. Four runners, but two races.
Swinging for home, Bob Olinger was off the bridle and struggling to keep up. Galopin Des Champ was only just getting started and began to stride further and further clear.
By the final fence, Bob Olinger was paddling with Blackmore requiring binoculars to see her rival disappearing into the distance.All Galopin Des Champ needed to do was negotiate the last of the 16 fences. Provided he did, you sensed he could have signed a few autographs on the run-in before before his connections picked up the £101,000 first prize.
He met it on a perfect stride, didn't touch a twig and initially appeared to land fine. But the momentum was such that he stumbled and, try as he might to stay on his feet, he slithered to the ground, with Townend being ejected in front of him.
Had he put in a scruffier jump, or perhaps popped it, then all would have been fine. Sometimes there is just no justice.
A total of £39,488 was matched on him at 1.01, while £10 was matched on Bob Olinger at 999-1. It was the first time in any Festival race that horses have traded at both ends of the spectrum.
"It's tough, but it looks like we could have a very special on horse on our hands," Mullins said, trying to look on the bright side. "I think Paul is probably sorer than the horse is."
Blackmore said: "It's fantastic to win but nobody likes winning in those circumstances."
---
And not forgetting . . .
Watch how Kicking King prevailed
Ante-post bets can have us dreaming of a windfall for weeks or month but there are hazards that must be avoided. Number one is your horse being ruled out of the race that you have designs on them winning.
That usually ends badly, of course, but not always. There have been two famous examples at the Cheltenham Festival; when Kicking King won the Cheltenham Gold Cup in 2005, and when Binocular scooped the Champion Hurdle five years later.
The connections of both horses said they would not be making it to Cheltenham in the build-up and as a consequence they zoomed out to the maximum price of 999-1 on Betfair who, as normal, kept them in their market as they were still entered.
It was announced less than three weeks before the Gold Cup that Kicking King, a general 6-1 at the time, had picked up an infection and would need antibiotics. Missing Cheltenham was a "kick in the teeth" said his owners. Over the next few days, £94 was matched on Kicking King at the ceiling odds.
The following week, it was reported "the wheels are back on the wagon". Kicking King had perked up, didn't need antibiotics. He ended up going off 4-1 favourite and won in commanding fashion.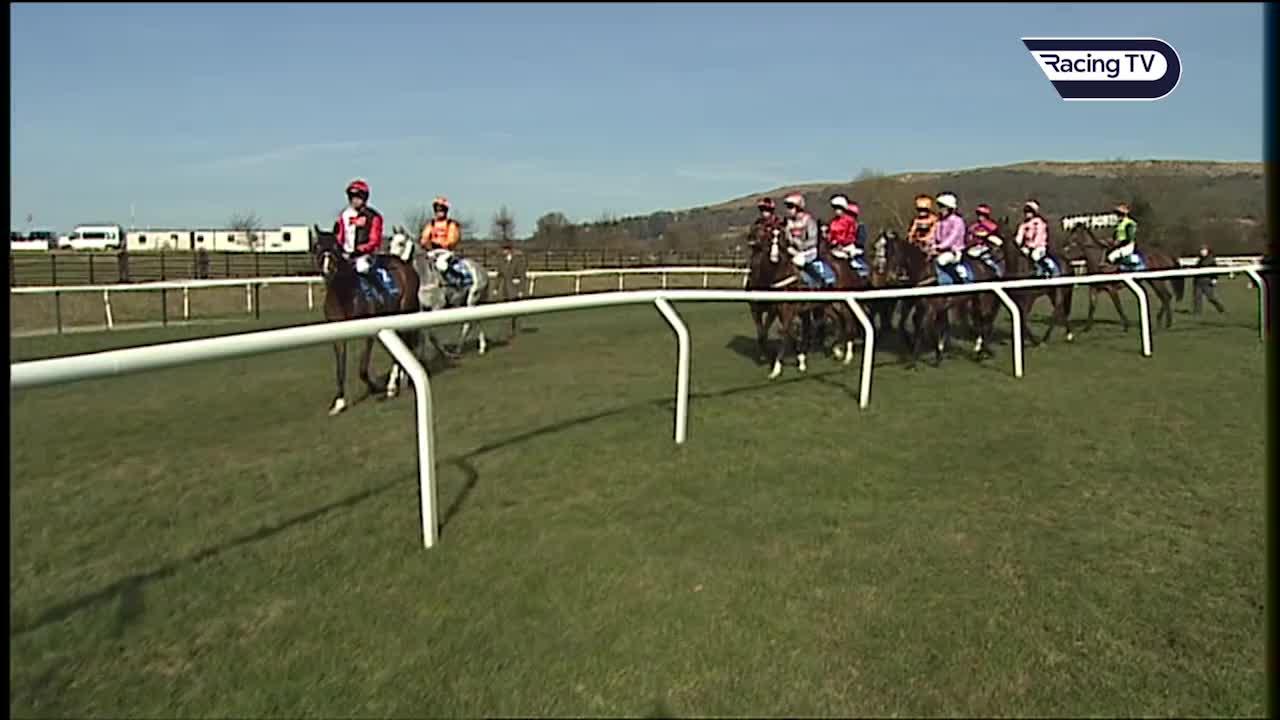 Binocular wins the 2010 Champion Hurdle after being ruled out of the race a month before
Nicky Henderson ruled out Binocular with a muscle problem about a month before his Champion Hurdle. But the issue was not as bad as first feared and the trainer reversed his decision. Just over £52 was matched on him at 999-1, with £10 being the biggest individual bet. Like Kicking King, he won in emphatic style.
And so now the show rolls onto to 2022. Enjoy all the twists and turns.
CHELTENHAM FESTIVAL: WATCH & READ MORE
🐴 STATS AND TRENDS FOR ALL 28 RACES
🐴 A SUPER STATISTIC FOR EVERY RACE
📅 I WAS THERE: EIGHT MEMORABLE FESTIVAL DAYS
✍ DAN OVERALL STUDIES THE 9 HANDICAPS
✍ 11 THINGS WE LEARNT WHEN THE WEIGHTS WERE RELEASED
😲 WINNERS WHO HIT 999-1 IN-RUNNING AND EPIC LOSERS
🐴 BETTING OFFERS AND FREE BETS
RACE GUIDES AND STABLE TOURS
✍ CHAMPION HURDLE RUNNER-BY-RUNNER GUIDE
✍ CHAMPION CHASE RUNNER-BY-RUNNER GUIDE
✍ GOLD CUP RUNNER-BY-RUNNER GUIDE
📺 WATCH: GORDON ELLIOTT ON HIS LEADING CONTENDERS
📺 WATCH: WILLIE MULLINS ON HIS LEADING CONTENDERS
📺 WATCH: MARTIN PIPE - RACING GREAT
---
All 28 races live. Two exclusive races every day. Over 30 hours of unmissable coverage. Watch every piece of The Cheltenham Festival only on Racing TV! Click here to join now.