Watch a full replay of how Rachael Blackmore became the first female jockey to ride the winner of the Boodles Cheltenham Gold Cup at Cheltenham on Friday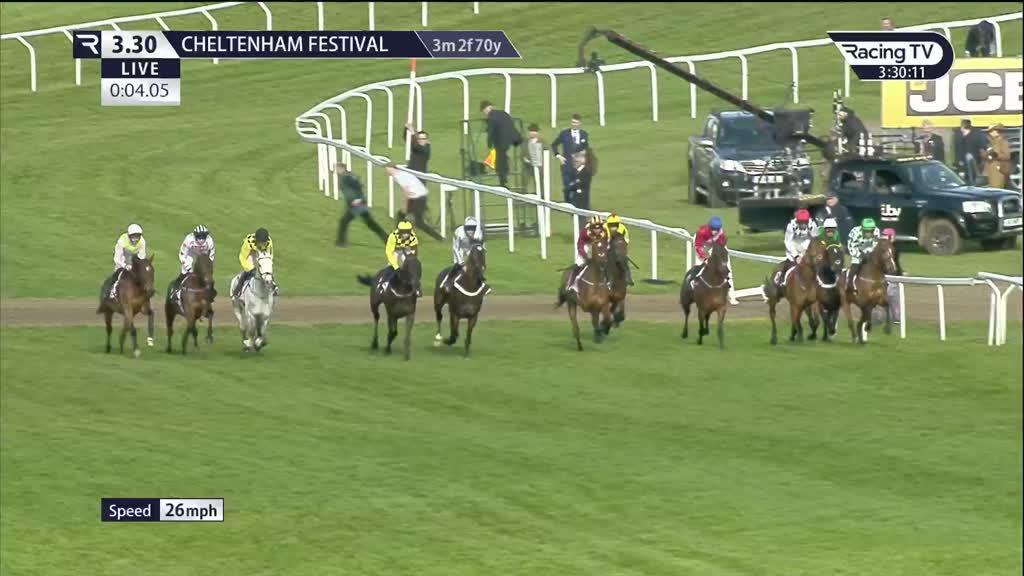 Rachael Blackmore etched herself further into racing folklore as she added the Boodles Cheltenham Gold Cup to last year's Grand National in guiding A Plus Tard to a runaway success in chasing's blue riband.
Not everything had gone right for A Plus Tard in last year's Gold Cup when finishing runner-up to Henry de Bromhead-trained stablemate Minella Indo and the queen of jump jockeys felt she had unfinished business, having picked the wrong horse.
So it proved, as the 3-1 favourite left last year's winner in his wake following a ride timed to perfection.
Stuck behind a wall of horses turning in, Blackmore was patient and came between Protektorat and dual winner Al Boum Photo to hunt down defending champion Minella Indo, who had four lengths to spare jumping the penultimate fence.
Yet Blackmore, who became the first woman to ride a Gold Cup winner, adding to her two Champion Hurdles and the National, used A Plus Tard's pace to perfection and she jumped to the front over the last and powered clear.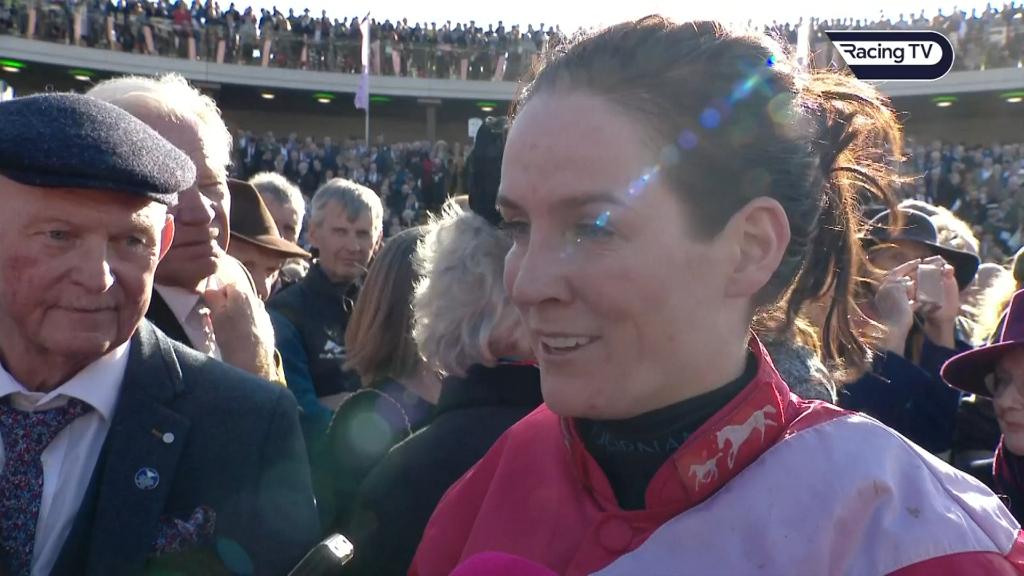 'I gave him a better ride this year', says a modest Blackmore
The easy early pace, set by Asterion Forlonge and Aye Right, certainly helped the eight-year-old, who was going clear at the finish, recording a 15-length success from Minella Indo, with the Dan Skelton-trained Protektorat nosing out Galvin for third, some two and a half lengths behind the runner-up.
Blackmore said: "I just can't believe it. I'm so lucky to be getting to ride all these kind of horses.
"You can't do this without the horses and being attached to Henry's yard is just absolutely phenomenal. To give me this horse is unbelievable I don't know what to say.
"I've had so many special days. I wouldn't swap the Grand National for anything, but this is the Gold Cup. I wish I had something better to say right now. I just can't.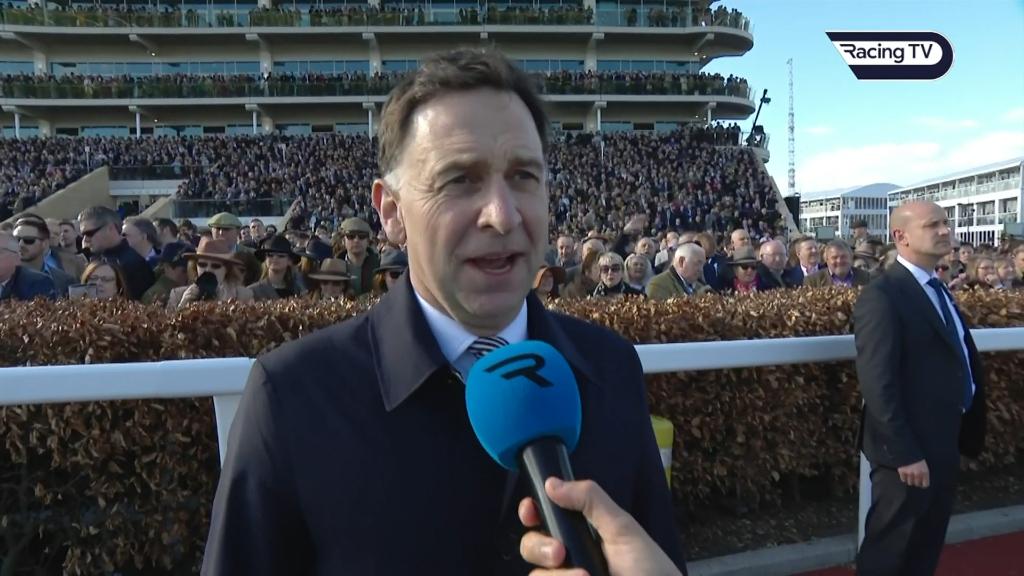 De Bromhead gives his verdict. For the second year running he has completed the Champion Hurdle/Gold Cup double
"You have all these plans about how things are going to work out. Racing doesn't let that happen all the time and for some reason it's happened to me today. I just can't explain how lucky I feel."
De Bromhead said: "The class of him there - he was so impressive and Indo ran an absolute blinder as well, he really did. He was brilliant as well. It's incredible stuff.
"Rachael was brilliant on him. Rachael was so brave, the way she went about it, it was brilliant.
"She was really brave. I've kind of got to that stage that if it's going to happen, it's going to happen. They both got a lovely passage. Robbie (Power) was brilliant on Indo and Rachael amazing on A Plus Tard.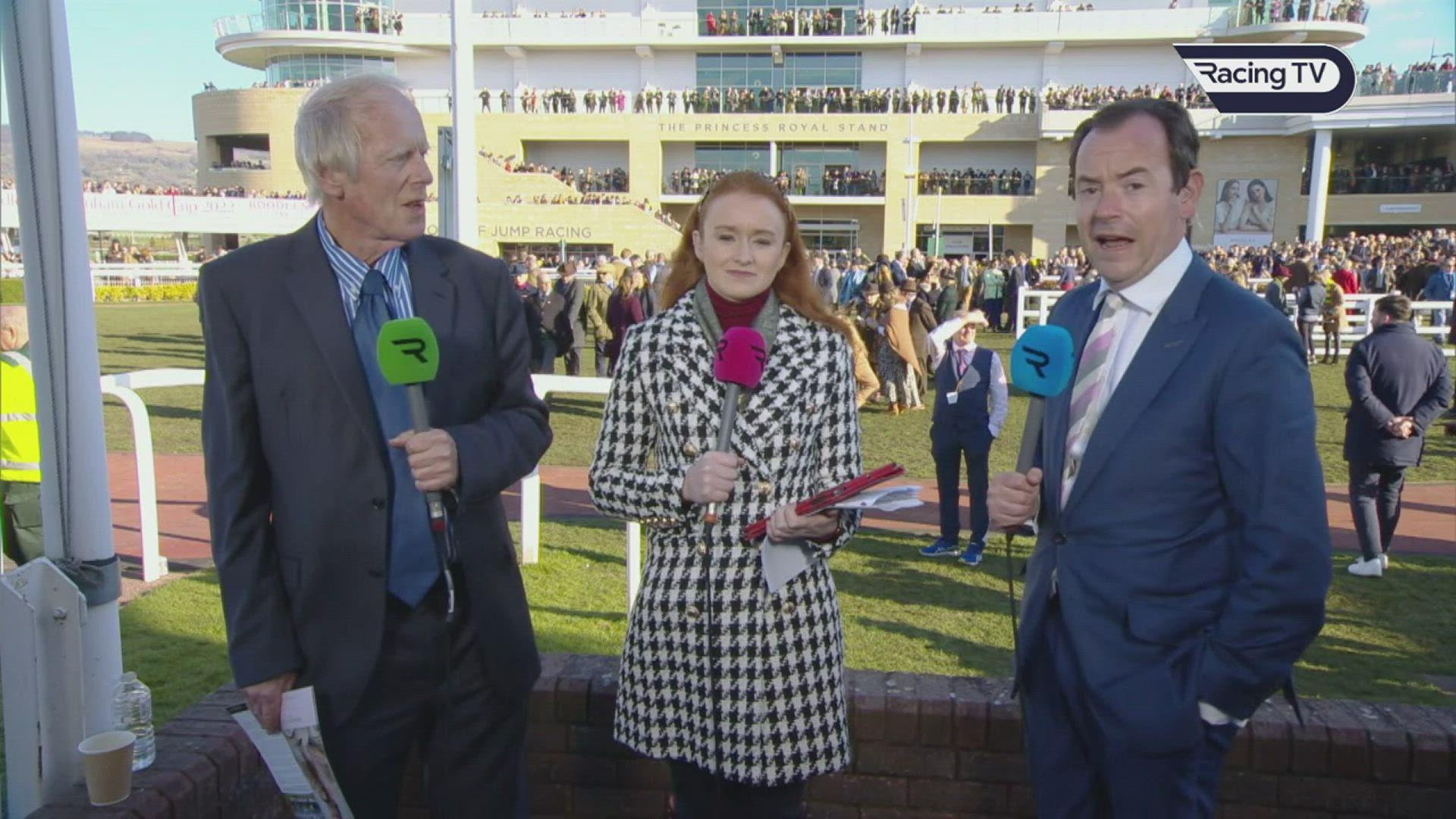 Our experts analyse how the race unfolded
"It definitely does (feel different this year), just the crowds looking here at the stand - it's just incredible. This is what it's all about.
"It was amazing to win it last year, but it's triple amazing this year with all the people here."
Richard Thompson, of owners Cheveley Park Stud, said: "We've been talking about this moment, and it's happened. It's absolutely fantastic to win the Gold Cup. Incredible.
"My father (the late David Thompson) would have loved it, he watched the Gold Cup for many years and to actually win it is incredible. I can't even speak.
"I did feel she was a bit far back, but I knew she had a gameplan - she has totally delivered. What a day for racing."
More reaction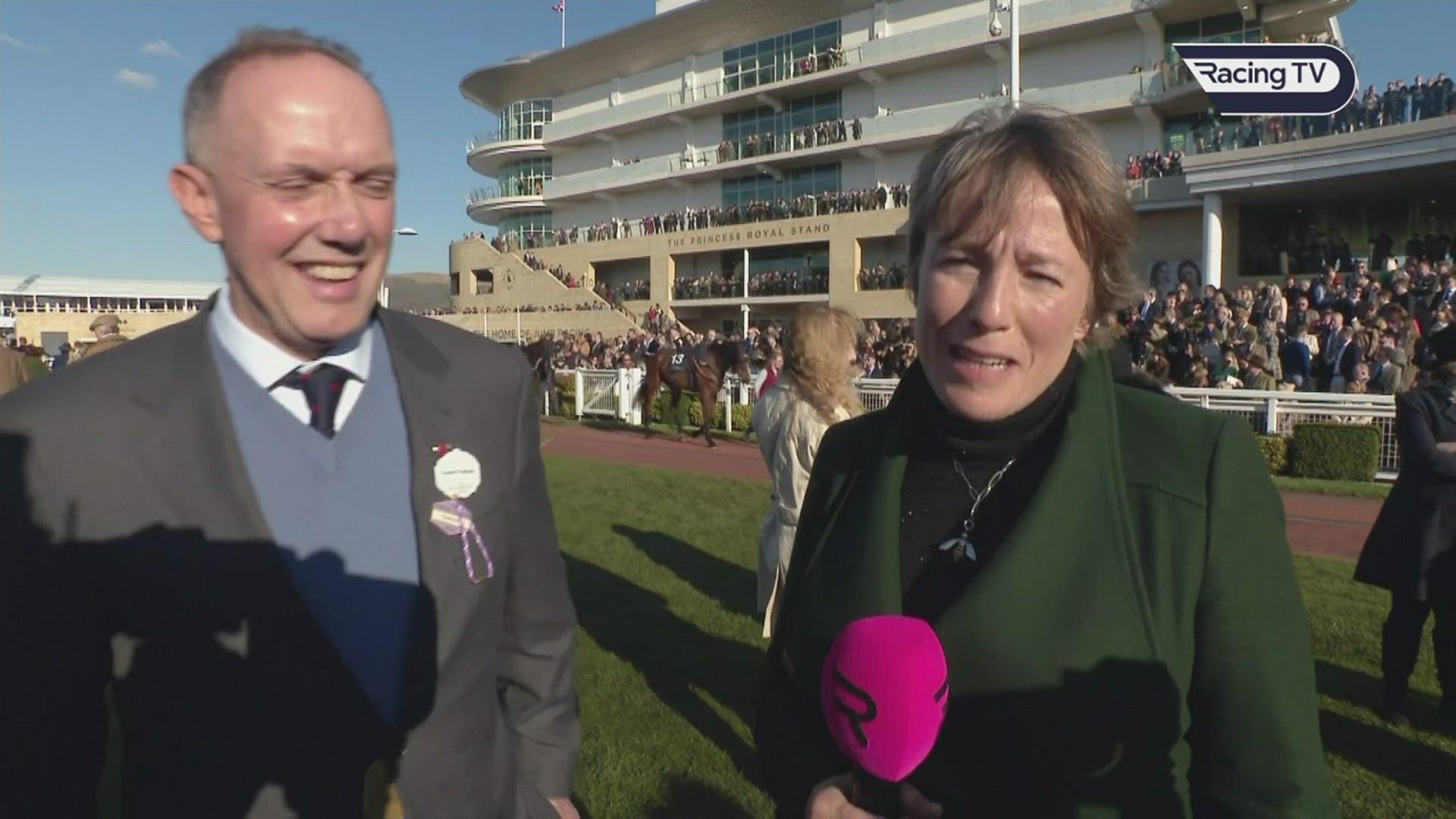 Richard Thompson of successful owner Cheveley Park Stud, said: "It's absolutely fantastic, winning the Gold Cup. Incredible. My father would be loving this. He was behind the project and this horse was one of the last he saw win before he died. He watched the Gold Cup obviously for many years, and to win it is incredible. I can't even speak. It's a fantastic day for the family. That was all class. We know he's got so much quality and Rachael rode the perfect race. It's the Gold Cup, anything can happen, but it looked so smooth.
"I did feel she [Rachael] was quite far back but I knew she had a game plan and I trusted the game plan. She's totally delivered. Unbelievable. What a day's racing, with Rachael winning the Gold Cup. We won the Grand National 30 years ago but this is certainly right up there. Rachael riding, Henry training - what a fantastic combination."
Robbie Power, who rode runner-up Minella Indo, said: "No excuses. He's run his race, he jumped brilliantly, and he's travelled beautifully. I thought when I quickened off the bend down to the second last they'd have to come and get me, but A Plus Tard is a year older and a year stronger and he probably saw the trip out a bit better. But I wouldn't make any excuse for my horse. I'm delighted for him.
"After last year that will mean even more to Rachael. This is the pinnacle. It's the race we all want to win. I was hoping it was going to be me but it wasn't.
Dan Skelton, trainer of third-placed Protektorat, said: "To be honest he shouldn't have been third after the mistake he made at the last. There was no stride there and Harry had to keep the momentum up, but he's run his heart out and done best of the Brits. I know it's a boring saying, but we are slowly nibbling back, and this is only a seven-year-old, so maybe we'll get a few more goes at it. We'll keep trying.
"The winner was fantastic and it's a great Gold Cup for Henry and his team. To be fair the A Plus Tard we saw at Haydock in the autumn was never ever going to get beat, and he's returned to that after surprisingly getting beat at Christmas. Fair play to them."
His brother, Harry, who was on board, said: "That was absolutely brilliant. Everything went well, I just met two too good, but he stuck on well after the last. I couldn't have asked for any more. He ran his heart out, he really did."
Davy Russell, who partnered Galvin to finish fourth, said: "He ran a blinder. He just lacks that little bit of gear. He stayed on well and gave us everything."
Charlie Deutsch, rider of Royal Pagaille (5th) said: "It was a good run and we jumped well in the most part. Two big mistakes, but he kept on up the hill and being on a bit softer ground really helped him."
Willie Mullins, trainer of Al Boum Photo (6th), Asterion Forlonge (7th) and Tornado Flyer (pulled up) said: "Asterion Forlonge jumped very well I think and letting him enjoy himself is by far the best option, but we might bring him back in trip as Bryan said he could be better off back in trip. Paul said Al Boum Photo did everything he asked him and it was just that maybe time is catching up with him – perhaps that's as good as he is at this stage of his career. Danny said that Tornado Flyer never fired, he never travelled. It was very soft the last day, so maybe it was the ground."
Danny Mullins, rider of Asterion Forlonge, said: "He seems fine afterwards. He just didn't find the same rhythm he had at Kempton."
Nick Schofield, jockey of Santini (8th) said: "It was a super run and he just lacked a few gears from four out to three out but he ran on up the hill."
Callum Bewley, jockey of Aye Right (9th) said: "He gave a good accounth of himself. He's a big wrong at the weights with those other horses and it told, but we're happy with him."
Nico de Boinville, rider of Chantry House (pulled-up) said: "He's ok afterwards."